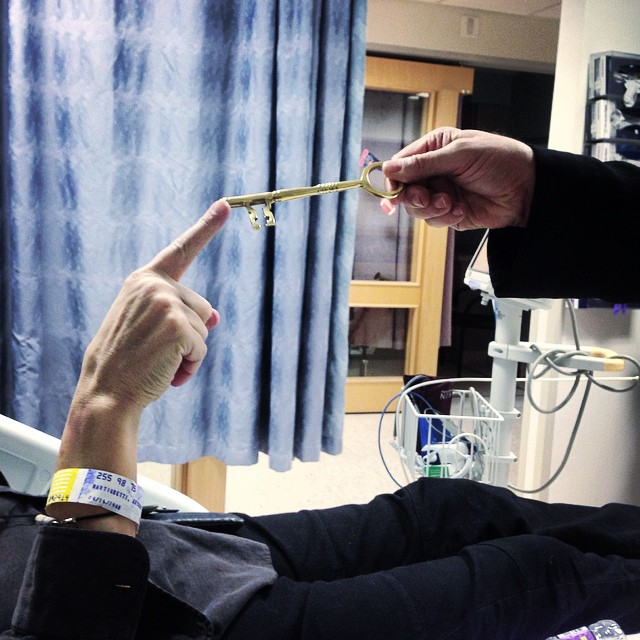 role-playing with fictional haters 101: ACTUALLY IN AWE OF INCREDIBLY AMAZING I WAS IN HEAVEN MAGIC HILARIOUS BEAUTIFUL MASSIVE HUGE TOTALLY
greetings from upstate new york.
it's been a long time since I simply wrote a blog about…nothing. well, not nothing. those ol' stream-of-consciousness upload to the cloud of the state of my personal one-woman nation. sometimes i think about it and i get worried that writing a book has ruined blogging for me. i more or less stopped blogging these kinds of blogs when i was writing The Book because i couldn't handle the idea of any productive writing time going into anything that WASN'T The Book.
writing made my brain paralytic in a certain sense. when we were working on the last drafts, i even started using correct capitalization. my brain changed, so my life changed.
my whole life feels a little paralytic.
i gotta say, to be honest, getting full-on married and having a sick friend for three years also changed blogging. it used to be that my problems and insights were all centered around me myself and my career. now most of my problems are attached to others, which isn't a bad thing in itself. i'm more like a part of an emotional ecosystem than a little island of angst and problems. but if you're used to an ecosystem in which you have your little pile of self and then the world with whom you can angstfully/joyfully interface, whether as person or artist, it can feel a little stifling. i need to learn a new language.
i was just talking with neil about this a few days ago….
i've been doing nothing but creating in private for so long now, it makes sense that i'd be going a little fucking crazy.
i spent seven or eight months straight with my head immersed in writing a book and doing almost nothing else with my time in order to get the fucking thing to the publishers in time, and i let everything else in my life sit on the back burner, getting caked. my business, my relationships, my email inbox, my songwriting….i just threw it mostly out the window, stopped changing my shirt, let the dust cake on my own life, and barreled through.
the summer was supposed to be my salvation. it didn't happen. the book ate the summer. i was happy to make the sacrifice. i think the book is worth it. but now i'm looking back at the slashed and burned fields of my life and wondering what actually happened.
The Book still isn't out. it's festering somewhere in the universe, unshared.
and now i'm spending my life at bard college, creating a musical from scratch with a bunch of students, writing scripts, writing music, writing ideas…watching a Thing be built. but it's also festering somewhere in the universe, in a big building, in our collective minds, unshared.i feel like i haven't given the world anything concrete in a while. my puritan sense of productivity is suffocating me. i like the sharing part. the sharing part. the sharing part.
it's really enjoyable to write and have no fucking point.
and to use the words that i was banned from overusing in the book.
we actually had the copyeditor go through an mark every instance of these words, because i was overusing them so much:
(wait lemme search):
ACTUALLY
IN AWE OF
INCREDIBLY
AMAZING
I WAS IN HEAVEN
MAGIC
HILARIOUS
BEAUTIFUL
MASSIVE
HUGE
TOTALLY
drinking game: if you read my book, you can take a shot every time one of these words/terms is used.
you'll be shwasted by page 24.
schwasted comes to you care of ben, one of the bard kids in my show. he's actually not technically a bard kid anymore. he graduated last year.
we allowed four bard graduates to audition and be included in the process. ben. meg. tori. harry. everyone else is an undergrad. they're all amazing.
ben is in a band called PWR BTTM. his drummer, oliver, who's still a student, is going to drum in the musical. ben is going to play guitar. and ukulele.
and maybe piano.
i think i might try to learn how to play bass.
i think i might write another book.
i think i might move to australia.
i think i might start writing poetry.
i think i think too much.
i haven't read lena dunham's book, but i've been reading lena dunham's book reviews, in a kind of masochistically clever move having promised myself and everyone around me that i'm not going to read my own.
every barb, compliment or dagger that goes into her soft book heart….i can just pretend they're being aimed at me. it's a fun game. role-playing with fictional haters. farm team. what's that thing in boxing where they don't actually smash each other? that thing.
go ahead, hate. i'm wearing a vest.
and it's not even my body under here.
gotcha.
…….
i've snuck into some recording studios in the past few weeks to record various weird things for various weird reasons. i wrote a song for jason webley's kickstarter, i made some songs for a compilation coming out for christmas, i recorded some things that have been burning a hole on my pocket for a while. i'm hoping to get them out into the word soon, but like thom yorke and U2 and every other musician on the planet, i'm flying by the seat of my pants, not totally sure what the right delivery mechanism will be in two weeks, in two years, ever. everything feels unstable. the only think i can trust is that someone out there might want or like me or trust my talent enough to support my song-making endeavors. that's something i can hold onto.
……….
i got my period a week ago, so i know i'm not PMSing. i think i'm just generally baseline melancholy. the dark encoldening weather and the silence of the woods underlines it.
…………….
this past winter, neil and i got a house in upstate new york. we thought it was a good idea at the time. it's in the middle of the woods. neil likes it. it's hard for me to be here. i feel estranged from the world i know. it's a logic puzzle we are currently trying to untangle. i'm sleeping here, and sometimes staying in hudson at melissa's, because it's closer to bard and closer to the world of People and Things, but my clothes and the objects of my life are still lying in state, comatose, up in boston, in my cloud club apartment that i've now had for fifteen years, where i shifted them after we let go of the house we rented in cambridge for the year that anthony was sick and then went into remission.
now anthony's sick again, and he's about to go in for a bone marrow transplant. they give him his admission date today or tomorrow.
we wait.
i'm scared. i don't know about him, or anybody else anymore, it's all feeling disconnected, it's all become some strange ecosystem, lashed together in whatever form we take moment by moment, tied by the bonds of love and wishing and confusion. he's been sick for three years now. he's sick of being sick. we drove back to boston to take him to chemo on monday and it occurred to be how many times he's been in that room now. it's become his life.
we went to eat lunch, after the chemo, with neil, and the waitress at the pizza place said: so what do you do?
that's what you get when you chat to a small-town waitress in lexington massachusetts. it's kind of wonderful.
i gestured to neil. "we're artists", i said to her. she was delighted.
i expected anthony to tell her he was a therapist. or maybe a writer.
"i'm a patient", he said. and he laughed. i'm sick for a living.
then he told her about the cancer and the bone marrow transplant.
she said she'd pray for him.
………………
i feel homeless. a fucked-up kind of homeless where you have lots of places to stay but you don't actually live in any given one. the feeling i imagine you'd have if you quickly lost a lot of weight and had an entire wardrobe that didn't fit your body anymore.
he's going to be in the hospital for five weeks – ish. there's a perfect donor match who's already been through all the tests.
he gets total radiation/chemo, he loses all his hair, he loses his immune system, then he gets the transplant itself.
all new blood, to rid his body of the cancer blood, the leukemia.
nivi, his friend who's been taking incredible care of him, helping him with all his medical organization but also helping him with his books and his shows, knows his whole story. he's written two books now about trying to cope with his childhood abuse and escape the legacy of joe and jacky, his parents. they're both dead now. jackie died of cancer right before anthony got his diagnosis.
here's our theory: this happened right after his parents died so he could clean out the blood line.
brand new bloodline, we think. fresh start. fuck it.
they say he has a 40% chance.
i don't what that really means, so i don't really believe them.
i love him so much.
i love neil. i love everybody.
i don't want anybody to die.
…………………..
you're partly where you come from, you're partly who you make yourself.
biological family.
logical family.
…………………..
patient.
………………………
during chemo, neil gave anthony a bracelet made from a clay pipe piece that was dredged from the bowels of the thames in london.
he also gave him a key.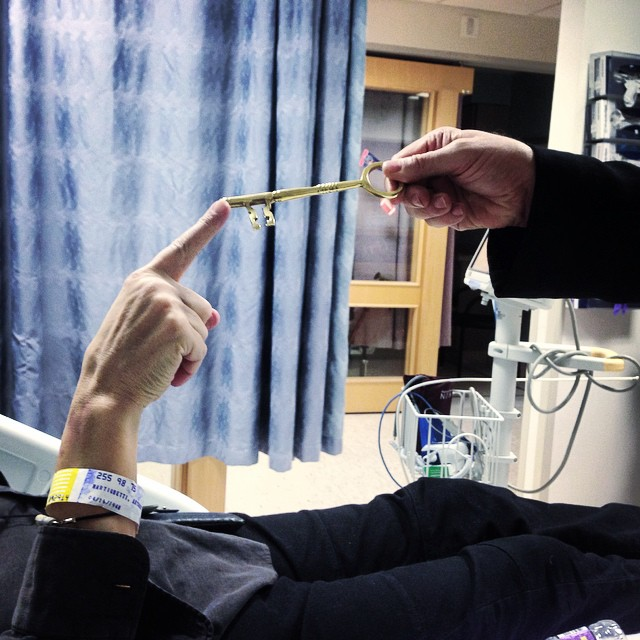 …………………..
at the end of every rehearsal for The Bed Show, and we're rehearsing six days a week at bard, we gather in a circle and everybody has to say something they love.
sometimes it's really stupid and silly. tequila. anya's shoes.
or simple.
the smell of fall. the bard waterfall.
or not so simple.
yesterday i said i loved the feeling of missing taking psychedelics in the fall.
soraya said, a couple weeks ago:
"i love the family i've chosen".
……………………
the show's scaring me.
i haven't made anything like this for a long time. it's the kind of scared that i like.
…………………….
i'll be here, upstate, for another month until the show goes up (nov 5-8, in whatever form it's taken – and for those of you in the area, the last three shows are sold out but the wednesday and thursday still have a handful of tickets left). then i go on tour for the book, non-stop for three weeks of november.
it's getting colder and darker. i'll be happy when it's time to find the sun and warm again.
i'm not planning any touring this winter, because anthony.
when things are okay, in december and looking stable, i'll start building tour dates for the book.
the winter's coming.
…….
but beyond that, everything's good.
…………
i love…..
you.
x
afp
p.s. business-y:
1. the pre-order signed book has been selling like hotcakes and i just signed the last batch. after that, i'll be happy to sign your book if i see you on tour or anywhere in the world ever for that matter, but if you want to insure you get one, order from my local indie bookstore, porter square books, here: bit.ly/PSsignedAoA
2. "The Art of Asking" book-concent-tour in november is selling well. there are still tickets for every show and some are nearing sold out. i hope everybody comes. i've missed touring. starting on the 10th, before midnight, they go as follows…
10 – boston, porter square books
11 – boston, royale | special guests – neil gaiman and jason webley
12 – washington, dc, sixth & i synagogue | special guest – thomas dolby
13 – philadelphia, first unitarian church | special guest – kyle cassidy
14 – nyc, barnes & noble union square | special guest – brandon stanton
15 – chicago, thalia hall | special guest – peter sagal
16 – minneapolis, cedar cultural center
18 – seattle, town hall
19 – portland, or, wonder ballroom
20 – san francisco, jcc
21 – berkeley, freight & salvage
22 – los angeles, first unitarian church | special guest – bob lefsetz
23 – denver, tattered cover book store
24 – austin, book people
25 – toronto, ont, lee's palace | special guest – jian ghomeshi
3. neil has a show coming up at the big theater at bard…he's in conversation with audrey niffenegger (author of the time traveller's wife). there are still tickets for that, HERE.