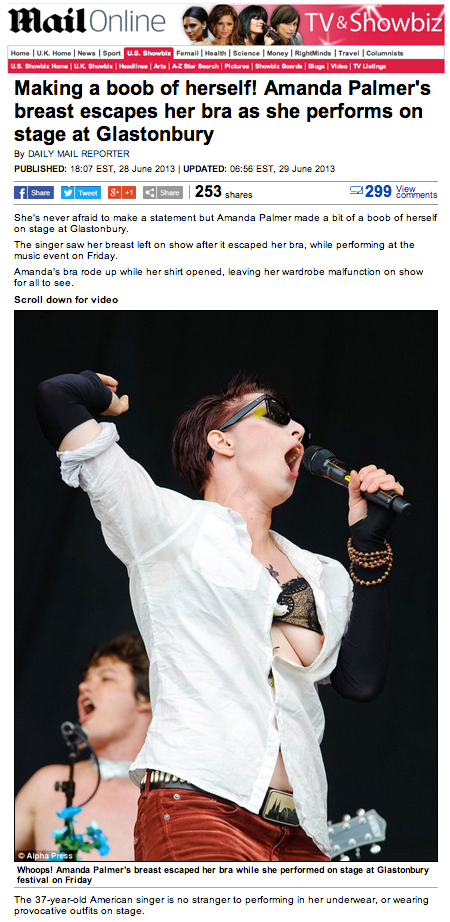 my open letter to the daily mail
the daily mail is a british tabloid newspaper. this was their coverage of our set at glastonbury festival: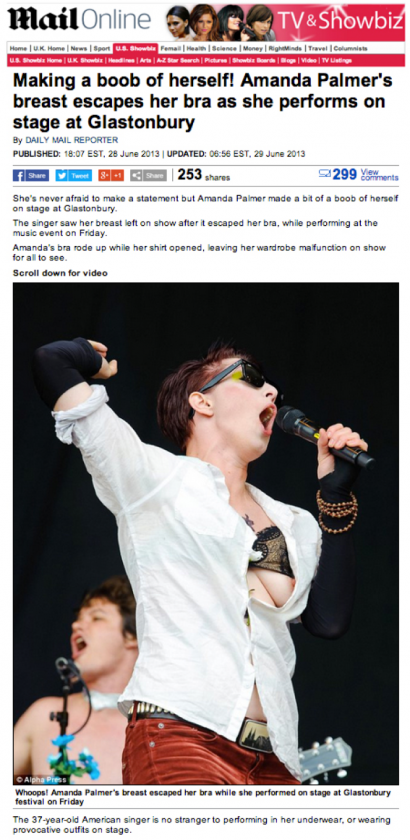 this is my response – with thanks to steph & rhiannon for recording & sharing so quickly* – live (july 12th 2013) at the roundhouse in london:
dear daily mail,

love,
afp
and, well, holy shit….one day online and the original upload of this video's gotten over 234,000 views…and no response from the daily mail.


but it has been tweeted by imogen heap, caitlin moran, wil wheaton, russell brand, robert llewellyn, and thousands of other awesome people.
are we the media?
it would appear so.
and by request, here are the lyrics. i didn't have them typed out since i hand-wrote them (and i tossed them into the crowd when i was done)
………………….
dear daily mail,
it has come to my recent attention
that me recent appearance at glastonbury festivals kindly received a mention
i was doing a number of things on that stage up to and including singing songs (like you do…)
but you chose to ignore that and instead you published a feature review of my boob
dear daily mail,
there's a thing called a search engine: use it!
if you'd googled my tits in advance you'd have found that your photos are hardly exclusive
in addition you state that my breast had escaped from my bra like a thief on the run
you do you know that it wasn't attempting to just take in the RARE british sun?
dear daily mail,
it's so sad what you tabloids are doing
your focus on debasing women's appearances ruins our species of humans
but a rag is a rag and far be it from me to go censoring anyone OH NO
it appears that my entire body is currently trying to escape this kimono….
dear daily mail,
you misogynist pile of twats
i'm tired of these baby bumps, vadge flashes, muffintops
where are the newsworthy COCKS?
if iggy or jagger or bowie go topless the news barely causes a ripple
blah blah blah feminist blah blah blah gender shit blah blah blah
OH MY GOD NIPPLE
dear daily mail,
you will never write about this night
i know that because i've addressed you directly i've made myself no fun to fight
but thanks to the internet people all over the world can enjoy this discourse
and commune with a roomful of people in london who aren't drinking kool-aid like yours
and though there be millions of people who'll accept the cultural bar where you have it at
there are plenty of others who're perfectly willing to see breasts in their natural habitat
i keenly anticipate your highly literate coverage of upcoming tours
dear daily mail,
UP YOURS.
……………
a fun note: a magician never reveals their secrets, but i'm a musician, and happy to reveal mine.
the start of the melody / the waltz was a DIRECT rip from the "waltz for eva and che" from EVITA.
weber and rice, sue me…it'll make this even more interesting.
(but seriously, i love evita, this record was one of my fucking favorites growing up.)
love
AFP
p.s. here's a picture from glastonbury, via @michaeleast: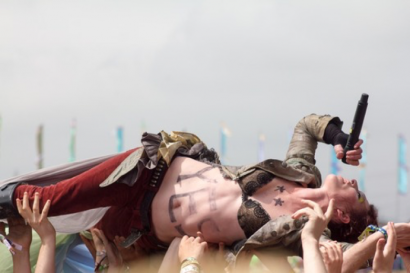 also, there were multiple requests for a list of the special performers at the gig last night…here goes:
DES O'CONNOR
des emceed the evening and performed "little miss dysmorphia": http://youtu.be/cE9X_yfnkcM
PERHAPS CONTRAPTION
bonus points for launching a video right before the show: http://youtu.be/g3qKjvlLd6Y
JHEREK BISCHOFF
part of the grand theft orchestra…this is his new video with DAVID BYRNE: http://youtu.be/dkHuhr9MDlc
THE SIMPLE PLEASURE
the one, the only, CHAD RAINES. grand theft orchestrian, the best dude…dance your ass off to their new album. you can grab it at a show or on bandcamp.
TOM MILSOM
here we are, practicing backstage last night for what may've been the sweetest ukulele duet ever played in the town of london.
and here is the video for "pipes": http://youtu.be/q0_I8u36TgM
BITTER RUIN
FUCK yes. we played secret ninja gigs outside the roundhouse after the show. that's how it's done peopleeee…here's their video for "trust": http://youtu.be/MUhukCO7li8
KATE MILLER HEIDKE
a live clip of the song she did, "are you fucking kidding me?" (the "facebook" song): http://youtu.be/S7MuwPlOiNQ
SXIP SHIREY
the only, the only…SXIP! he's in london for his circus show "LIMBO"…go! he played the song "i live in NYC" from this album: http://sxip.bandcamp.com/album/sonic-new-york
allllll sorts of info on his show/tickets can be found here. it runs at the london wonderground through 29 september…don't miss it!!!