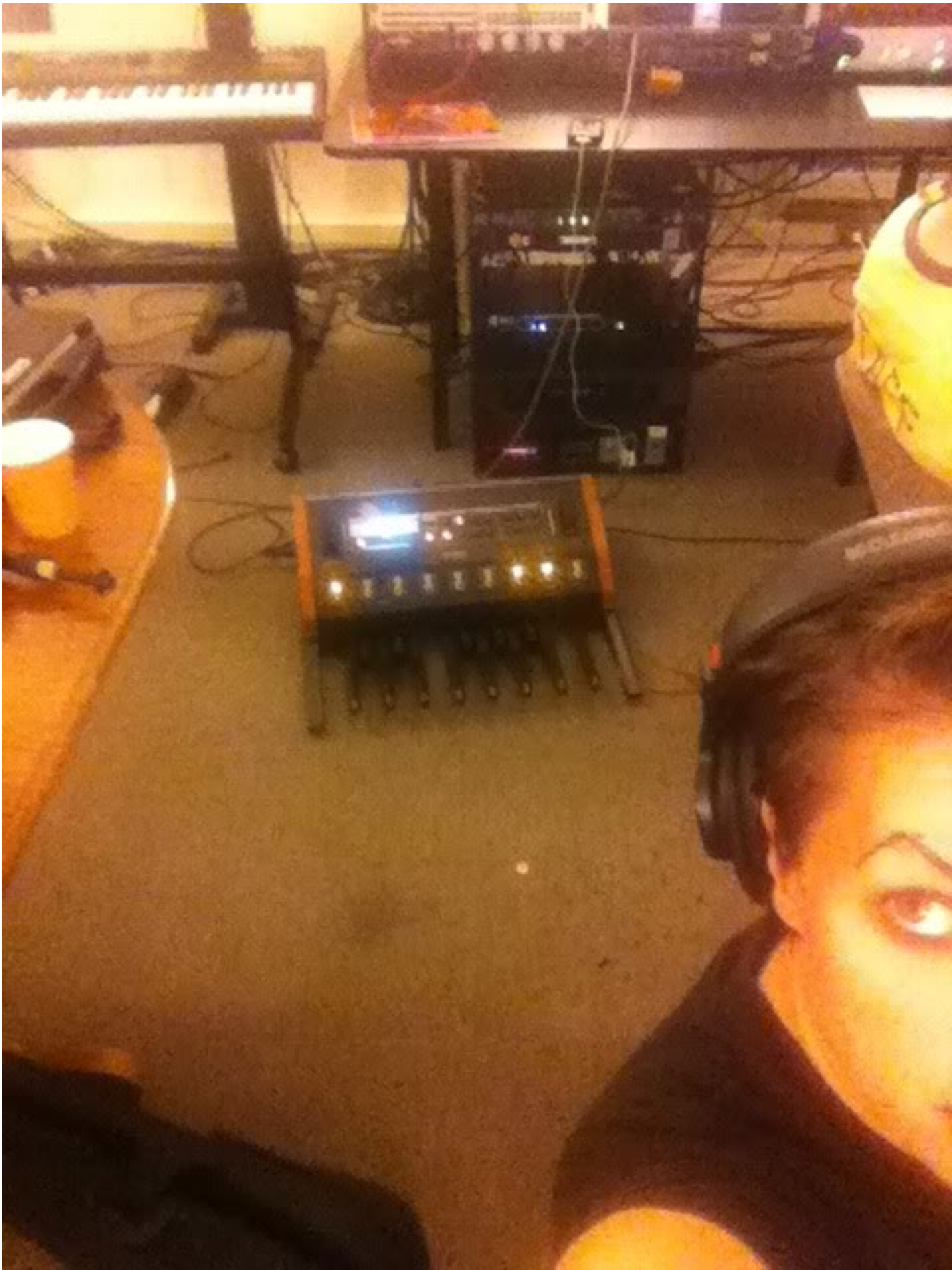 how to achieve nirvana in just 9 hours. (+ secret boston show info)
good morning, comrades.
after a long hiatus from recording, i spent about 9 hours locked in the basement of this studio in new haven CT, last night: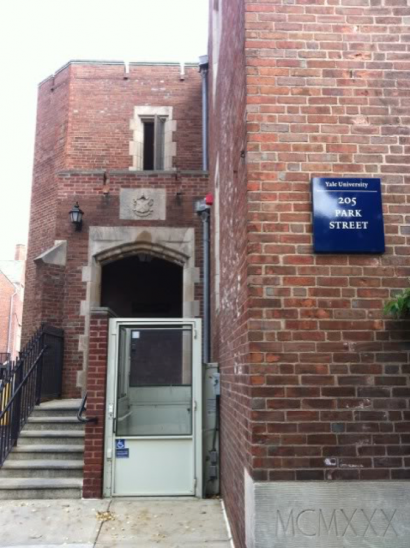 my back-up band for these upcoming new york shows, michael and chad, just graduated from yale drama school, and had access to the drama department studio for free, so we took over.
i promised someone i'd do a cover of a nirvana song from "nevermind" for a compilation they're putting together in celebration of the album's 20th anniversary.
i'm going to keep WHICH song a secret, but i can tease the fuck out of you and give you the credits:
amanda – vocals, celeste, glockenspiel, taurus bass pedals pedal-stepping
chad raines- banjo, triangle, tubular bells, taurus bass pedals knob-fiddling
michael mcquilken – electric bass, bass drum, sample-hunter, aquaphonist, random-sample-sound-wizard & engineer
it felt so fucking good to get off the computer and onto an instrument.
sometimes i forget that i like making music.
the glockenspiel (photo by chad):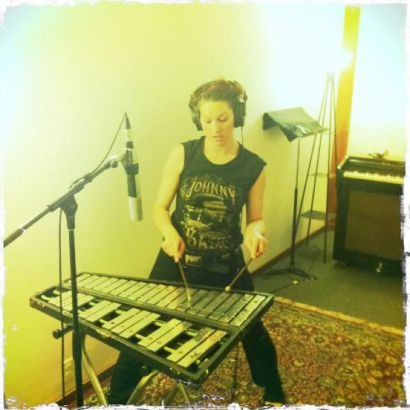 michael, on WATERPHONE (also known as AQUAPHONE!!!!!!)
the waterphone is (via wiki) a type of atonal acoustic musical instrument constructed largely of a stainless steel resonator "bowl" with a cylindrical "neck", which may or may not contain a small amount of water, and with brass rods around the rim of the bowl. The waterphone produces a vibrant ethereal type of music sometimes classified as "ambient music."
if you've ever seen "aeon flux," you've heard it. incredibly spooky effect sounds.
played here with violin bow: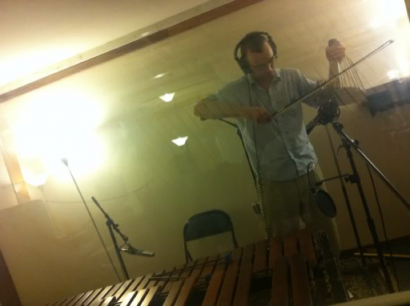 michael and i have worked in the studio together before, so we fell into an easy groove, but chad is a new addition to my life and the x-factor proved to be brilliant, we all got along like gangbusters.
the two of them played producer and sat in the mixing room while i did vocal takes.
i've gotten so much better and laying down fast vocal takes…i think for any vocalist it just gets easier and easier every time you get in a studio behind a microphone, but you still really have to like and trust the people on the other side of the glass. it's such a finicky, vulnerable place to be, knowing someone is listening to your frail voice being blown up 100x larger than life, warts and all.
your voice is personal. when i track anything i always remember how much i need to trust the people i'm with. i didn't used to really understand that. i just assumed that music was Work and Professional and that as I grew up i'd get better and better and detaching. in some sense that's true…in another sense it's the opposite: i've learned to build around me the kind of environment i need to feel safe to be real and crazy when i lay down tracks.
anyway…
chad, on banjo: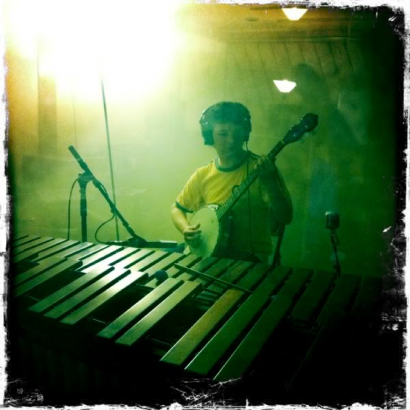 the pro tools, betch: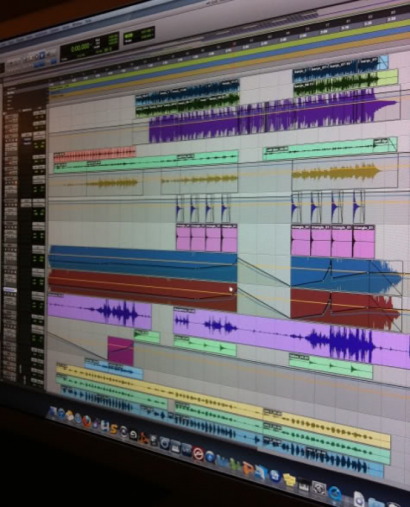 me and chad in the mixing room:
me, gazing lovingly at the MOOG taurus 3 bass pedals.
for you music geeks out there, i am CREAMING over the addition of this piece of equipment into my life.
the bass pedals are literally played WITH your feet, like you'd play a church organ. except they sound like SYNTHESIZER GOD CALLING
HELLO
the system is entirely analog, none of this crazy digital shit you kids are into, and it's a knob-fiddler's paradise.
the original version of the pedals, now known as the taurus 1, came out in 1976 and 1981. then they released the taurus 2 between 81-83 and then created the taurus 3 just recently, due to popular demand.
expect to see it in used at the NYC, shows and probably forever more…i'm in love.
i also feel like i should name my pedals. please suggest something that is a perfect combination of arty, rugged, retro, futuristic, and feminine.
thank youuuuuuuuu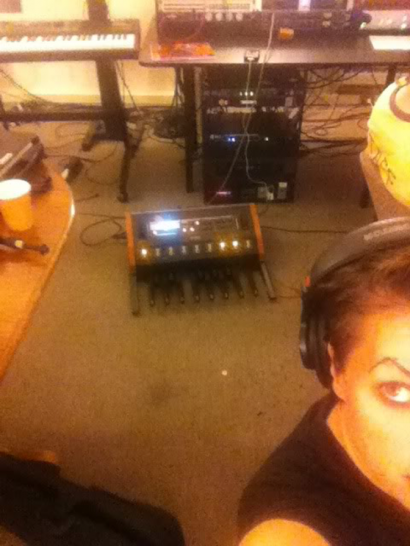 and SO. i'll let you know when the track is available. it sounds SICK.
after we thoroughly exhausted ourselves with music-trackin', we ate at miya's.
[PHOTO]
i fucking love miya's, and as anyone in the new haven-area who's already been knows, it's an adventurous sushi institution, almost even worth a train trip from new york.
known now as the only "sustainable" sushi restaurant in new england, it's owned a run by a fantastic & passionate guy named Bun Lai, who's mum opened up a little sushi joint back in the day, and he expanded and exploded the concept. he's a huge arts supporter, knows most of the yale theater scene, and is constantly connected the community by heading up a non-stop party every night in his joint.
i just found this quote from him in a news article when i googled:
"My food art is an exploration of what it is to be human," Lai said.
that sums it up.
and the food, godDAMN: the menu is as thick as a BOOK, and reads like a BIBLE. and i do not where else the hell can you get sushi rolls with roasted broccoli and black bean with rice,quinoa and oats; Kimchi-seared arctic char;sweet potato, brown rice, and mango chutney….there's a roll with coconut, papaya, cream cheese, and burdock root. There's a fucking "peanut butter and jellyfish" roll. IT'S PUNK ROCK SUSHI. and…i fantasize daily about returning to miya's to drink the green sake (it's called "witches emerald lips" and is home-made in the restaurant, infused with pine and honey…it will fuck your head). anyway, we had a delicious fucking dinner, and i enjoy eating there so much i figured it was time to blog it.
no pics of our fabulous dinner spread last night, but here's one i took when jason and i went to dinner there a while back: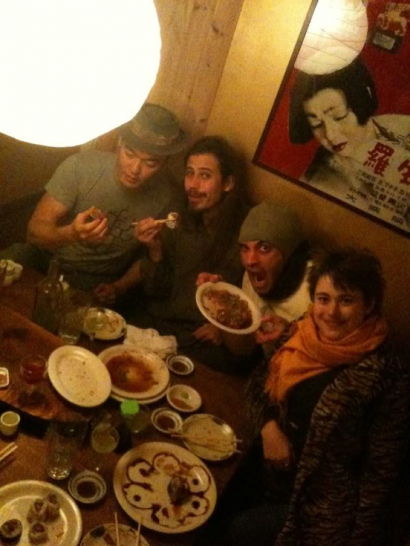 go there. eat lots. and tell bun that amanda palmer sent you.
if you want to drool, check out the menu: miyassushi.com
and follow bun on twitter at @MiyasSushi
he gave me a miya's shirt, which i am currently rocking: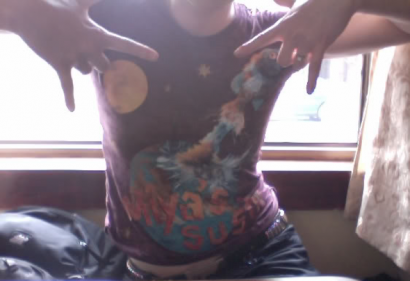 ok enough. to NEW YORK.
we're practicing non-stop for the next 4 days to prep for the shows.
LOVE
afp
p.s. for those of you who were waiting on more info about the SECRET-BOSTON-AREA-SHOW next saturday, we put together a little contest. if you wanna come, we're picking about 50 lucky people who're gonna join in on our crazy little loft party in arlington, and it's your LAST CHANCE TO ENTER. get in on this shizzle NOW:
* head over to my profile on GetGlue. you can find it right here: http://getglue.com/recording_artists/amanda_palmer
– don't have a GetGlue profile, yet? it takes about 20 seconds and you can do so at http://getglue.com/signup (they also have an app for iPhone/iPad/iPod Touch, Blackberry, and Android – you can sign up on those, too)
* "Check-in" and tell us your favorite AFP-related concert memory, starting with something along the lines of I really want to see Amanda on tour this summer http://bit.ly/AFPtour or My favorite AFP-concert memory was…
– feel free to get creative about how you say that you wanna come, just make sure to include a link to the tour page
– if you haven't ever seen me or the dolls or evelyn evelyn live, post a link to your favorite live YouTube or Vimeo clip and tell us why you're excited to (hopefully) come
– bonus points for cross-posting to Twitter and Facebook, and for clicking "Favorite" on AFP (and other AFP-related stuff like The Dolls, Evelyn Evelyn, 8in8, etc)
and that's it. any questions? post HERE and sean'll get back to you, asap. we'll be going through and contacting winners throughout tonight and tomorrow, getting e-mail addresses so that we can get your name for the guestlist, and know where to tell you the location of the show.
good luck.