dispatch from an international low-maintenance diva
hola comrads!
i send you love from the bathroom of the northcote social club, where me & the band share mirrors and toilets with the peoples….as we ready ourselves for the Task Of Rock.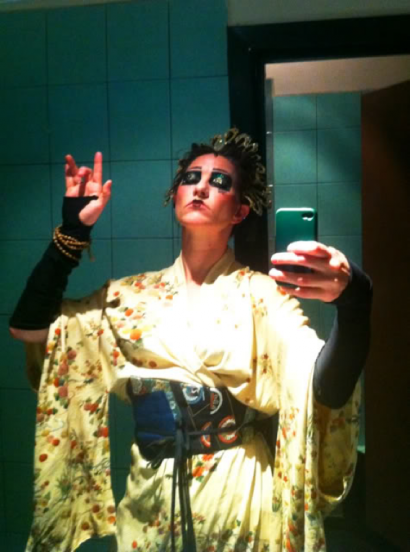 in melbourne, it is turning fall.
it's been a long, long time since i've been in a not-hometown city for long enough that i smelled and felt the change of a season.
but it's happening. summer was.
i feel almost privileged, if you can understand that.
like the way a new yorker probably feels secretly proud the first time they get mugged outside the subway.
local, man.
i feel a deep love for melbourne, for australia, it grows the way the love for a person does….i fall more and more in love with the people, the street culture, the  cafes, the art, the fucked up heritage and brash attitude. i feel like i belong here. that said…it's getting to the point where i'm getting homesick.
not for my city, but for the people in my life who keep me stable. my husband. my friends. it feels a little lonely here, even with all the love.
but
i'm making actual friends here. me & the band go out a lot with kim boekbinder & her main squeeze jim batt, who's a great filmmaker…i can't walk down the street without running into mikelangelo's immaculate quiff, and jess daly and anthony cleave (yes, the ones who did the strip act at northcote, if you saw it) work in the shop downstairs and are first-rate allies.
when you're a rock star on the road, you don't think very much about making friends.
you don't really have the wherewithal to do it like a normal person.
you live on the road, with your crew and fellow musicians, and you make friends with your crew and your fellow musicians. you make fleeting pals with the other bands you play with and the people you encounter on the road. you collect a lot of emails and amass a lot of people to stay in touch with, but you don't get too many opportunities to create depth. depth takes time; staying in one place, watching people go through the shit of their life while you go through the shit of yours and you share the unfolding story. that's what creates a friendship, a real one. simultaneous plot-following.
………………………
i've been spending my days locked up in a rehearsal space working on getting these new songs right with the band.
and loving it. i'm so fucking ready to make this record.
the band is amazing. i couldn't not have picked three more incredible people to flesh out these songs.
i was talking about the birth of the band with michael and the many many coincidences that were necessary to bring us all together at the same place at the same time to make this record.
i just feel so lucky, so grateful.
they get me. they work hard. they're beautiful souls, all three…all curious about the world, all hearts out, all brains up.
we've been having a blast experimenting with the songs…..who's playing what, how to intro, how to arrange, how things should feel, sound….how to use the horns, where to add strings, if to add strings, what colors go in this palette. we joke a lot. we're learning each other. jess from the costume shop drops into our lives and brings dress-up clothes. this week, we went deco.
i touch base with john congleton, who's about to get on a plane to join us in the studio (we're 6 days away…..AAAGGGGHHHH) on a regular basis….i send him shitty iphone recordings of our rehearsals and he listens with a critical ear, doling out praise and criticisms.
everybody's doing their job.
i keep remarking to my friends:
things are going a bit too well, and i'm not used to it.
………………………
this is what the DJ in the bar/cafe has played in the last twenty minutes since i started typung this, and i think i'm love with him:
wire
new order
my bloody valentine
the pixies
he's four for four.
i can't wait to see what happens next.
………………
melbourne, and especially the neighborhood i'm living in, is full of hip people wearing beautiful creative clothing.
i somehow vowed in my head that i would become a different person one day, the kind of person who wears really exciting clothing and does my hair.
i never do it.
………………
mission of burma. five for five. and a BOSTON band no less. i fucking love this DJ.
…………………
i never do it because i always want to do something else. sleep. email. eat. sit. write. talk. anything.
i always imagine that i'm going to get to this point in my life where i exert more effort and i walk down the street shining like a well-coiffed freak.
instead i feel like i've been procrastinating for a lifetime….wearing practical flat shoes, sweatpants and the same rotating 5 dirty t-shirts (laundry is another thing i find really horribly painful….i wear shit into the GROUND. i'm a mulitiple-day underwear wearer and i'll wear a t-shirt until it clears a room, and pants until they are VISIBLY filthy).
i considered it a heroic effort when i actually started wearing a bra on a daily basis about 3 years ago (i actually do like the way my tits look rounder, and i sort of like something cradling them at all times, it actually feels quite nice and comforting….) and applying black eyeliner on a regular basis. this adds a full 2 minutes to my daily activities and it makes me feel HIGH FUCKING MAINTENANCE. i just do not know how girls who spend a full half hour doing full-on hair things and full-on make-up things. the patience. the commitment. i'm always fucking impressed and jealous, and baffled.
i think i am just going to have to accept my fate as an international low-maintenance diva and leave it at that.
i'll make up for it when i sit in a make-up and hair chair for 3 full hours sometime this year to do a magazine shoot or some other high-glam undertaking.
i've been meaning to get my hair cut and colored for a month.
i just don't do it. i'll do it when i get home.
oh my god.
fuck it.
…………………
the DJ is playing blur.
………………….
here are some fabulous photos from the shenanigans of the last week or so……
i've recruited superkate, my fucking incredible assistant, to start pulling more photos from the web and the archive to beef up the photo content of my blogs, espeically as i start careening toward s year of touring…when i always get too tired to pull photos for blogging. she may even upload a batch of photos if i'm too far down the rabbithole.
if you have photos, share them, always. send links to us at photos@amandapalmer.net and we'll keep everything on file. if you ever see a credit wrong or mis-spelled on the blog, hit us in teh comments or email the photo address and we'll fix it. we're trying to get better at this.
this is an amazing shot from my "balcony" ninja gig above rose chong's costume shop.
i sang out the window to the people in the street below and tired to do my best "evita/don't cry for me" impression.
it went quite well….
this girl brought flowers.
i love this picture (by Theresa Harrison):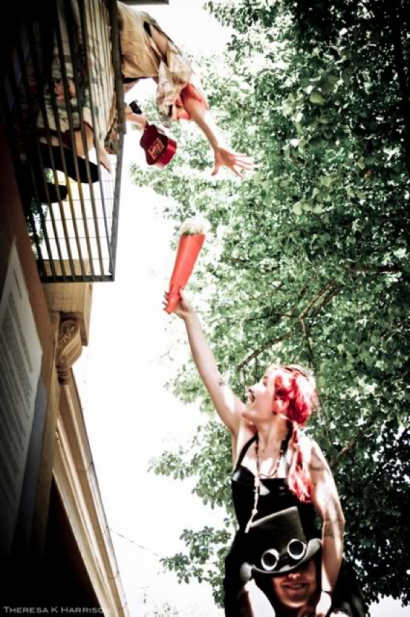 and…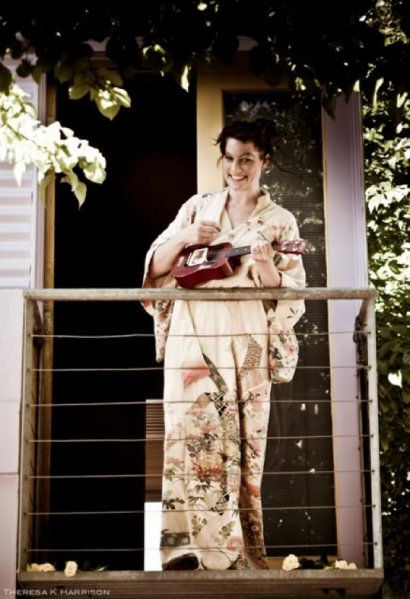 here's tom dickins guesting with me at the spiegeltent, last week (photo by Carbie Warbie):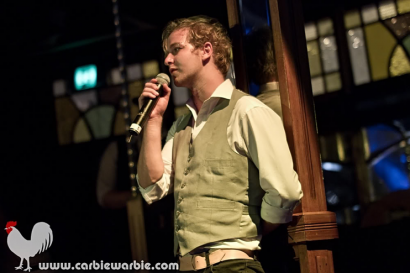 his killer melbourne band, the jane austen argument, released their first huge record and were the #1 selling band on bandcamp for a while.
go get it at bit.ly/jaaBandcamp or by clicking the cover-art, below: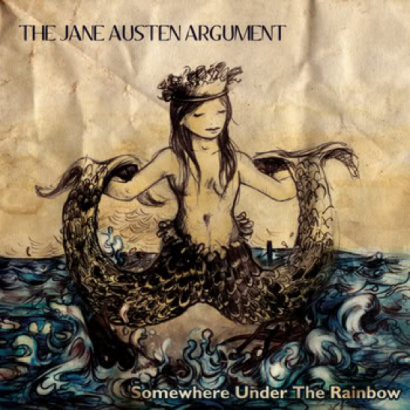 my beautiful new friend mark winmill guesting with me on aerial for a version of the tigerlillies "flying robert", at the same spiegeltent show (photo by Carbie Warbie):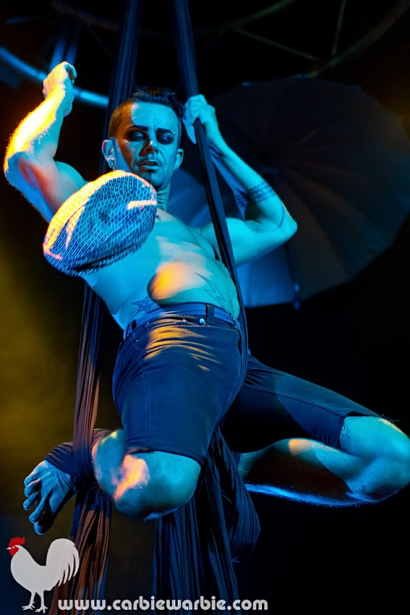 kim boekbinder with me at the spiegel show (photo by Carbie Warbie):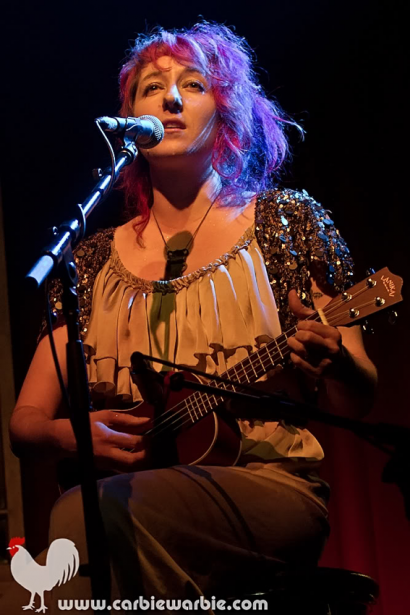 me & mikelangeklo at the tent, covering a paul kelly song (photo by Carbie Warbie):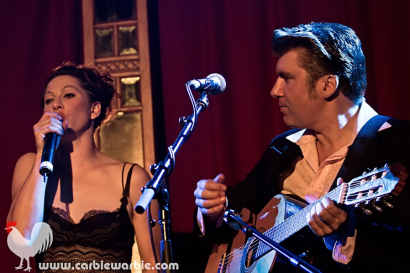 …………………………………………………
THE GRAND THEFT ORCHESTRA……the birth of my little band, in pictures….
chad raines, on guitar (photo by John Carney):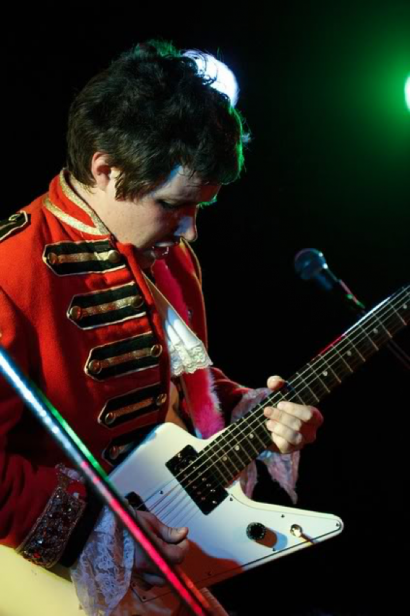 jherek bischoff on bass (photos by John Carney):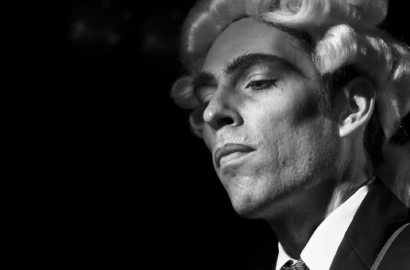 jherek & chad:

michael mcquilken, on drums (photo by Forever Violet):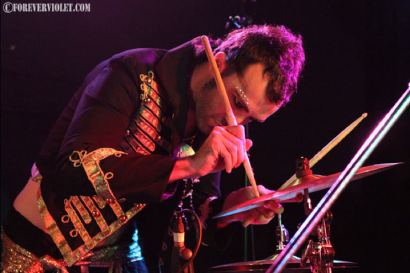 jherek, chad, and moi (photo by John Carney):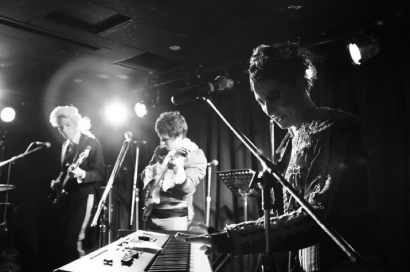 photos by Forever Violet: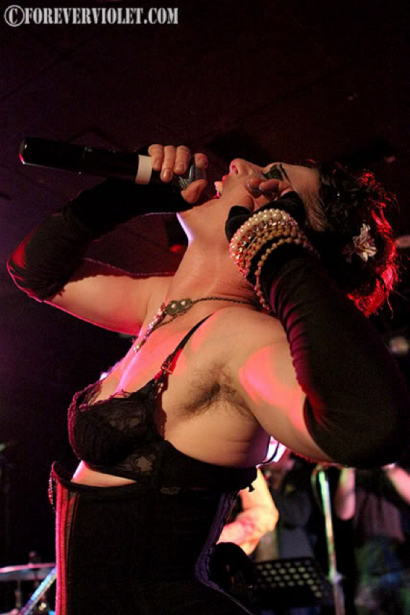 chad on trumpet:

….and on keys…..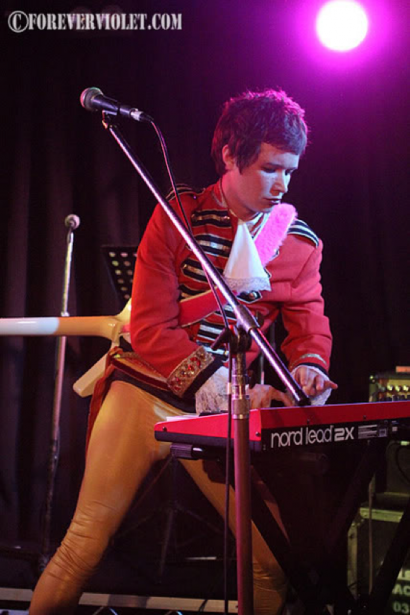 the HORNS…..sourced from melbourne: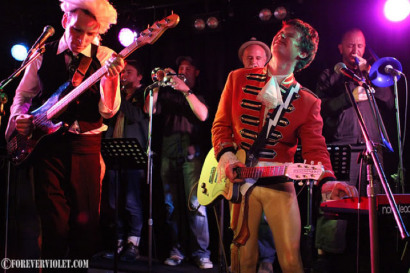 they're going to be playing on the record with us.
they are FUCKIng FANTASTIC.
the blue trombone to the far right is made of lightweight plastic.
chad is amazing.
yours truly….trying to find a magical place between Erté and Siouxsie (photo by Bridget aka @sidsthename):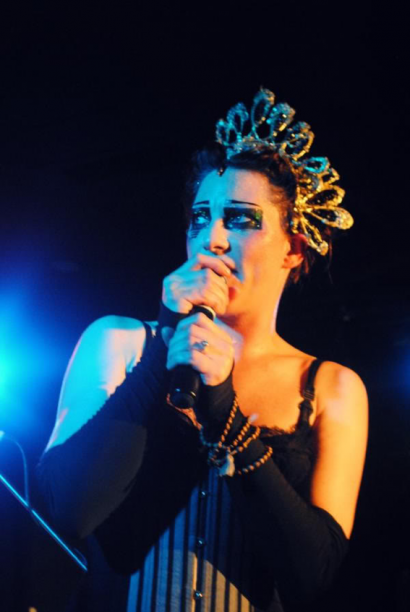 …and rocking out on jherek's bass during "missed me"….in which we EXPERIMENT WITH SOUND (photo by Forever Violet):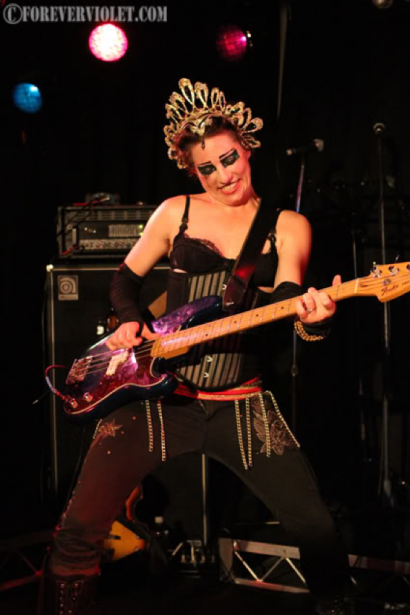 it's all happening.
LOVE,
AFP.
p.s. we didn't allow any video/audio at the show, but we did have our friend guy filming & if you wanna see the c;ub we've been hiding in, and band in action covering radiohead (specifically, "idioteque"), here's a peek:
p.p.s. my moxy's taken to giving relationship advice on his tumblr, specifically on how one might try to seduce a writer…have a look by clicking on alreadypre-knownknowledge's awesome picture…