What I Do The Day Before Recording & The Shit I Am Currently Digging.
hola comrades!
TOMORROW, we record.
today? today.
• miles biked: approx 6
• people hugged/visited: approx 7
• visits to LUSH to obtain soap gift for producer: 1
• meetings with said producer: 1
• massages gotten from tom's mum robyn: 1
• texts received: approx 18
• voicemails received: 3
• texts read: approx 18
• voicemails listened to: none, yet
• number of st. clare's seen in debutante ball gowns in the band apartment while everyone shot a video for jherek's new record: 1*
• number of nick cave songs listened to: 4
• cathedral candles lit in st. paul's catherdal: 1**
• tea towels for mother purchased in same cathedral: 1
• yoga classes attended: 1
• liters of water drunk: approx 6
ready to make record?
READY TO MAKE RECORD!!!!!!!!!!!!!!!!!!!!!!!!!!!!!!!!!!!!!!!!!!!!!!!!!!!!!!!!!!
so. fucking. ready.
it's funny when you go to make a record.
your brain starts thinking things like
"i should be careful crossing this street with my bicycle. i am making a record tomorrow. if i died it would be bad."
brains are crazy.
the last show at northcote social club was out of control. people are loving the new songs. it's terrifying and wonderful.
david j. from bauhaus guested with us and we did a FULL BAND BALLS OUT RENDITION OF "BELA LUGOSI'S DEAD" with him playing bass. when footage arrives, i will share it. it was insane.
we celebrated michael's birthday. the band got him A UKULELE (photo by Mary B. aka @RockLust):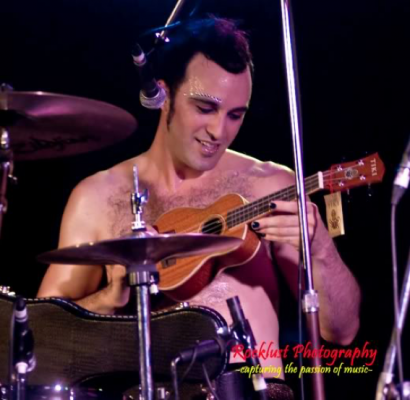 ….and everybody pitched in & signed him a card which was brought at designed by wonderful & helpful sebastian (who also cooked an AMAZING meal for us the other night)….
cake was had, singing was sung.
it was all beautiful.
here's everyone backstage right after the show, mao-tse-tounging the cake: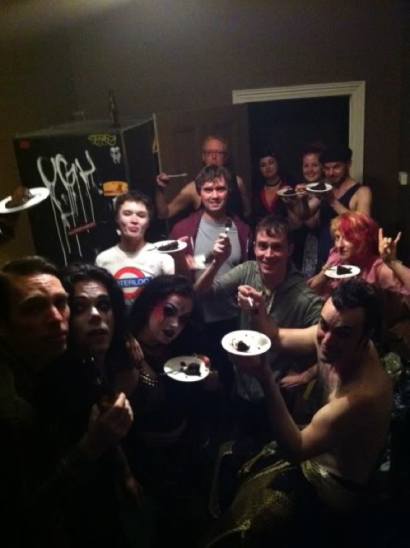 too many awesome people in the photo to name, but see if you can spot david j, kim boekbinder, and astrid from Die Roten Punkte in there.
(they killed it, by the way. best opener ever.)
so
the band is ready. i'm ready. we're all ready. we start at noon.
FUCK.
YES.
…………………………………………………………..
meanwhile……
i haven't checked in for a long while about The Shit i'm Currently Digging…and it being New Album Springtime and all that, i figured this was a good time.
plus i've been getting turned on to all sorts of hip local art in melbourne, and am happy to spread the word about Things I'm Finding.
in life: i'm feeling an extreme calm-before-the-storm weirdness.
i've been doing the equivalent of…nesting? or something.
cleaning my head out, preparing my brian and body for record-making, getting the email inbox down to a minimum, un-piling my kitchen table.
but for someone who is so perpetually busy this process actually makes me absurdly anxious.
freedom from the to-do list can feel ironically imprisoning, as the busy distractions that usually keep my mind occupied create clearing for the bigger questions, the thing that always easier to put off because there's SHIT TO DO. when there's no SHIT TO DO my brain actually enters a state of confused panic.
i've been becoming increasingly flakier…mis-reading things, forgetting things. mind. in space.
the other day i left my keys in my bicycle lock in the inner city.
but it's all a good sign, i think. it means things are getting done in the background, it means my subconscious is a whirling dervish of songs and music, and my focus is shifting to things i don't usually take such extreme care with…like, how exactly does my throat feel today? it's the first thing i think when i wake up in the morning. i croak out my first utterance. good vocal day? bad vocal day? and my mood rests on that little one-centimeter band of vocal cord flesh. oi.
yesterday i gave us a surprise off-day, and while the boys in the band went to the Future Music festival to see Die Antwoord & Aphex Twin, i stayed local and went to red bennies to see local drag/burlesque legends. dallas de la force is my new hero. there's so much bad burlesque and drag out there.
this shit is the OPPOSITE OF bad. brave, sexy, fucked-up. smart. theater. incredible. go see him if you ever get a chance (photo by Eric Manukov):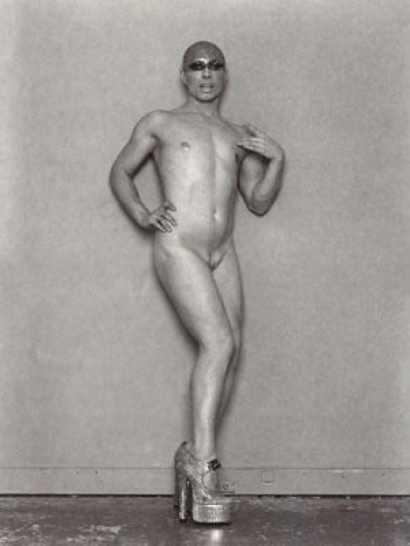 (photo by salacious sydney, via flickr):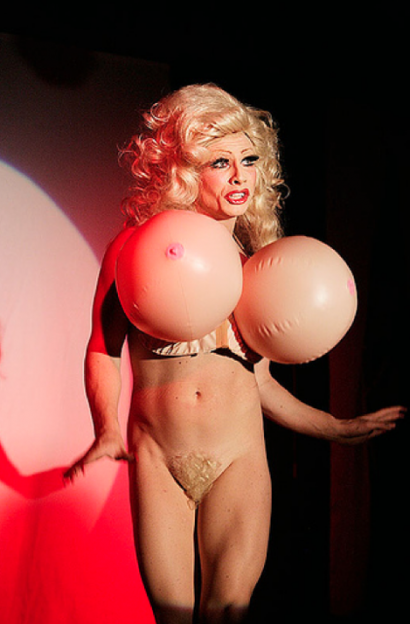 ……………………………………..
MUSIC-LAND:
instead of rattling off a list of NEW things i'm listening to….i thought i'd give you guys a weird treat and create a digital mix-tape i gave to the boys in the band to listen to on their flight from the states to australia a few weeks ago. i wanted to fill their heads with mood sounds that would make up some of the sonic building blocks of this beast we're about to record.
with the exception of a few things (like kaiser chiefs and tegan and sara), the list basically reads EXACTLY like a mixtape i would have made in high school or college….around 1995/1996.
i've been listening to the cars, A LOT.
gary numan. my roots.
i don't know what this record is going to sound like, but i know how it sounds IN MY HEAD.
and i know i want to make the record sounds as much like that as possible.
and the band, john, and all the techs and engineers….they're all creative midwives.
anyway, the mix is below, and i hope you enjoy and i hope you find things you haven't heard before. if you have a massive music-library and just wanna put it together yourself, have at it. or if you've got spotify, click HERE…(as a side note, what're you using for listening to music/sharing playlists…maybe i could start doing this more often…spotify? rdio? MOG? thisismyjam? grooveshark? leave a comment/tell @indeciSEAN where you're at and what you'd like to see, and we shall…see)
this is some of my favorite music ever, ever, ever.
• plainsong – the cure
• cars – gary numan
• only shallow – my bloody valentine
• every day i love you less and less – the kaiser chiefs
• will you smile again – …and you will know us by the trail of dead
• my sharona – the knack
• 2:1 – elastica
• love of life – swans
• prince charming – adam and the ants
• my best friend's girl – the cars
• 10:15 saturday night – the cure
• in my room – yaz
• come in alone – my bloody valentine
• sweetest perfection – depeche mode
• london calling – the clash
• stand and deliver – adam and the ants
• the golden boy swallowed by the sea – swans
• my coco – stellastarr
• the con – tegan and sara
• nobody's diary – yaz
• ocean size – jane's addiction
• bittersweet symphony – the verve
• jerk it out – caesers
• institutionalized – suicidal tendencies
• total control – the motels
……………………………………..
BOOK-LAND:
when i did Marieke Hardy & Michaela MacGuire's "Women of Letters" event a few weeks ago in melbourne,  they gifted every letter-writing woman on stage with a book.
this book was my gift, and i just finished reading it. it's fucking fantastic…
Butterfly, by australian writer Sonia Hartnett.
it follows the story of a painfully insecure 14 year old suburban australian girl through the intimate trials and tribulations of teenage cruelty.
it's great and graphic….a scathing look into a teenage head. it's brutal, painful, honest.
the story-camera occasionally wends away from her, painting the darkness of the suburban emotional voids around her…the disconnect, the weirdness….
think david lynch as young adult fiction, without the surreal. it's a short read, you'll fly through it.
if anybody reads and likes it, i'll recommend the book it really reminded me of. tell me.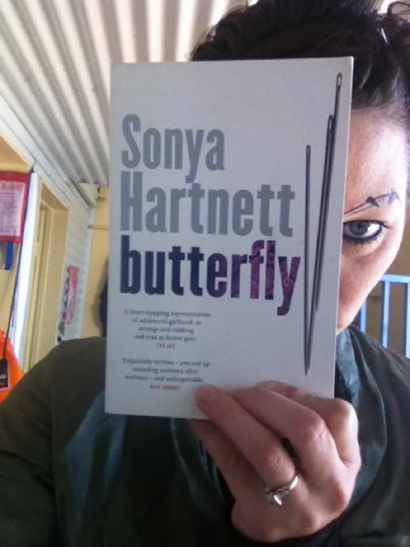 and speaking of marieke, HER book is also amazing.
it's a memoir – honest as fuck, and just hilarious. and also very australian….very melbourne, in fact.
she writes shit i've thought a million times and have never had the bravery to even accept.
read it if you can.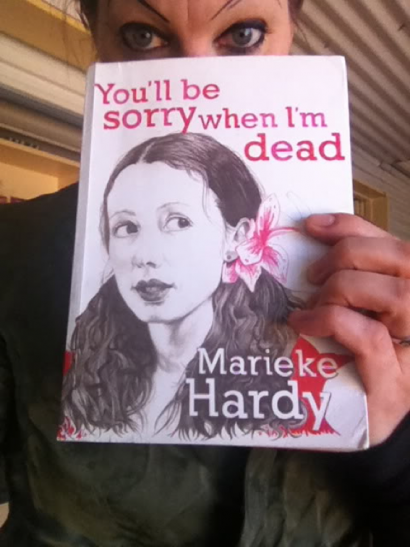 …………………………………………
i meditate every morning and i try to read before i do. i find it helps clear my head of garbage and gets my brain chewing on the right thoughts.
i figure: if my brain is going to chew on anything – which it will, of course, endlessly, like a puppy on speed – i can at least redirect it away from merchandising problems, and the email to-do list.
so i read a book, very slowly, usually 2-3 pages at a time. then i sit. it means i can hack away at a single book for a few months, and if it's a good one, i'll read it even more slowly.
the book that i've just finished eating is this one…Lovingkindness, by sharon salzburg: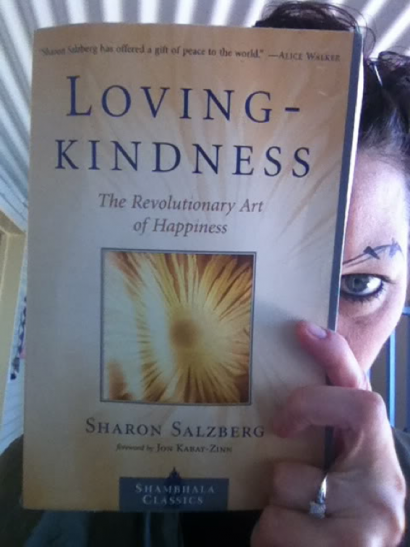 sharon came through the insight mediation center in western massachusetts, the same joint where i've done a lot of mediation retreats, and practices and talks about a kind of mediation known as vipasana. if you're into meditation/yoga/that sort of thing, this book is a great read…not a bad book for beginning meditators either. lots of anecdotes about how we drive ourselves to distraction and how we beat ourselves up relentlessly. she's funny, too.
………………………………………………….
FILM-LAND:
even though this film has about as much attention as it could possibly need….i'm going to recommend it anyway. it was simply genius.
we went on a band field trip to see it the other day, and we all fucking loved it.
i won't tell you any more about it, you probably already know the gist, it's a silent movie with superb acting and a killer, killer script….just go see, "the artist":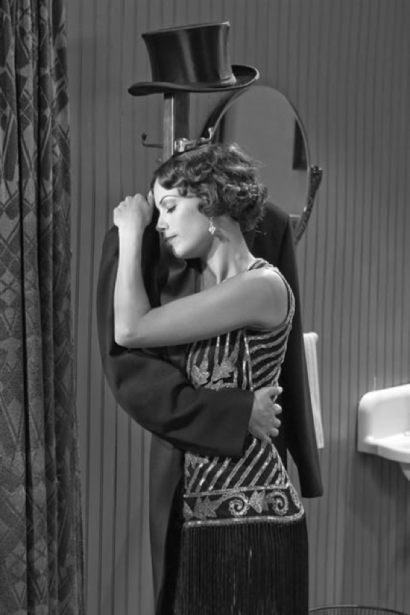 ……………………………………………………….
SOAP-LAND!
well, this is a new category, isn't it.
i have been a fan of LUSH for a few years.
they make handmade soaps and all variety of cosmetics and bathroom THINGS.
(when we started dating, i was very pleased to learn that lush actually named a bath bomb after a neil gaiman book, stardust. i was like LOOK AT YOU FAMOUS BATH BOMB MAN YOU GO GIRL)
you can read more about them and their cool history on their website, lush.com (follow your flag!), or on your social media of choice:
• facebook
• twitter
• pinterest
• youtube
in a nutshell…
they're an incredible company, with really fantastic ethics. despite being worldwide (with all of their recipes coming from the UK founders), their stores are fairly-independently-run, and generally pretty "indie" in how they go about doing what they do. the products are all handmade, they use truly organic materials, keep packaging to a minimum (they're "anti-packing" and anti mass-production), never test on animals, and have basically taken soap and such to a high-art form (that smells and looks wonderful). all that with a direct-to-the-public, damn-the-man ethics. (phew, that's a lot of hyphens, but 'tis true.)
a few years ago, i started regularly visiting the harvard square lush store in boston when i was off tour. the people who worked there were really friendly, i made pals with a couple of the girls in the shop (while i was working on Cabaret). when my dresser in the show (steven) asked me why i smelled delicious, i told him i was using a tuca tuca massage bar to soothe my aching throat. i went the next day and bought him a tuca tuca perfume stick. he was thrilled. i find that buying people lush soaps is an excellent way of expressing love.
THEN my friend max melton (who you would recognize from his many bizarre appearances in the Who Killed Amanda Palmer photo book) wrote me from the UK to tell me he'd gotten a job at lush, and has found true happiness working there and hocking soap.
this is max: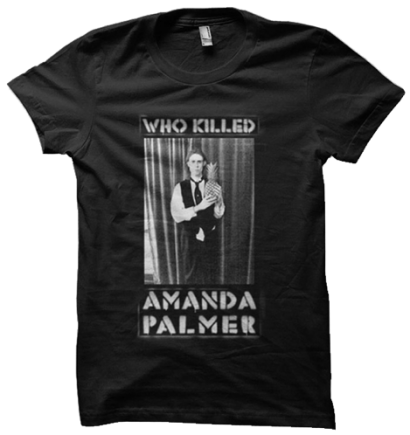 and that, above, from a very intellectual man who was angling to be an embalmer/undertaker just months before. this news made me ecstatic and made me love max more.
the point?
the point: neil and i went into the LUSH in melbourne (their twitter/facebook) right before christmas and bought ALL SORTS OF SOAPS for people, and a couple of the girls there were really happy we'd come into the store. one thing led to another, and i kept going back to get more soaps and massage bars for my aching throat (from too much singing lately). we started getting all too intimate. everyone who works there is just so fucking NICE.
so, logically, i started trading show tickets and guest list spaces for soap.
then i brought jherek and michael from the band in. we all got soap. i got more massage bars for my aching throat.
here's me, jherek, and michael, in the store, with Alicia, who is awesome…..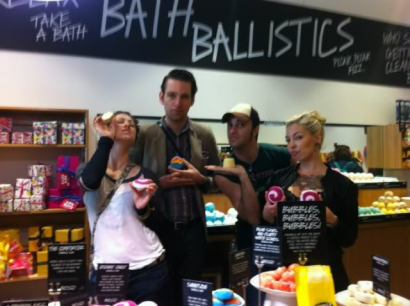 finally i got an email from 'em saying that they'd be happy to hook us up with free soap and things for the band for the rest of the month because they loved us so much.
but not just that. they've been actually following what i've been doing in town and watching me crowdsource food, and help, and bikes, and rides.
and they were like: we can help. we'll give you soap. i can't tell you how deeply moving it is to be a city with your band, and to have people offer to just take care of you like this.
it's everything. it's amazing.
alicia came to the last northcote social club show night before last…..and HAND DELIVERED me two new massage bars in little yellow paper bags.
i biked over today, and got some soap and shaving foam for our producer, john congleton, which i then biked to his hotel for our we're-starting-to-record-aaaghhh meeting.
here's me in the melbourne shop today, getting john's soap.
that's alex on the right. she was one of the first people at the melbourne lush who was nice to me & neil.
extra points if you can decode my t-shirt: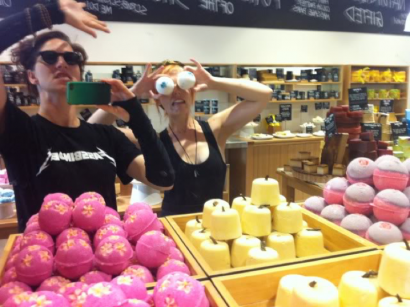 this is natasha…..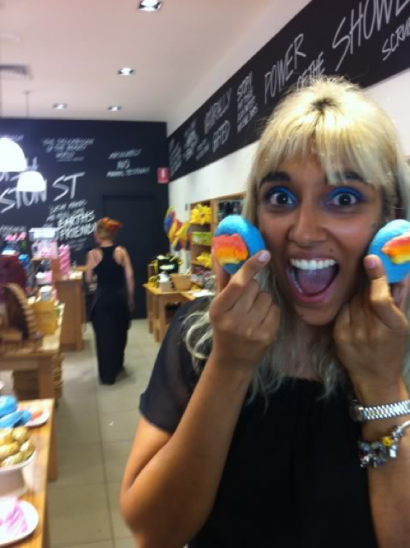 and here's seren, natasha, alex, and terri….who call work in the store.
they are doing what they refer to as the "UNICORN SALUTE"…
honestly….these people are just my favorite: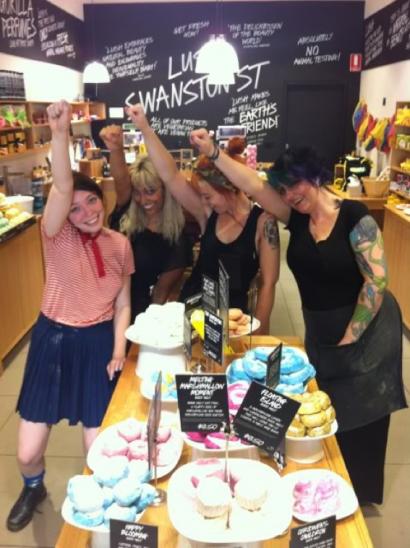 side note, just for kicks. here are my all-time favorite lush products….the ones i regularly use and restock (and some pictures of a few of 'em):
• face wash: angels on bare skin (lasts forever and is awesome for travel)

• massage bar: PEACE (the story on this is amazing…in short, this is the first of their products to be made w/ fair-trade cocoa beans. they're sourced from a small village in Columbia where they refuse to participate in the turmoil around them and strive for peace…ahm, yes.)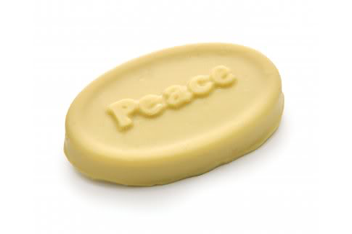 • face mask: BB seaweed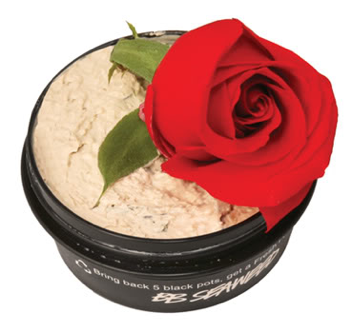 • bath bomb: IMPOSSIBLE TO DECIDE (HERE's all of 'em)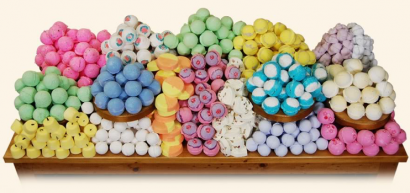 • shampoo: seanick (blue and full of seaweed. rocking. also amazing for travel…comes in a little silver tin and fits in a pocket. perfect for touring)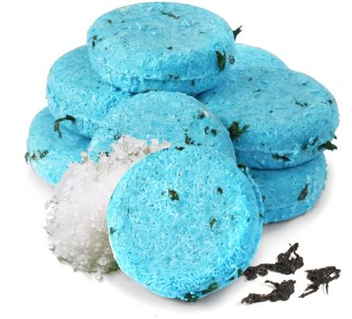 • conditioner: veganese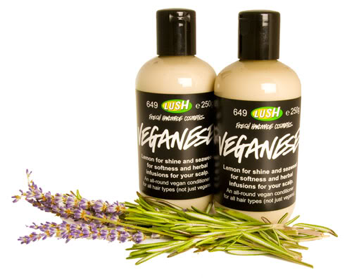 and neil uses: the BIG shampoo: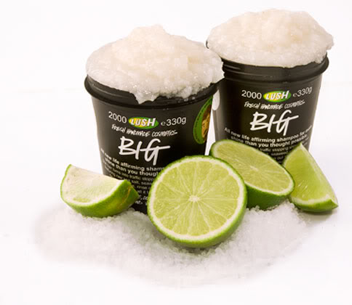 (he claims it tames his wild locks. i don't know if i'd believe him.)
i've told the girls at the store that the only problem i have with all of their amazing handmade soap products and shower massage bars and shower jellies and excitement is that i am now wasting water by showering longer than usual. in australia, this is a problem. they're running out of water. i'll figure it out.
i've never endorsed a company outright like this, but damn, these guys deserve it, and it's all the right things, done the right way.
so, GO LUSH. unicorn salute to the maxxxxx.
this whole record-making process is going to smell incredible.
wish us luck in the belly of the beast.
not sure how much blogging i'll do from in there, as i'm going to try to be very focused and very off email and the net….
but i'll probably be twittering, so if you want to catch up on the antics, that's your best bet.
massive love and gratitude, more than i can say…
xxxxx
AFP
* st. clare & the ball gown: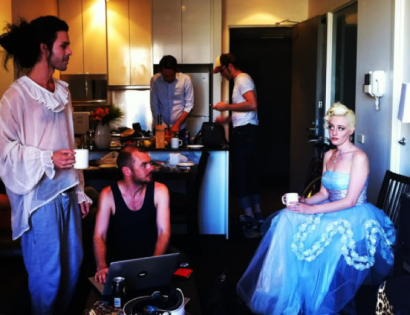 ** cathedral candles: