my earth-shattering news, by amanda fucking palmer.
hola comrades!
first of all….thank you all SO so very much for all the positive response to the "polly" video. holy shit. it had more impact than i'd imagined, for real.
thank you all, deeply, for sharing the link and tweeting it around and generally helping us spread it far and wide….it's getting tons of views and love online.
nirvana posted it to their official facebook page (which in my opinion is a seal of approval far superior to getting it played on MTV). thank you, thank you.
now for the news: yes, you guessed it.
all signs were pointing this way for ages.
i'm pregnant.
not with a child, but….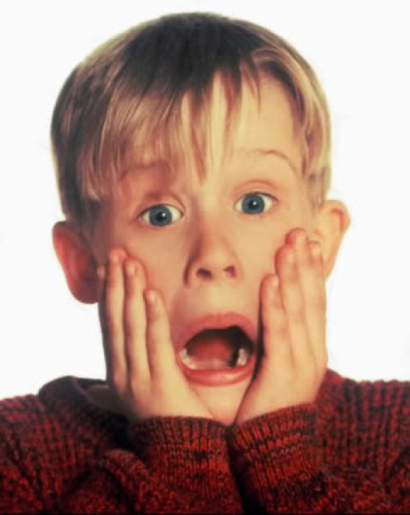 ….WITH A MOTHERFUCKING RECORD ALBUM!!!!!!!
that's right: i'm about to give birth to a COLLECTION OF SONG-SPAWN that's going to blow your domepiece off.
me and the new band (the grand theft orchestra) are going to hit the studio in almost exactly one month, in melbourne.
i have about 20+ songs ready to record.
almost all of them have never been heard.
they've all been written, slowly and in secret, over the past 3 years.
i've never made a record anything like this. it will be like….me. but different. the songs are amazing. i'm really, really incredibly proud of them.
the producer/engineer is going to be the fabulous john congleton, who's produced a ton of amazing indie stuff…including the past few st. vincent records.
(you can geek out/drool over his production credits HERE)
i hope he forgives me for stealing this particular photo from his fan-run tumblr: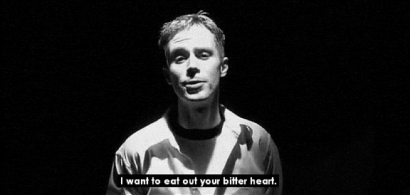 i've been waiting to make this new record for a long, long, LONG, LONG time.
not the run the pregnancy metaphor into the ground, but it does feel like i've been carrying this thing around for longer than is necessary or comfortable.
the last time i went into the studio and made a "proper" studio album was back in 2008 when i recorded "Who Killed Amanda Palmer" in nashville with ben folds wearing the producer hat.
since then, my life has been a mishy-mashy wonderland of bizarre side-projects, theater detours and…other things.
like finding my wonderful husband (he's nice) and getting married (several times).
and writing songs when they came, and tucking them away….sometimes playing them live and testing them out, mostly not.
waiting for certain things to settle. trying to put the right band together.
and, knowing that this time would eventually come (and that i'd have to work on this record for about two years solid): running full force in my own free, random ninja directions (which is my version of "resting").
and most importantly (and kind of most boringly; i never talk about this shit) i've been re-configuring my behind-the-scenes team and management until i felt i had a team capable of helping me BIRTH this BEAST. and i do now, and we're ready.
you might have seen one of the little under-the-radar shows i did (when i didn't allow ANY FOOTAGE to be taken) this last spring or summer with the new band…michael mcquilken on drums (and bass, and more) and chad on guitar and synths and trumpet (and more), with a variety of guest musicians on stage with us…..
here we is (photo by Rene Huemer):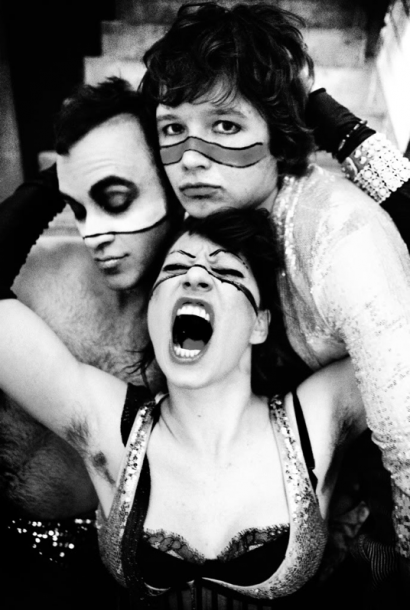 and then on stage, with superkate leading us in AEROBICS (photo by chrisdonia via flickr):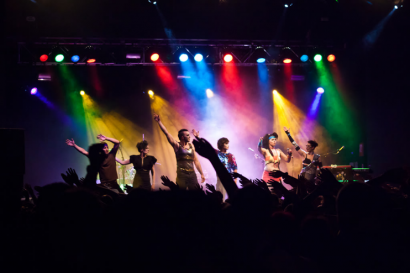 breaking the sound barrier of DANCE with superkate (photo by Bryndís Blackadder):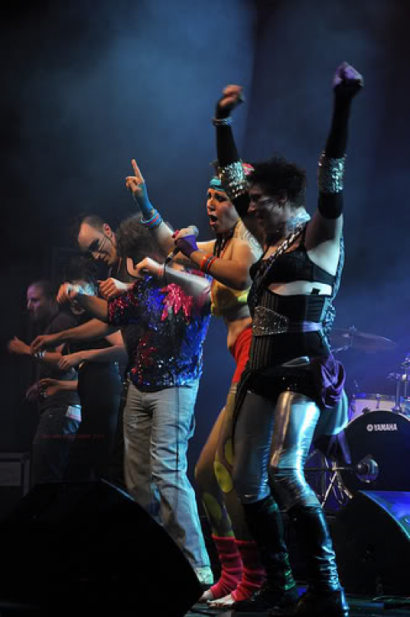 drew forrest – who filmed us lots in the UK last summer – put this together:
(visit youtu.be/ZZMgRyKDK_c if that embed doesn't work…)
the edinburgh iteration of the grand theft orchestra before taking stage at the HMV picturehouse……with DREW on camera duty: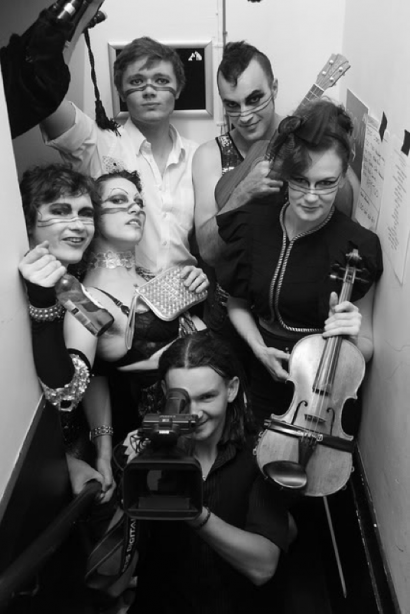 AND AND AND…
we've added a new thief!!
under cover of night, Jherek Bischoff has joined the band….he'll be mostly on bass guitar duty, but he plays a ton of instruments: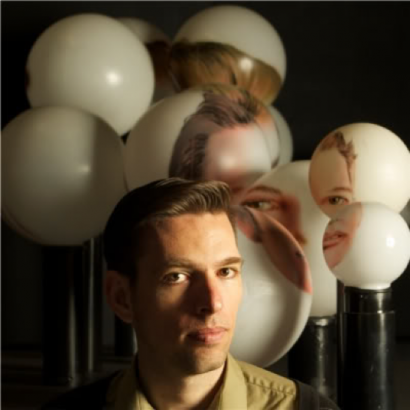 jherek is a true musical genius….he's been jason's touring bassist for years, and i had the pleasure of playing onstage with him and michael at the pre-halloween LA show.
a lot of you already know him. in impressive news: he just finished up a huge night at the ecstatic music festival presenting his own incredible avant-garde-beautiful-classical compositions….with collaborators no less fancy than David Byrne and the dude from Deerhoof.
so that's the band: me, michael, chad and jherek. and one more thing:
you.
all y'all.
we're calling this band AMANDA PALMER & THE GRAND THEFT ORCHESTRA because we plan ALL YEAR on doing what we did over the summer: stealing local musicians everywhere we go and getting them onstage with us. besides the fact that it's impossibly expensive to tour around with a string section and a ton of horn players….WHY WOULD WE when we can STEAL THEM? so be prepared: we are coming for you. once we cut this record, we'll be seeking musicians EVERYWHERE WE GO. it may not be limited to brass and strings.
we also want to push the limits of HOW WE CAN INCLUDE people in our art-making as part of the live experience. it's exciting. we have PLANS. well….maybe not real plans.
we have IDEAS. (there is also an INCREDIBLE ALBUM ART PROJECT secretly underway….and i'll tell you all about that soon.)
tour dates, release dates, and everything else will all be in the pipeline in the coming months….the first glimpses of tour will be starting late spring/early summer, once the album's totally finished.
ho my god.
…………………….
as you know, i'm independent, free of my major label, tra la la!
i don't have a stock-pile of capital hidden away, and i am going to have to crowd-fund huge parts of the record and the tour….and given everything that's been going on in internet-land, i'm excited to do it.
anything we make: the recording, the videos, the costumes, the strange live internet tools, the touring engine, it's ALL going to have to be either crowd-funded or covered by loans from people who have the spare cash to front me: the scope of the process and the size/scale of the tour will truly be dictated by the fanbase and how much money we can come up with.
i have a good feeling about it, but who the fuck knows: it feels like the first moment of sticking out your thumb when you decided to hitchhike A LONG DISTANCE. terrifying and exhilarating. no idea where this is going to take you, but you're ready to jump.
we'll be crowdfunding the majority of the money we need around april by doing a giant outreach and pre-order for the album.
so i'm not asking for anything now, except just….be happy for us!
i sure the fuck am.
……………..
and yes….MELBOURNE, you win.
we thought about making the record in a few other cities (mostly in the states), but i decided, hell….i'm already over here from the dolls tour, and there's a ton of resources here for the band.
we've already had 3 different people volunteer to make us dinner. (if you want to…email us@amandapalmer.net. we'll take it. no joke.)
the band is meeting up in melbourne in two weeks. we're going to REHEARSE OUR ASSES OFF, then play run of small shows to get the songs perfect perfect perfect in front of a crowd before putting them down on tape.
thus, our UPCOMING MELBOURNE RESIDENCY at the NORTHCOTE SOCIAL CLUB!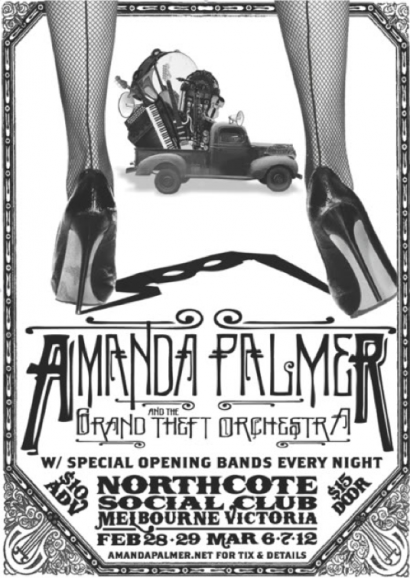 we're going to do FIVE shows. audio/video recording will be forbidden at all show.
special guests will be rampant (and unconfirmed at the moment).
we tried to make the shows as CHEAP as humanly possible.
they're all $10 ($15 day of show). they're all 18+ and doors are 7pm.
tickets for all five shows are on sale NOW! here's the info:
• FEBRUARY 28th
BUY TICKETS | RSVP on facebook
w/ DJ DAMEZA (one half of ACUMEN/@dameza on twitter)
DJ DAMEZA is my favorite new DJ – i danced my ASS OFF to one of his late night sets at the MONA FOMA festival a few weeks ago, and i've manged to convince him to come up and DJ us into a dancing FRENZY for these two show. hopefully we can convince him to come to some other nights, too…he's checking.
• FEBRUARY 29th
BUY TICKETS | RSVP on facebook
also w/ DJ DAMEZA
• MARCH 6th
BUY TICKETS | RSVP on facebook
guests TBA
• MARCH 7th
BUY TICKETS | RSVP on facebook
guests TBA
• MARCH 12th
BUY TICKETS | RSVP on facebook
w/ DIE ROTEN PUNKTE and more TBA
die rotten punkte are one of my absolute favorite fucking acts, and i've been trying to do a show together with them for AGES!!!
here's a clip of me joining them for a very bizarre song/interpretive dance in edinburgh a few summers ago:
do not fret, every single night is going to be UBER-SPECIAL…these are bascially open rehearsals with the band…anything goes.
dress to impress….your mom.
if you want to help spread the word about these shows, here's how…
i am personally going to be wandering around melbourne, handing out these flyers and leaving them on the benches of many an unsuspecting vegan record shop.
i've missed doing that. i'm never in town long enough before a gig to be able to.
but i could always use help…we put up a download link for the poster (and handbills) up on the shadowbox, so please: grab the assets HERE (or click the thumbnails below), go get some printer ink and tape, and hit the streets……and if you don't live in the area but know people who do, let them know? just link 'em to http://bit.ly/NorthcotePromo
also, MELBOURNE (and this is getting dorky) if you have any of this GEAR or a music shop/rental hook-up, we need you!!!!
you can save us tons of money if you have any of the following we can borrow (or rent for cheap or barter!):
– a Kurzweill PC3 keyboard
– a Nord Electro 3
– really, ANY kind of sequential-circuit synthesizer
– a Juno 106 synthesizer
– a Moog Voyager
or
– a Korg ms20 synthesizer
and maybe maybe maybe one of you has…
– 2 x Technics 1200/1210 turntables
(would definitely also need the cables, etc to all of the above, but we could source our own in a pinch.)
and this one i really need NOW (before the shows):
– a digital piano (of any kind), with a stand and some sort of speakers for practicing. anyone? we'll happily trade you show tickets and get you a coffee. or tea. or water…whatever your little heart desires.
if you're in melbourne have leads on any of this gear, or you think you know someone who can help us….email! us@amandapalmer.net.
(& if you think you have something comparable, talk to us! we're open)
………………………..
yes, virginia….there are going to be synthesizers on the album.
………………………
i am so excited.
i am so, so, so excited.
i am more excited than rebecca black on a thursday night.
i am so excited i just rubbed one of my eyebrows off by accident.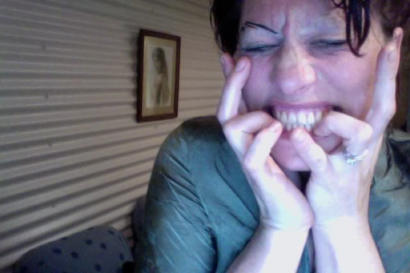 THAT'S HOW EXCITED I AM
here we go, here we go, here we go
!!!!!!!!!!!!!!!!!!!!!!!!!!!!!!!!!!!!!!!!!!!!!!!!!!!!!!!!!!!!
LOVE,
AFP