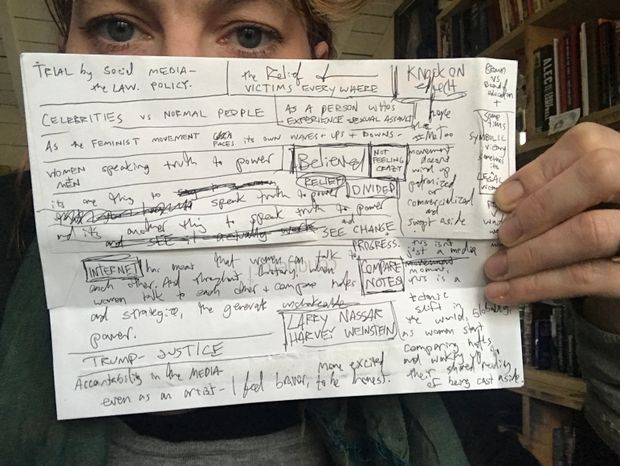 bbc newsnight notes.
(public post)
hallo loves
i am running around like a maniac today but in the midst of packing and practicing and getting ready to leave for a benefit in new york and a tour of the UK and saying goodbye to ash because i won't see him for three days i got a call from BBC's "newsnight" – one of the biggest nightly news shows in the UK – asking if i would skype into the show and say a few words about the bill cosby verdict. these were the ones that i scribbled down while waiting to talk to the anchor.
key words:
JOY.
ZEITGEIST.
BELIEVED.
RELIEF.
KNOCK ON EFFECT.
PROGRESS.
ACCOUNTABILITY.
"it's one thing to speak truth to power, and it's another thing to speak truth to power and see change."
i just finished the interview on air and it was short and sweet. i am so emotional right now, i figured i'd post.
if the clip goes online i'll share it with y'all in the state of Allthings.
i love you.
hooray world.
x
a