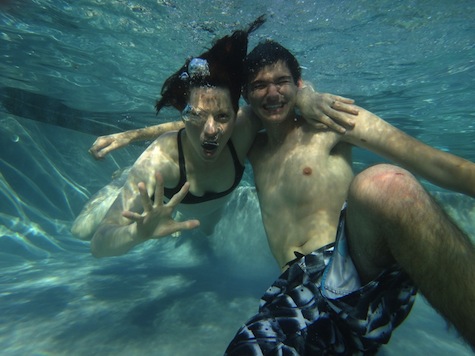 notes from the fucking front!
Cross-posted to Kickstarter (with bonus content for backers-only).
________________
there's a little something for everyone in this update, but before i go on, a reminder of the AWESOME news:
the band is about to shoot a video for "do it with a rockstar."
it's going to be a collaboration with wayne coyne (of the flaming lips).
we need extras for the shoot (in Oklahoma City).
visit my last blog for more info.
HURRAH!!!
________________
SO
as tends to happen when the long-arm of the touring law starts dictating my schedule, it gets harder to blog. fuck. really hard. sorry.
drafts are started, but sometimes even just a few days makes an update feel like it was written years ago.
it's a constant struggle – one i'm working on finding balance for, and have high hopes will get better – but i tend to dive in to the immediacy and instant gratification of twitter.
even though – in only a few week's time – we've played a handful of shows – those are all stories in their own right. in just the past couple of days, i did the very first of the kickstarter house parties (which was beautiful, and in the middle of nowhere), as well as the second show for a loanspark lender. that show was in portland, a benefit for literacy bridge………………the non-stop schedule's tiring, but worth it the second it starts.
you forget.
with so much love, and when you do things like talk around a campfire (which we dubbed the "fuck society campfire", this is at the first official KICKSTARTER HOUSE-PARTY, at weston's, in LATON, CALIFORNIA….near fresno. literally….the middle of nowhere)…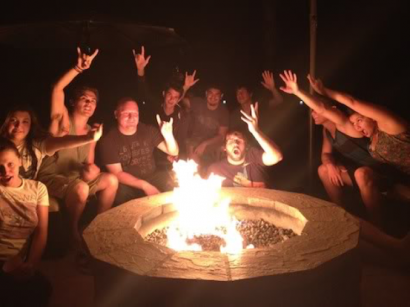 …this is me and weston…we had an excellent fucking time………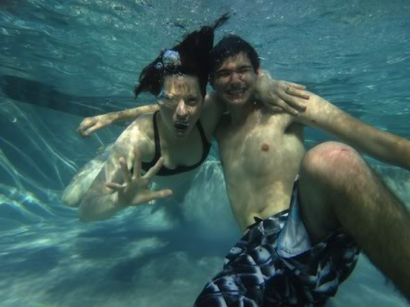 …it all washes away, and only the good of it all is left.
music-industry-guru-weirdo-connector bob lefsetz came out to the los angeles art/gallery/kickstarter party, and wrote a great blog about the experience.
it was a nice reminder – from someone "on the outside" – that what we're doing is working. and it's working so fucking well.
and THIS IS WHY.
YOU ARE WHY. WE ARE DOING IT. ok ok ok. ok? ok.
_______________________________
going back a bit, as i promised we would in the last update, we took manhattan.
hard. and we had a little help from our friends while we were at it…
none other than MR. DAVID FUCKING BYRNE, ladies and gentleman!!!
he sings on a song on jherek's new album, and so since we'd been talking and he was going to be there anyway……
after being a surprise guest during jherek's opening set…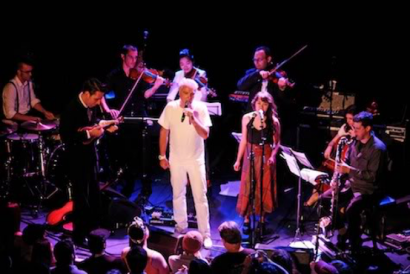 …we figured why not bring him out for the encore to do a horn-infested rousing rendition of "BURNING DOWN THE HOUSE":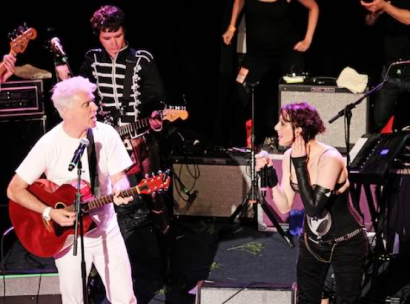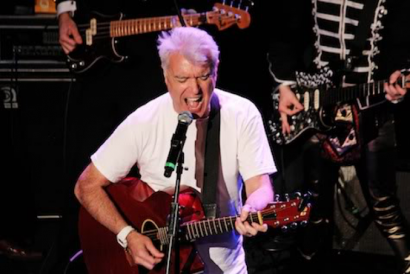 here's a video that jerri – hayley's twin sister – captured…COOL BABIES:

i don't think i can begin to explain how important this band – michael, chad, and jherek – is.
if you've seen a show with us/them, then you probably get it.
judging from the comments after shows in the lobby and on twitter, you are getting it.
it's just so nice to be working with such talented fucking people. no drama. we're all taking good care of each other.
bringing in interesting ideas and arrangements and helping orchestrate fucking HORNS every night on the road.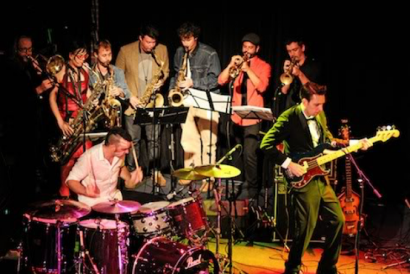 in addition to jherek, chad's opened up with his side-band/project, THE SIMPLE PLEASURE. and they're a hit.
GOD I LOVE CHAD.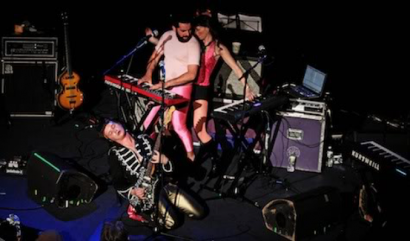 bonus pic from one of the recent shows…………me on DRUMSSSSSSSSSS (by mellow_osity on instagram):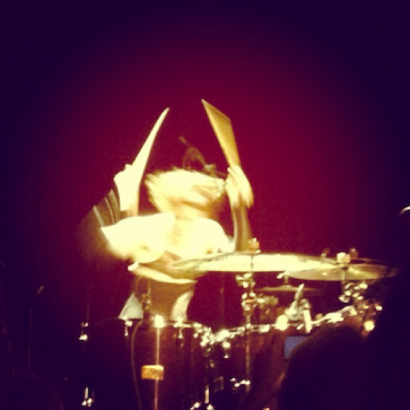 ___________________________________
while i ran around between everything that week in NYC, i was fitting in signing 4,000 something art books for some of you…
like, literally, i was signing them shits in CABS: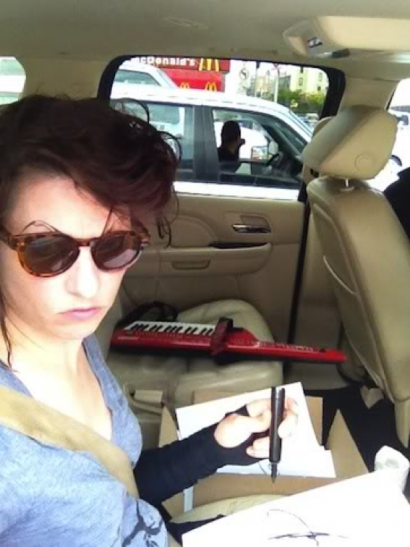 now that i'm back home in boston, i'll be tackling the custom turntables with casey and company, and i'm doing that TONIGHT.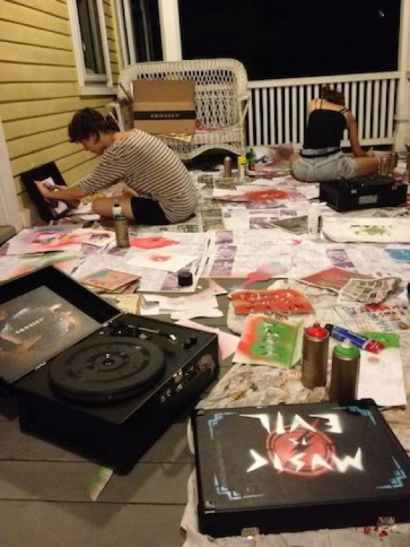 deadlines are tight, but we're having a fucking BLAST. stenciling, painting, painting, drawing, pasting. this is some bold arts and crafts shit, you people.
and for you SEVEN INCH PEOPLE….(yes, you're very small): THE 7″ SERIES SHIPPING HAS BEGUN. this week, the first of the surprise packages/vinyl is going to be making its way to those of you who're getting it. HURRAH. there's a letter in there. and some instructions. be sure to read it, and follow along with the little game i have prepared for you.
i don't want to ruin the surprise, but it will all make sense, soon.
onwards………er………backwards………
day-of for these shows – especially the art openings – is always a crunch. there's press, meeting people, hanging the art, getting gift bags together.
but everyone steps up and helps how they can, when they can…
here's everyone putting together the gift bags in NYC before we opened the doors: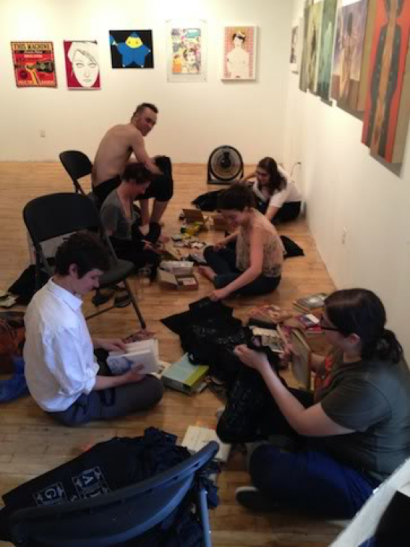 and neil salting the keg, readying it for thirsty patrons: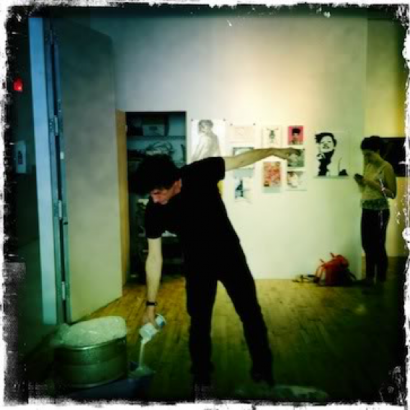 and then from there, once the doors are open, it just comes together.
people come. talk. admire. sing.
many people have told me they're one of the most amazing nights of my life.
it's exactly what i wanted these things to be.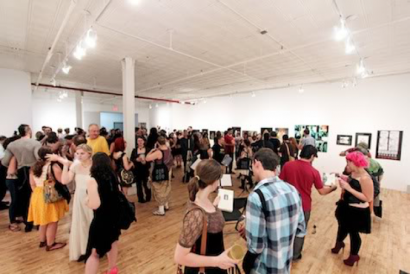 and….the ART.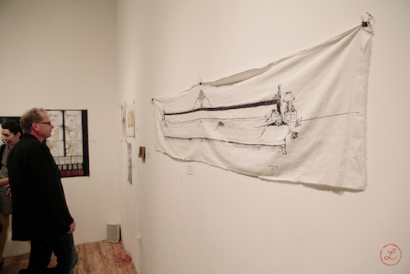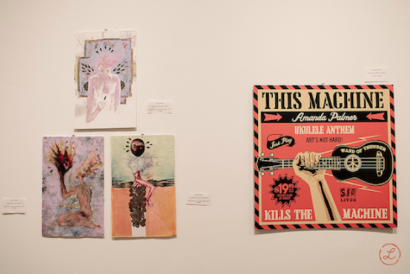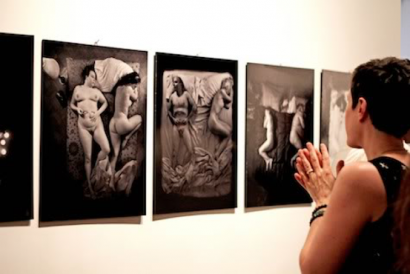 in NYC we also had TREATS…provided by ANDREA….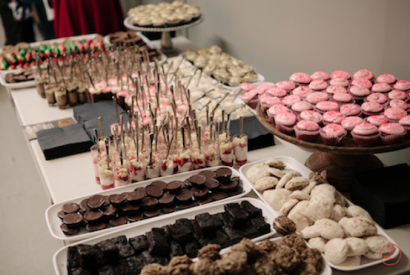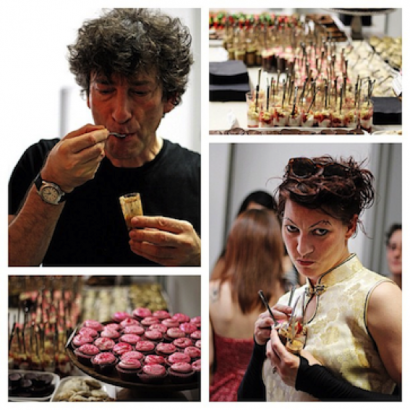 and BALLOONS…care of nicole blackman, who INHALED THEIR HELIUM AND THEN SPOUTED MISHEARD "THEATRE IS EVIL" LYRICS AT THE CROWD.
(it was awesome. one favorite was: "it doesn't matter if you want it back. you've given it to wayne.")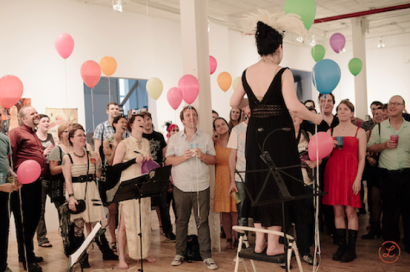 I GOT AN AWARD from the FRAUD POLICE………for being COMPETENT.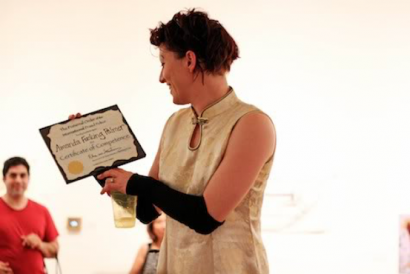 and then there was the performance to be had…neil even helped, a bit (angel-shadow in tow).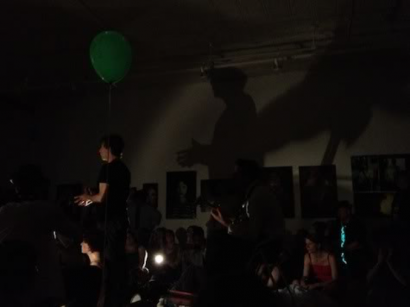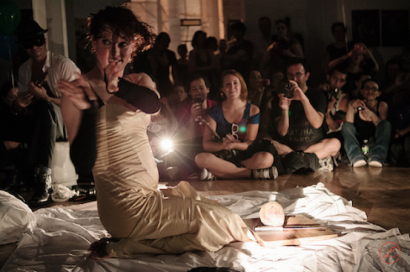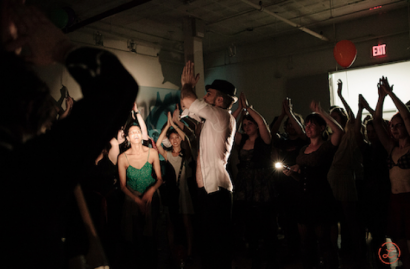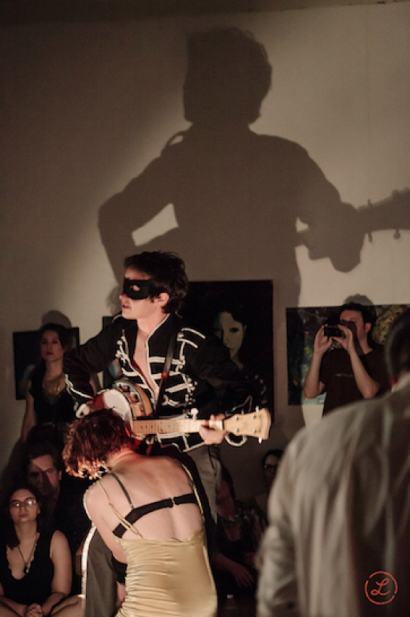 ___________________________________
random dept:
neil and me singing a sea shanty at a benefit for the south street seaport in NYC (photo by faerie_girl on flickr):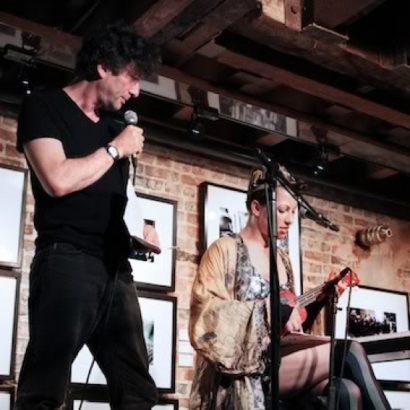 before i go………a reminder…the tour – ALL of it, including my "evening with neil and amanda" show in edinburgh – is on sale. some shows have sold out, some are already super close…………but all of the info is up and available to you HERE. AND the album is officially pre-orderable off of kickstarter if you know someone who's been wanting to grab the digital/CD/vinyl and didn't get in before we reached our goal in may. it's all at amandapalmer.net/shop/
'till soon.
xxx
AFP
p.s. all photos in this update – unless otherwise noted – are by me, Lucid Revolution, or Leslie Fandrich
p.p.s. two more pics from the instagram (LA, i think). first by alaurazane, and second by miao0726: