goodnight soul, goodnight brain, goodnight nights of art and pain
Cross-posted to Kickstarter (with bonus content for backers-only).
_________________
shit has been going so fast i've started to feel a little non-human.
in some sort of weird rock n' roll circus version of "goodnight moon", onward we trudge.
@indecisean made a little picture for me….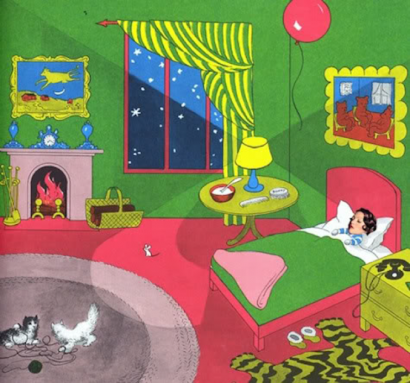 this is the room of which i dream and to which i will return sometime in the fall or winter of 2013.
goodnight house.
goodnight mouse.
goodnight kittens.
goodnight stags.
goodnight book-shopping for art-show-VIP-giftbags.
(this was from the harvard bookstore earlier this week…they had an exciting surplus of "sandman" comics)…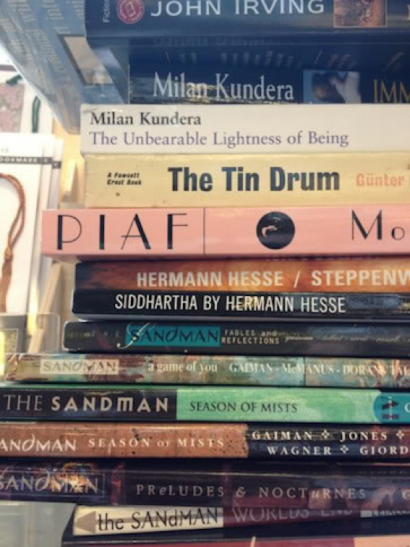 and speaking of HIM, he took this picture….at AARDVARK bookstore in san fran, where we got our giftbag goodies for everybody: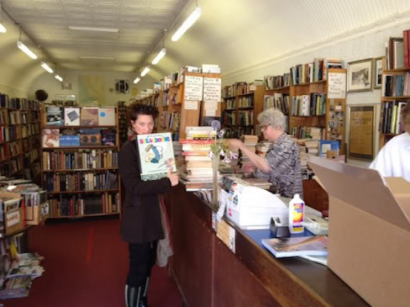 (we met a cat named owen).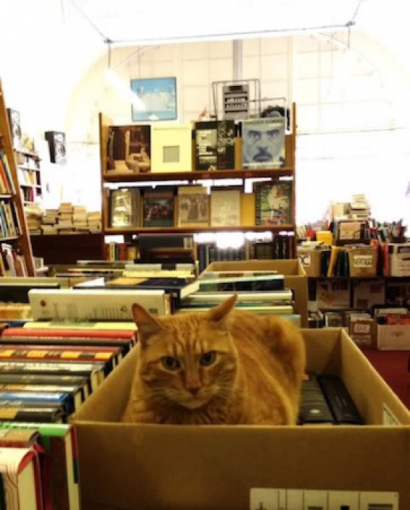 (we also fucked up and i had to run BACK to the bookstore about 6 hours after i took this picture.
owen was still in the exact same box. that moment threw some perspective on my day for sure.)
goodnight gloves.
goodnight lace.
goodnight weird photoshoots all over the fucking place…
(this one was outside the pop tart gallery in LA….)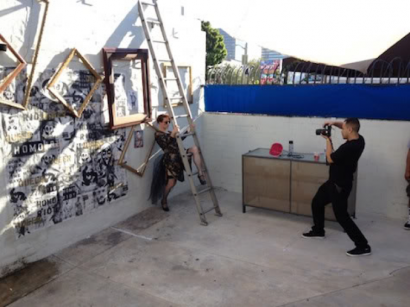 goodnight black.
goodnight blue.
goodnight prep meetings with the tour lighting crew……
SOON WE MEET AT BARD AND BUILD THIS SHIT FOR REALLLL
(that's allen wilner, who'll be doing our lights, in the middle, and michael mc @quilken on the right….we're backstage at public works in SF having our big state o' the nation meeting….)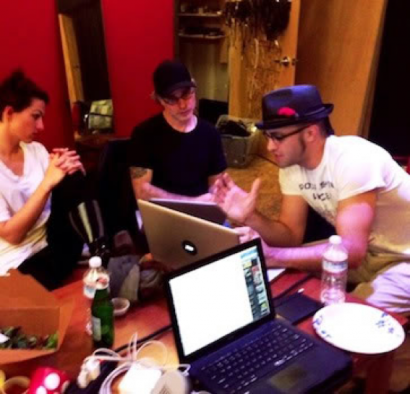 goodnight fingers.
goodnight toes.
goodnight wonderful musicians who joined us for all the fucking shows
(this is from the first night in boston this week, @musykchyk on violin, and @valeriecello on…well…cello)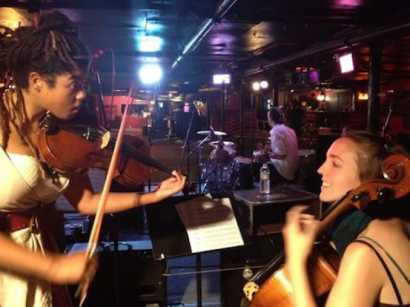 goodnight pizza.
goodnight yeast.
goodnight people waiting outside the middle east: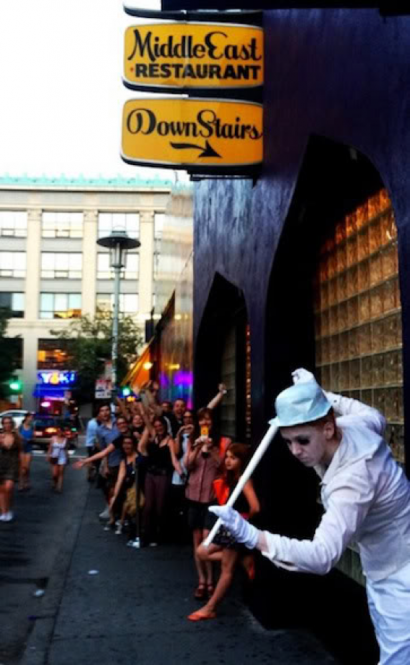 goodnight parrot.
goodnight ape.
goodnight raccoon on my fire escape
(who hung out with me for the couple of days i was in boston earlier in the summer):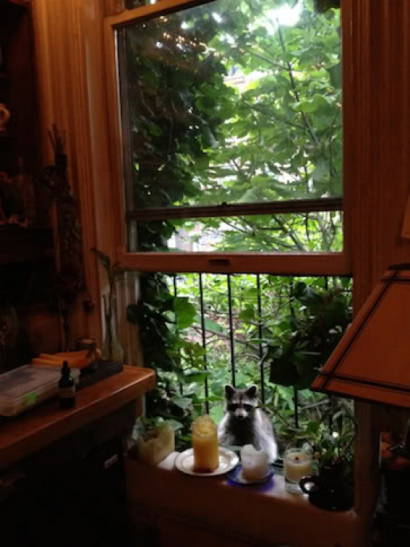 goodnight email.
goodnight spam.
goodnight absolutely perfect goddam band.
(and beautiful people who came out to the shows in berlin, london, nyc, san fran, la, and boston).
from david aka @dwaq in boston…this is from the gallery/kickstarter show at the middle east a few nights ago: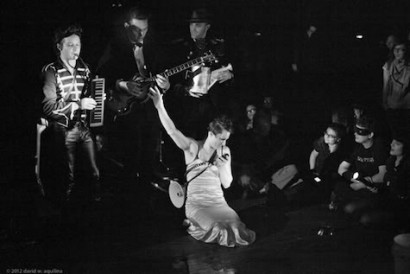 goodnight comics.
goodnight fables.
goodnight custom-stenciled and painted many many turntables…..
last week, casey and i scheduled time at my parent's house to work our asses off painting some of y'alls record players.
it was like a horror movie where a bunch of wise-cracking teens go off on some adventure that goes so, so wrong.
it started out with such hope…
so much innocence…
first, the paint was freed (because paint need-be behind bars, apparently):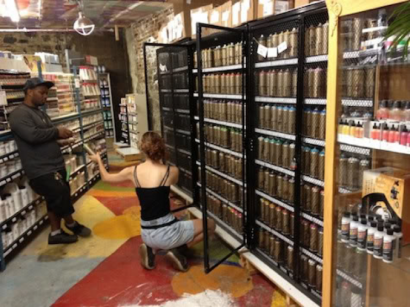 [but we had no idea what we were getting into.
i thought painting 100 turntables would take us ONE LONG DAY….
look at us. so naive.
it's all smiles, getting in and seeing this is (just part of) what we had to conquer:]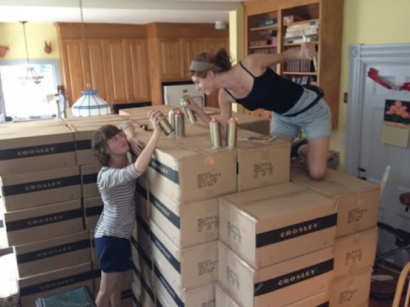 left above and below….ms nicole duennebier, who came and PAINT PAINT PAINTED the fuck out of the turntables with us…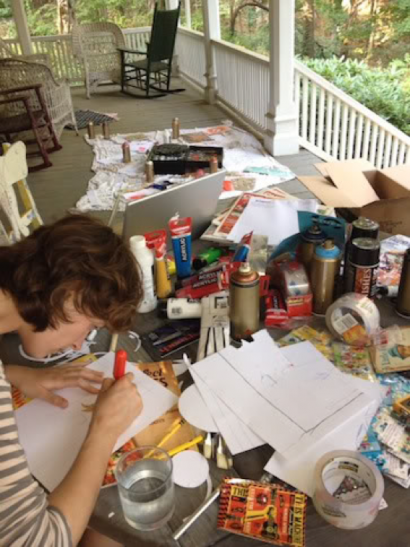 (….but here we are at HOUR TWENTY ONE. it didn't seem like we were even halfway done. casey achieves fetal position:)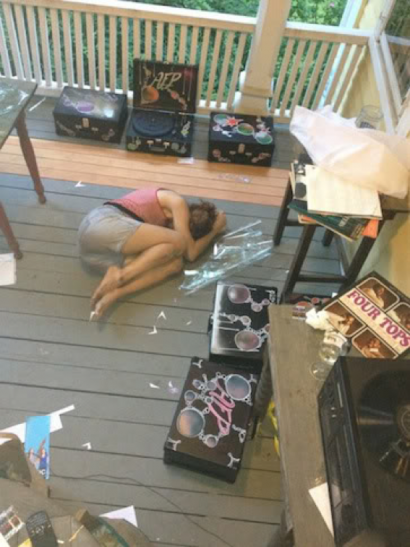 (mind you, i'm not complaining.
we had so much to do (and of course wanted all of the record players to be awesome), it was more about the issue of deadlines…..
i was about to leave town again for press and my brother's play in DC, and this was the window we had to get everything done so that they'd make their way to backers on time.
so we did what i always do: went to twitter and asked for help.
here's our random-through-twitter helper, @queerp, aka brianna….. who KICKED ASS:)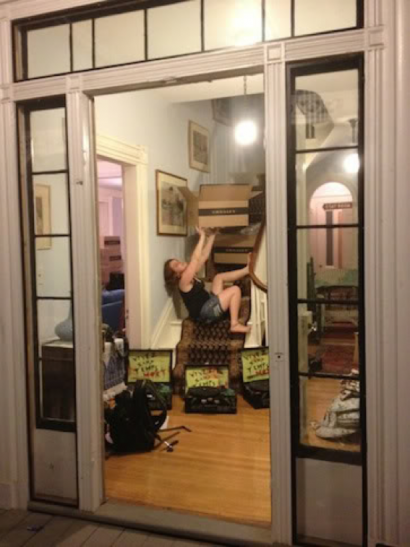 also, my housemate mali sastri (@singermali) swang by and helped us schlep turntables from porch to inside to porch to kitchen to inside: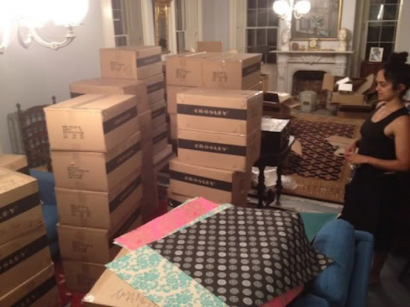 i have the best fucking friends.
i am so fucking lucky.
here is the back porch aka paint-central. my sweet parents were kind enough to lend us the back porch other house to undertake this MADNESS….
we spent the first 3-4 hours designing and making our own stencils.
some stencils we shared, but mostly we got into our own grooves.
casey was all about BUBBLES….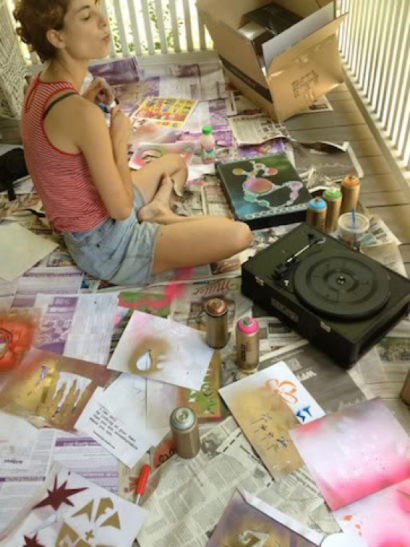 here are a few of mine…..i made a MUSIC IS EVIL stencil i was quite proud of….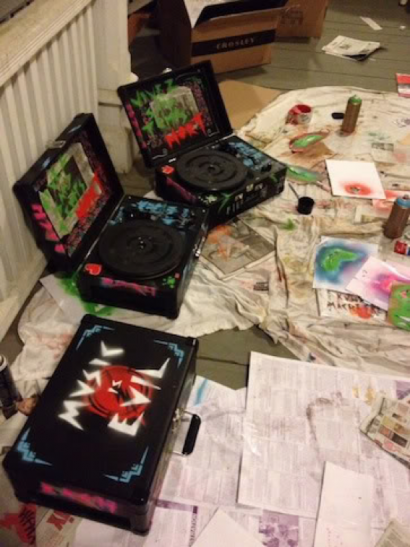 i also decided to handwrite a different lyric on every turntable i painted….
i had no system, i just grabbed a lyrics from a song a scribbled it. no two are the same: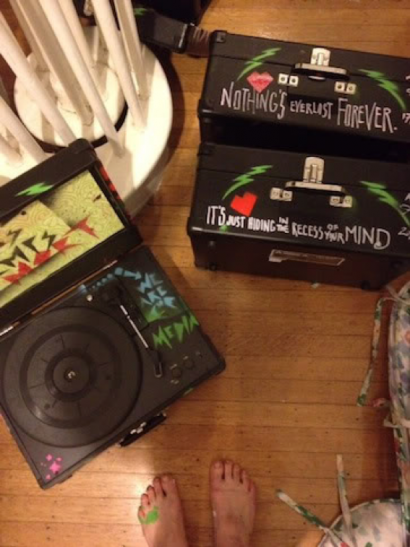 and i shouted out a few of my favorite rockers, via stencil: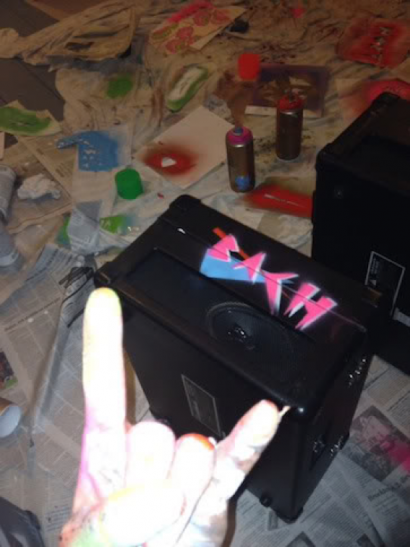 BACH FTW
(paint paint paint, stencil stencil stencil)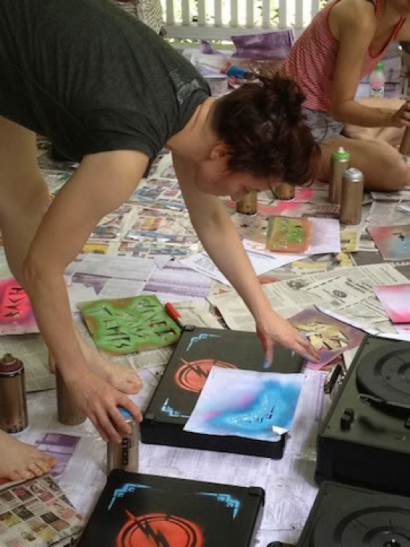 and these are nicole's finished turntable outsides: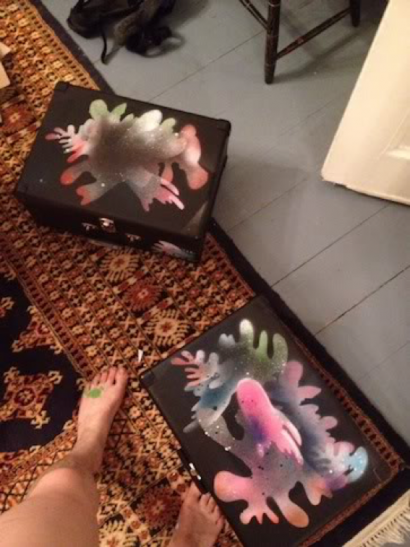 TRIPPY!!!!!!!!!!!!!!!!!!
here's a little video that @queerp, aka brianna, shot for you all of the crime scene…..

2:01am. last man standing. hour 25 i think(?) on day two.
everything including me covered in paint: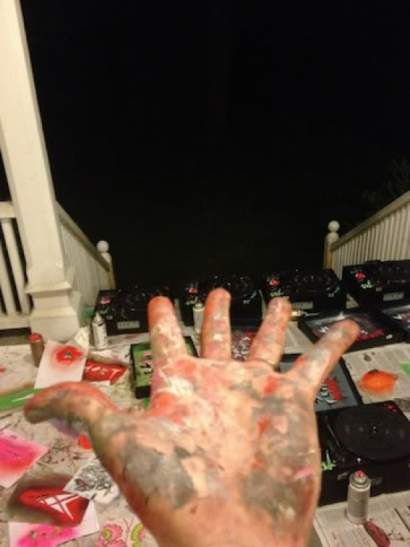 …after 30 hours. braindead. everything hurt. i took a bath. the paint stuck: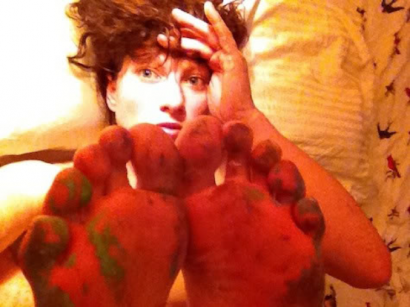 BUT……it worked. here's casey – alive and well – to share our victory with you.
MY MOM TOOK THIS PICTURE: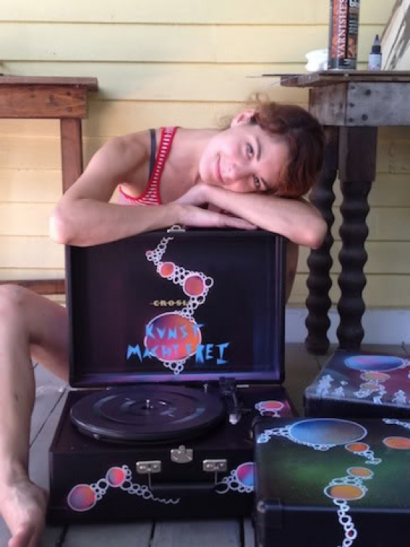 i can't wait for everyone to get their record players………when you do, be sure to post pictures. and tag @cassandralong. i couldn't have done it without her.
goodnight goodnight goodnight.
————————-
SPEAKING OF records and turntables and people getting their stuff………
people have been getting the first of the SUMMER MAILBOX INVASION SERIES!!!!
here's what's in it (photo by @pennyandjack):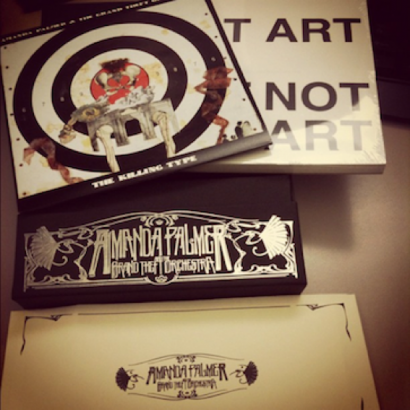 and here's the purdy vinyl for "the killing type" and "grown man cry" (photo by @evewhitevblack):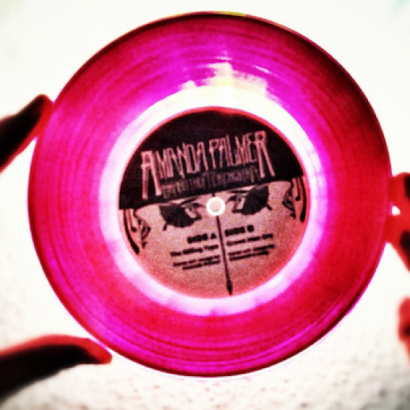 as you can see in the photo above, the first mailbox invasion package contained a pack of white stickers. they contained the words "ART" and "NOT ART" on them.
there was also a note and a website address – http://bit.ly/ArtNotArt – with instructions on WHAT TO DO WITH THEM.
if you were one of the backers, please get out there and start a-stickin'………something cool is in store with these pictures.
and even if you weren't a backer, you can go see the photos people are posting at http://bit.ly/ArtNotArt
this is one of my favorites, so far! a matching set of ART/NOT ART via @time4law…
from the debris of our conquests in cambridge this week, taken by none other than @hayleyfiasco: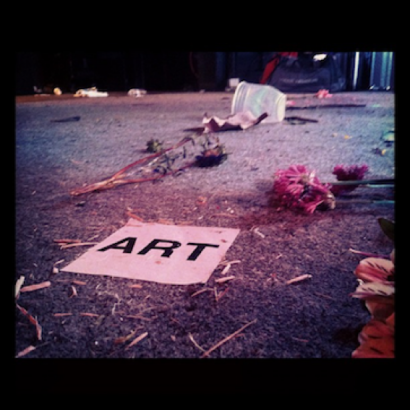 there are lots more.
go look.
contribute.
enjoy.
————————-
tomorrow, the whole band is getting on a plane to head to oklahoma city, where we'll shoot the ROCKSTAR video with wayne coyne at FlamingLipsLand.
it's supposed to be about ONE HUNDRED AND TEN DEGREES THERE.
JOY.
((((speaking of………absolute last chance if you're near OKC want to be an extra! info is up at http://bit.ly/AFPvsWC and you can RSVP/share this link on facebook if you think you know someone who'd wanna be in it: http://on.fb.me/RSvidRSVP ))))))
….then we go to bard in upstate NY for rehearsals.
and a few shows (more info/tickets soon, i promise).
goodnight summer tour.
goodnight art shows.
goodnight record players blasting the doors on a hot summer day.
goodnight paint.
goodnight kimono all ripped to fucking shreds.
goodnight wonderful people and helpers and team and family and friends who made this all so great.
goodnight kickstarter backer update readers.
i'm really, really, really tired.
love
AFP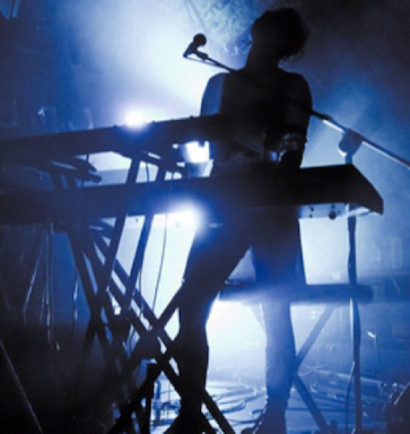 (photo by @alaurazane)