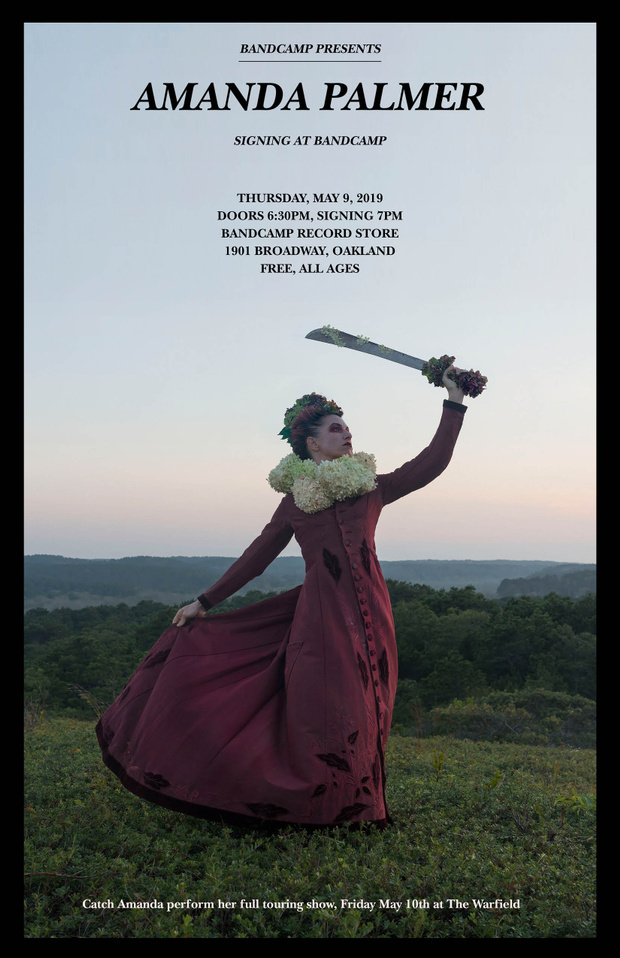 a bandcamp love letter, & a FREE bay area SIGNING @ their new record store
(public post)
HEY ALL
i am slowly recovering from one of the hardest weeks of my life….so goddamn satisfying but SO LITTLE SLEEP AND SO MUCH BODY MOVING AROUND AROUND.
i'm not even going to try to catch you up, not yet….and there's time.
tomorrow is my birthday. i usually put a post out for my birthday asking for a favor. don't worry, i will. i'm going to take tomorrow OFF (well, as off as i can). i'll post in the am and try to enjoy my fucking self. if you want to see some of the photos from the White House correspondents dinner, head to my instagram (you don't have to be a member or jump any hoops in order to peruse through the photos)…..or wait for the epic post/podcast i'm quietly building in the background for you. it's going to be amazing.
BUT
i gotta get a quick piece o' news out the door:
if you've been following me for awhile, you know that i've been an avid, enthusiastic user and supporter of bandcamp – a cutting-edge online music store – for over a decade, since they first launched in 2008.
my page is here, if you've never been there (which i would find shocking, since it's where i try to send you to Get My Music):
https://amandapalmer.bandcamp.com
i fuckin love bandcamp. LOVE. LOVE LOVE LOVE.
many of my friends who are indie musicians have found a real salvation in bandcamp. they are friendlier and less corporate than the Big Box Digital Stores like iTunes and Google, and they really seem to love and care about their artists and music.
earlier this year they opened a brand new brick and mortar record store and performance space, that just like their online community, is meant to promote and benefit independent artists directly.
i love bandcamp. did i say that? i'll say it again. love.
they've helped me crowdfund and pre-order albums before kickstarter was even a Thing (like my radiohead covers EP, evelyn evelyn, 8in8, my first single when i got off the record label, etc. to name a few), and they're my digital music store of choice because they instantly allow me and my pals to release my music for free and as pay-what-you-want downloads.
this is important: i can release whenever i want without any delays, approvals, or gatekeepers.
many of you don't think about this, but WHEN I PUT A NEW RECORD OUT WITH ITUNES I HAVE TO SEND IT WEEKS IN ADVANCE. they are not good at being fast, and they are not great at being fair (they insisted that i censor my last record cover, for instance. bandcamp did not…though i chose to self-censor because facebook – argh – was taking down people's pages when they shared the bandcamp link. welcome to my life.)
my long-time hero and collaborator, edward ka-spel, told me the story of how bandcamp was the savior of his band, the legendary pink dots, because it allowed them to directly connect with their fans, sell music, and keep both control and profit since their margins are so razor-thin. (yes – that means that you going and spending $10 on them on bandcamp will actually make a difference….and you can find their whole catalog on bandcamp here….(don't be daunted by the 9,212 albums up there…..i recommend starting with "the maria dimension" then moving on to "asylum")
and if you missed the record i co-made with edward, it's HERE on bandcamp

ANYWAY.
bandcamp. love.
and now THEY HAVE A BRICK N MORTAR RECORD STORE opening in oakland, CA!!!
LOOK HOW PURTY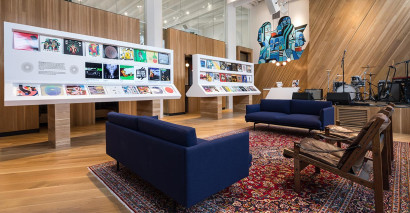 it's kind of like the delicious antidote to amazon buying up whole foods and replacing all the tellers with robots (or weirder, making check-out totally obsolete, which saddens me, because how else are you gonna strike up a conversation with a neighbor if not at the neighborhood market. fuck a duck.)
get people in a SPACE! HUMAN INTERACTION! MUSIC!!! MAGIC THINGS HAPPEN! hooray.
so yeah…..you bet yer ass i'm gonna help bandcamp celebrate the opening of their new record store IN PERSON because i love them, they've helped me (and US) a lot…and it's all conveniently happening when i'm in the bay area for my show at the warfield in SF next week.
COME!!!!!
BANDCAMP
1901 broadway, oakland, CA, 94612
doors open at 6:30pm, the signing starts at 7pm.
i will have a ukulele.
don't make me use it.

i'll also do some discussin'.
i like discussin'.
there's a lot going on, eh.
how are we all going to fit in this store?? I DON'T KNOW.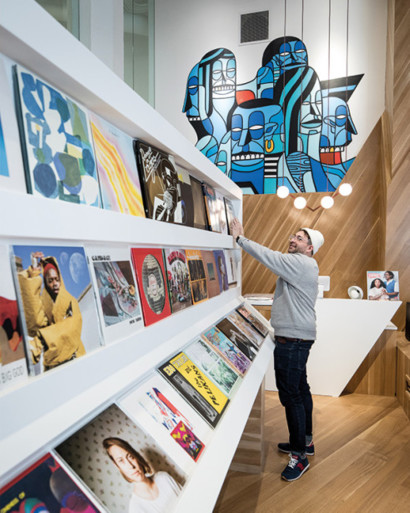 we'll have copies of THERE WILL BE NO INTERMISSION for purchase, but you can BYOV. or BYOCD.
the event is FREE, open to the public, and ALL AGES. i'm playing the warfield in san francisco the next night, so i may even bring some extra little merch items to sell on hand for you to get signed, too….wheeeee.
here are all the details and the official RSVP, on facebook:
https://www.facebook.com/events/647992215671732
SPREAD THE WORD, PLEASE!!!!!, about BOTH EVENTS! the warfield is getting closer and closer to sold out, but that fucker holds 2,300 bodies and i need your help to make it to the finish line.
LOVE
AFP
——THE NEVER-ENDING AS ALWAYS———
1. if you're a patron, please click through to comment on this post. at the very least, if you've read it, indicate that by using the heart symbol.
2. see All the Things i've made so far on patreon: http://amandapalmer.net/patreon-things
3. join the official AFP-patron facebook group: https://www.facebook.com/groups/afpland
4. new to my music and TOTALLY OVERWHELMED? TAKE A WALK THROUGH AMANDALANDA….we made a basic list of my greatest hits n stuff on this lovely page: http://amandalanda.amandapalmer.net/
5. general AFP/patreon-related questions? ask away, someone will answer: patronhelp@amandapalmer.net