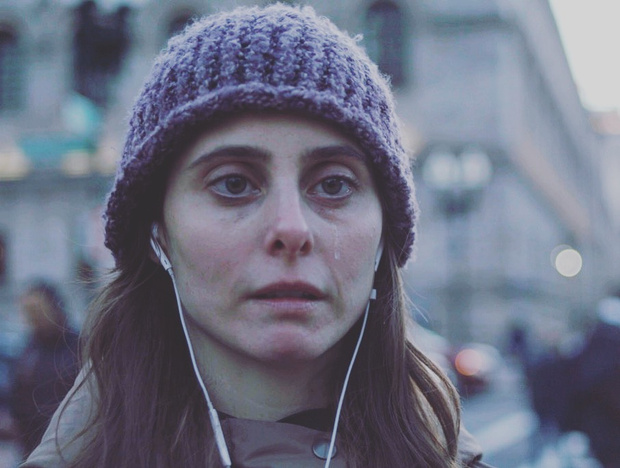 The Abortion Shower I Never Got: the "Voicemail for Jill" documentary {official thing}
(public post)
hola my dear comrades.
love from an air bnb in oakland, CA.
i'm recovering from the shows in SF & La and getting ready to tackle the south – atlanta and nashville are this coming weekend.  (no: the timing is not lost on me).
because politics, i am taking a dive and giving away tickets to the atlanta show to anyone who can't afford on, the post is here. tell people they are free to join the patreon to unlock the link and then drop off. i just want folks to be able to afford and see this show.
and the pre-show will kill: arrive early. (5 pm! bring snacks). i've hired a marching band, we're gonna have a big fun lesbian wedding, we're gonna raise our fists loud and proud against the system that is trying to fuck us, and things are coming together nicely.
bring signs. bring ukuleles. bring light.
…………
and because of all of this…..
i'm going to push out this "voicemail for jill" behind-the-scenes documentary a little ahead of schedule given what's happening in my country. i know a lot of you live here, but it's always important to keep in mind that many of you don't (hi UK! hi germany! hi japan! hi australia!).
but this is, i think, world news, and it involves all of us.
as audre lord said…..and she put it so beautifully……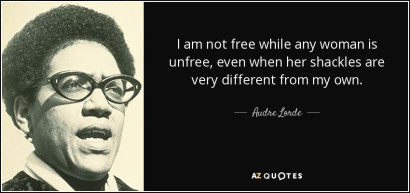 alabama just made abortion effectively illegal.
you can read about it here in the fake news media, oh, sorry…the new york times.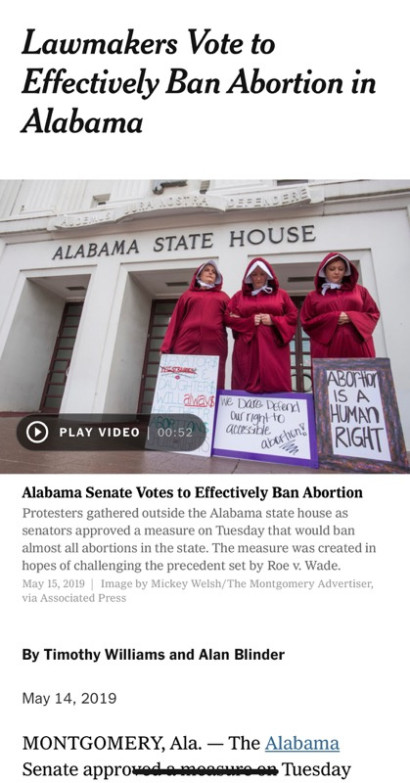 this is bad.
we are heading to a post-roe america if these people get their way.
………………
i wanted to stop here and do a book plug for my new friend, robin marty.
i can't believe it's come to this, but a book like this may be necessary, and i'm glad it exists.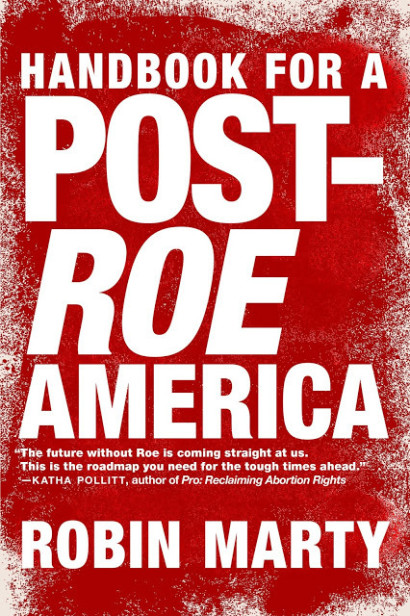 "Handbook for a Post-Roe America is a comprehensive and user-friendly manual for understanding and preparing for the looming changes to reproductive rights law, and getting the healthcare you need—by any means necessary. Activist and writer Robin Marty guides readers through various worst-case scenarios of a post-Roe America, and offers ways to fight back, including: how to acquire financial support, how to use existing networks and create new ones, and how to, when required, work outside existing legal systems. She details how to plan for your own emergencies, how to start organizing now, what to know about self-managed abortion care with pills and/or herbs, and how to avoid surveillance. The only guidebook of its kind, Handbook for a Post-Roe America includes an extensive, detailed resource guide for all pregnant people (whether cis, trans, or non-binary) of clinics, action groups, abortion funds, and practical support groups in each state, so wherever you live, you can get involved."
https://www.amazon.com/Handbook-Post-Roe-America-Robin-Marty/dp/1609809491
winter is coming.
buy copies for friends.
……………….
okay so.
if you missed it, i put out a video for "voicemail for jill" on the day THERE WILL BE NO INTERMISSION dropped in early march.
here's a link to the video, which was directed by amber sealey:
https://www.youtube.com/watch?v=Npq_ieGCzes
here are some stills i pulled from the video…..i love these shots.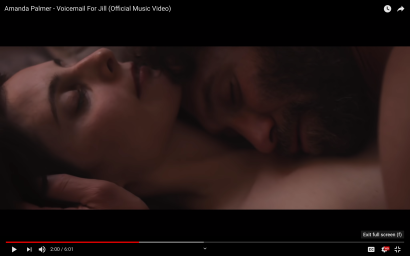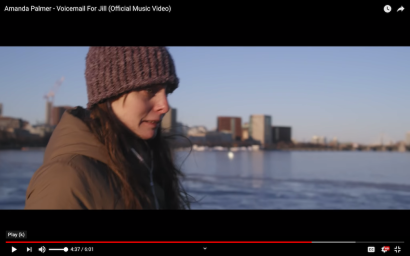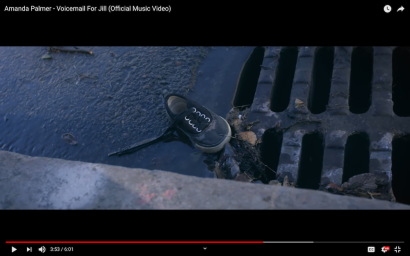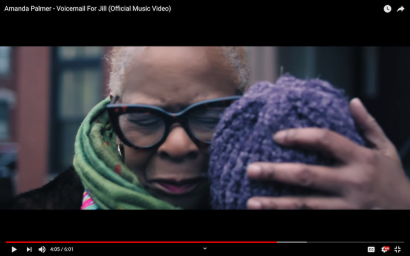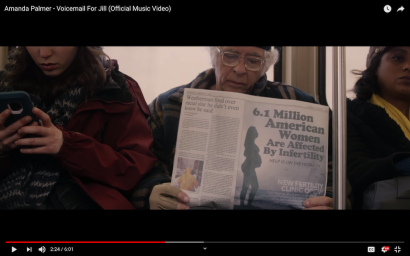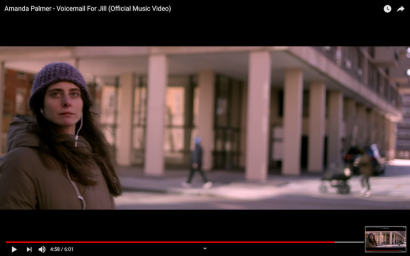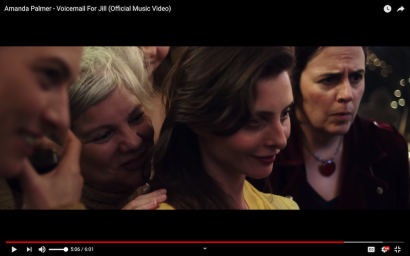 oi vey.
this is the patreon post i put up when i released the original video, if you wanna go back and read it: https://www.patreon.com/posts/voicemail-for-by-25185120
it is – i feel – the most powerful video i've put out in my career, and i've put out a ton o' videos, folks.
………….
one of the most powerful things about this patreon is that i can run two concurrant media engines at one time: one engine is about Just Making Art, and the other engine (and just as important, i think) is the engine about including the backstory, the creation story, the kitchen art-ingredients that go into HOW and WHY these things get made.
a video like this was a meta-video.
we made a video, yeah. but we also created an incredibly important moment in time for the people in that room. including me.
art heals.
you'll see what i mean when you watch the documentary.
…………………….
i needed to make my own healing; this patreon lets me.
……………………
this moment in american politics – and in global politics – is scaring the shit out of a lot of people. there's not a lot of time to be scared, we have to work. as i tweeted this morning,
we. know. our. history. when fascism rises, one of the most important pillars of control is reproductive freedom. if you control the wombs, you control the population, the wealth, the entire agenda. i am going to fight this darkness with my whole life.
we are all so busy. but as a woman who had an abortion at 17 & therefore got to follow this path to here and now, with a huge following, career & a voice to shout with, i feel like it's my job to protect all the women behind me. i'll shout til i'm hoarse. CHOICE. CHOICE. CHOICE.
we have to galvanize, organize, get ready for a very long, hard and exhausting fight. and as artists, we have to consider very carefully what we are spending our time and energy DOING. how we can use our artistic weapons, our paintbrushes, our novels, our song-voices, to help curb the tide of this insanity.
…………..
i don't take the combination of this moment in time and this patreon for granted.
if i were on a record label right now, i'd be totally compartmentalizing my "activism" and my "music career". that is often what artists have to do.
fuck that.
i've never been happier in my life, because for the first time, there is no separation. my music IS my activism, my activism IS my life, my life IS my music.
there is no need anymore to pretend that these three things are even remotely separate…..and the final merger of all these things has brought me a kind of peace and power i never thought i'd feel.
……………
putting out art can be so powerful.
but making art can be all sorts of things. frustrating. unforgiving. disastrous.
but sometimes:
sublime.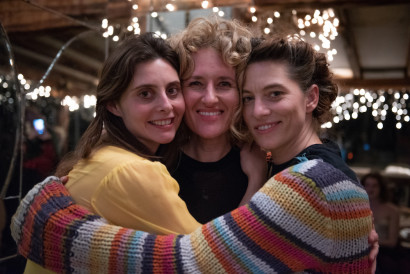 (photo by hayley rosenblum)
this is kate (jill), the director, amber sealey, and me after the shoot upstairs at my house….
and here we all are talking on my couch.
this is in my old apartment in the cloud club.
we didn't film there by coincidence.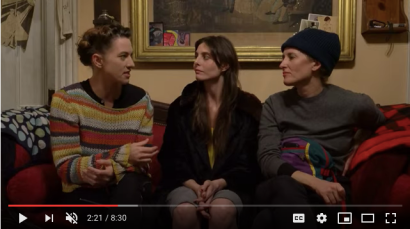 the gathering of souls up in our attic during the making of this video is WHY i make art.
there's the act, and there's the artifact.
when you nail it, you get both.
am i speaking in riddles? eh. just watch the documentary, you'll see what i mean.
here it is: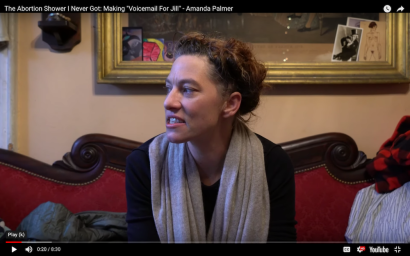 the documentary was produced by: The Media Darlings & Directed by James Holland
here's a photo taken during the shooting of the doc (that's james to the very left)….
and yes, this is jill, "walking through copley"…..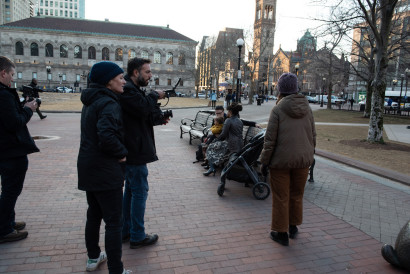 (photo by hayley rosenblum)
some words from james holland:
"I first met Amanda while helping on the crew for Coin-Operated Boy, directed by Michael Pope. Since then, I assisted in various roles from shooting to editing on many videos for The Dresden Dolls, and later for Amanda's solo work. On a personal level, it's been fun for me to know Amanda for many years now, and to see her music and life evolve over that span. We were both living in Boston when we met, and through chance or circumstances, have both settled in the Hudson Valley, so I've been fortunate to be able to just keep working on projects with her all along the way. Traveling back to Boston for the "Voicemail for Jill" shoot, felt a bit like traveling back in time for me because I hadn't been to the Cloud Club in years, but it felt refreshing to be back doing another shoot in Amanda's Boston digs and all around that neighborhood. The documentary footage of "Voicemail for Jill" shows some of the process of making the video which definitely had unusual moments of improvisation. At one point, people in the cast revealed some very emotional events in their lives, and you don't generally witness that kind of bonding and sharing on a music video shoot. I was glad to be able to document some of the journey that wouldn't be evident from just watching the finished music video."
james: you killed it. thank you.
and good news everybody. james did such a phenomenal job with this doc that we brought him on to do the documentary footage for the "drowning in the sound" & "look mummy, ho hands" videos as well. both wild art romps in their own ways. stay tuned.
……….
thank you to ALL the patrons who added their souls and voices to the party upstairs.
and
a final thought, because i know she's reading: special thanks to dianna for sharing her son benjamin with us during the party scene…..that was a special moment, and i'm glad we got to honor benjamin together.
to him.
to us.
to art.
to life.
and……
THANK YOU FOR YOUR PATRONAGE.
HOLY SHIT LOOK AT WHAT WE ARE DOING.
xx
a
p.s. to balance this post out, i'll close with audre once again….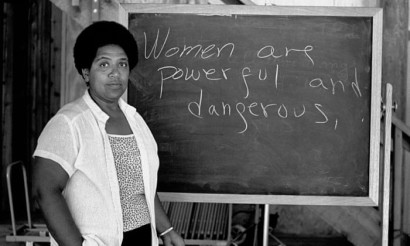 and for EXTRA BALANCE…..
p.p.s. here's ash's new favorite activity, inspired by the book "hug machine". he hugs every US postal mailbox we pass. this is in oakland, CA, yesterday. i ain't gonna stop him.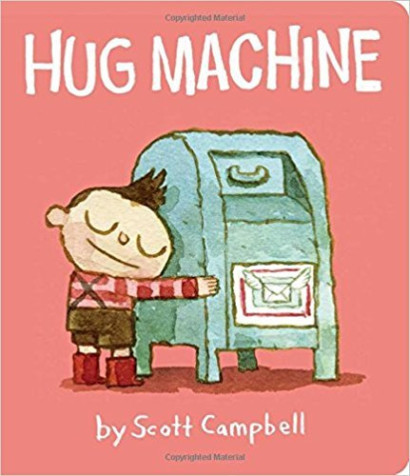 ——THE NEVER-ENDING AS ALWAYS———
1. if you're a patron, please click through to comment on this post. at the very least, if you've read it, indicate that by using the heart symbol.
2. see All the Things i've made so far on patreon: http://amandapalmer.net/patreon-things
3. join the official AFP-patron facebook group: https://www.facebook.com/groups/afpland
4. new to my music and TOTALLY OVERWHELMED? TAKE A WALK THROUGH AMANDALANDA….we made a basic list of my greatest hits n stuff on this lovely page: http://amandalanda.amandapalmer.net/
5. general AFP/patreon-related questions? ask away, someone will answer: patronhelp@amandapalmer.net