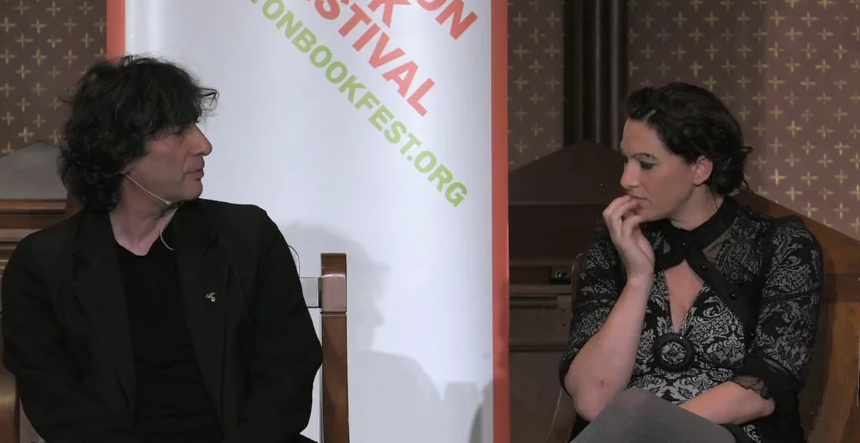 HAPPY HALLOWEEN! the scariest thing? neil interviewing me.
this blog was originally posted to patreon. sign up here to read blogs first!
---
(public post – official Thing!)
hey ho comrades…
HAPPY HALLOWEEN…..
life is scary.
scary things happens.
scary things happens all the time.
people die, babies poop, people lose their shit.
i hope if anything scary happens to you today, you can find the serenity to deal with it in whatever way you can manage.
and with that…i present to you something truly terrifying:
mr neil interviewing me at the boston book festival, about a week ago.
we talk about the book, about our marriage, about anthony. it's not a fluffy interview to say the least. neil did a great job.
extra fun: maria popova (who wrote the new postscript for the paperback) joins us on stage for the last bit, and we take a few (really great) questions for the audience.
the whole film is about an hour long, and WOULD NOT HAVE BEEN FILMED if you guys in patreon-land hadn't existed (i used patreon money to pay for it, since neither the book festival nor my publisher wanted to foot the bill).
the film & sound crew did a fantastic job. as usual, it's amazing to think that so much work and effort goes into capturing a simple event, but it does, and…you know…long live patreon. this shit is DOPE!
watch at your leisure and if you feel inclined, share it forward. it's great promotion for the book and the audiobook and, if nothing else, i think it gives you a very real and human look at who we are.
as usual, this film is FREE TO THE PUBLIC, not just for the patrons. you guys paid for it so that everybody could enjoy it.
and for the GERMANS/vimeo-lovers, here's the same clip on vimeo:
as usual, if you guys have any feedback/suggestions – hit me here in the comments.
love
AFP.
p.s. heads up, more coming!!! the $10+ patrons got a small webcast recently and we're going to make the archive available to the entire patron base this coming week (as per the wishes of the $10+ folks who came to a consensus that that was the fairest way to deal)…..you're gonna get sick of looking at my mug.