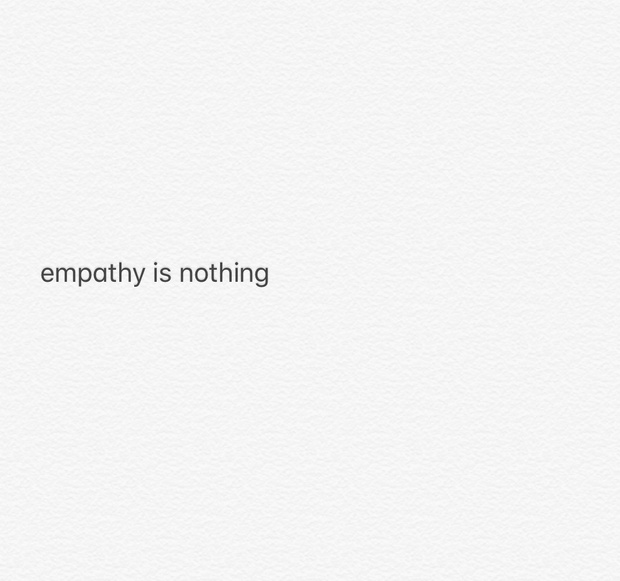 a poem (+recording) for you, "Empathy is Nothing". {official thing}
(public post)
hello dear ones.
six years ago, a few days after the boston marathon bombing, i published a quickly-written post to my blog called "poem for dzhokhar".
it was meant to be a short stream-of-consciousness reflection for my small community of readers; then it was picked up by the outside world. the moment was painful. for a lot of reasons.
let me tell you a little bit about what happened and how it felt. i've written about this before in my book, but it didn't go into detail.
i was in a cafe when i found out. i raced home. neil was there. then i sat in the kitchen, canceled everything, and spent the entirety of the bombing day on twitter, since the government had declared a city-wide lockdown. people weren't allowed to leave their homes.
i just reached back into the time machine and found those first tweets, before i even knew what was going on. (with help from hayley <3)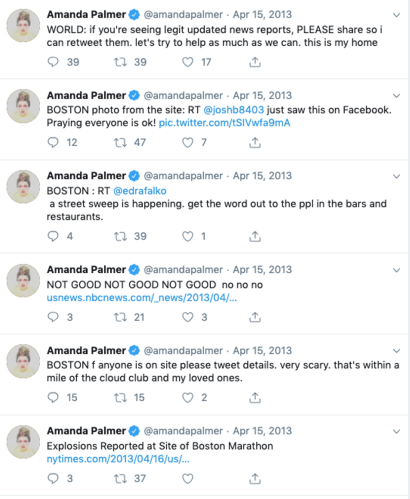 everyone was so incredibly shocked, emotional, frightened, and sickened by the massacre. what these people had done was beyond imagination. monstrous. grotesque. who were they? they were Out There Somewhere.
my instinct was to try to gather my community in a park, on cambridge common, somewhere. to be together, to hug, to cry, to make sense of things. the images were hard to look at. the bombing happened only a few blocks from the apartment i'd been living in for fifteen years.
i did what i could do: i answered every tweet, i tried to give and find solace through sharing our grief in a few twitter characters at a time. the images of the carnage were just horrific. i had friends at the finish line. they were okay. it was the first time in my life i felt the immediate horror of terrorism. it was also the first time in my life that i found out there was a maximum number of tweets you could publish within an hour – i kept hitting the limit.
my community was vulnerable, and strong, and empathetic….we held one another. we kept talking and expressing and emoting because that's how we knew how to deal. i wrote the poem in the wake of that tsunami of connection, those thousands of tweets. to, and for, the people who i'd been connected with in the storm of all that carnage and fear.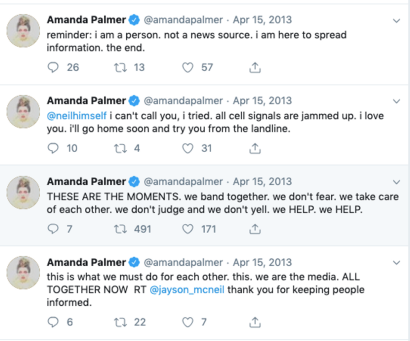 the bomber they chased down and captured – dzhokhar tsarnaev – was nineteen and from suburban massachusetts. two towns over from where i was raised. he was friends, i found out, with some kids of my own friends in public radio.
it was disturbingly close to home. shuddering.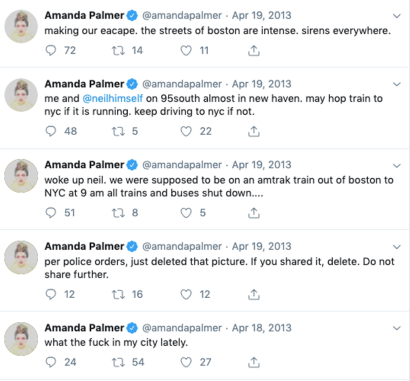 the poem itself was a set of blurred images from my life – my immediate confused surroundings, which were co comfortable – mixed with the blurred images i imagined might have been in that nineteen-year-old kid's head. some of the images matched up. but most didn't.
what it may have felt like to have that blood on his hands, waiting, in the bottom of that boat in a backyard in the suburbs. to be found. waiting there, with his phone battery drained. waiting, knowing what he'd done. knowing what he'd destroyed. that was what i just….couldn't imagine. could i try? dare i try? was he pleased with himself? horrified? guilty? suicidal? ….blank? what does your brain do…in those moments?
dare we imagine?
neil (gaiman, my husband) were in a bookstore/cafe called porter square books a few days after all this, catching up on our computers, when i decided to put some of those imaginings down into my blog. i was sitting in the exact chair i'd been in when i got the news about the bombing. everyone had shared the news in horror then cleared the shop slowly.
i read back what i'd written. i didn't feel any sense that there would be blowback. i handed my laptop to neil, who did a quick copy-edit. nice poem, he said. i pressed send.
you can read the original "poem for dzhokhar" here:
https://blog.amandapalmer.net/20130421
the day went on. we went to lunch. my community said some nice things. and then somebody outside the community found the poem. then things got weird.
then a right-wing website published it. then my website and twitter feed filled with the C word and people calling me a terrorist sympathizer. but that didn't hurt me, not really. what hurt was the left-wing press in boston (and beyond) writing articles denouncing my terrible poetry and typical narcissistic attention-grab. a website called it the worst poem ever written in the english language.
in the end, i don't think it was so much the content of the poem that people took issue with. it was the title. the content wasn't the problem.
shaken, i wrote a follow-up blog, here: https://blog.amandapalmer.net/20130423-2
going back and reading THAT is also interesting. i've changed so much since i wrote that blog. i can still feel, when i read my defense and explanation (but….you don't GET IT! READ IT AGAIN!). the pain, the anger. i was scared.
but then….we all were. that's the thing.
i recently went back to those original poem/blog pages and read some of the comments – there are almost 2,500. they're still painful to read and make me squirm (here are some examples: "Write another one when they execute him", "You are human garbage. Just fucking stop", "Want to blow me Amanda? I am a Muzzie", "You mean nothing, You are nothing", "You are not a poet. You're a sick bowl of puke",  "What a sick, lame, disgusting, scumbag way to bring attention to yourself", "HAHAHAHAHAHA fucking retard"…you get the general idea.)
it was shocking to me at the time, and six years on, i'm still trying to unpack it.
i wrote a long passage about this whole episode in my book, "the art of asking", but it mostly served to stand as an example of how my community rallied around me. i've got a new record out. lazy journalists who only read my wikipedia page tend to list the poem as one of my main projects. it's hard to escape the pain.
so i do what i' always do when i need to heal something – i go in deeper.
i keep hunting for closure. i've woven the story into the stage show i'm currently touring, which centers around the basic theme of compassion.
i talk – in the first half of the show – about how easy it was to brush off the "right-wing crazies" (though getting an actual bomb threat through my website did truly give me pause), but how much more painful it was to get called out by my own people. my people – the ones who were supposed to be all-loving, all-compassionate. weren't they?
i had spent my adult life believing that all nice left-y liberal people could at least agree on one basic principle: that compassion and empathy was (of course) due to all beings of all walks of life, even if we didn't condone their actions. or as my good friend dylan marron (who runs the podcast "conversations with people who hate me") says: empathy is not endorsement. they can and must be separated. couldn't people see that?
my friends in boston that week started taking me aside sympathetically in a way that was deeply troubling. "i was at a party yesterday, amanda, and boy….people REALLY hate you." (thanks, friend). "oh, hey, amanda! nice to run into you! wow, that poem thing, eh? so many of my friends are like FUCK AMANDA PALMER! wow, that must be hard for you. i didn't say anything, but i just wanted you to know i still love you." (thanks).
one of the hardest bits of that week was this: the private messages i got. mothers texting me, saying "hang in there. i agree with you. my son is eighteen, and i feel so much pain for that kid. i could never say that in public of course, thank you for being so brave…" journalists emailing me saying things like "i wish i could stand by you publicly, because i basically agree that we should feel empathy for that kid, but there's no way i can stick my neck out. thank you for standing up and saying what i was thinking and good luck."
and i was like: thanks y'all.
it was very….lonely.
and still. in retrospect, i'm deeply grateful for the era of my life that my friends can now lovingly refer to as "poem-gate". it galvanized me and forced me to reckon with my own soul.
it helped me to explore and clarify my own belief system, and then hammer that belief system hard to the wall. i stepped back and saw who i really was. i began to feel steadier in what i truly, deeply, believed, no matter the social cost.
i became much stronger.
since that week six years ago, so many other things have happened. one year after, i was invited by WBUR (NPR's boston public radio station) to sing at an event called "beyond the finish line" , to mark the first anniversary of the  bombing at the JFK memorial library. i'm not sure they knew how much that invitation meant to me at the time.
i was honored to be at the TED conference in 2014 where dancer adrianne haslet-davis, a bostonian who lost one of her feet in the bombing, took the stage to make good on her vow to dance again, using a cutting-edge prosthetic. there wasn't a dry eye in the house.
i went through my own private griefs and losses, most of which are chronicled on the new record, and in the show. abortions, childbirth, the death of my best friend and main-compassion-teacher, anthony, his cancer, an ex committing suicide, a miscarriage. a lot of loss and confusion.
all the while, this poem-gate episode…it always stuck like a sharp, un-pluckable thorn in my side.
i also had to admit, there was also an egotistical artistic darkness at play. to be known as the "woman who would double-down on compassion for all beings", that was one thing. but to be known as a shitty poet was truly annoying.
i even considered –  a day or two after the poem was published and it was making the rounds – just logging onto my site (it was my site, goddamit) and tweaking it, rewriting it, taking time, writing something more considered, something deeper, something…better. but that felt like cheating.
i don't write a lot of poetry that stands on its own without music.
but i have been a songwriter putting words together for twenty-five years, and the fact that my poem "went viral" for all the wrong reasons, though i hadn't really put much time and effort into it….ugh. that really got under my skin. it was a poem that had taken me less than a half-hour to write and edit, and here were thousands of people….reading it.
let's add in the irony that april was national poetry month.
but if it did anything, it inspired me to slowly cook another poem in my head, a sort of, well…an answer of sorts. a rebuttal. a furthering. i began work on this poem below back in 2014, when WBUR invited me to that anniversary memorial….but it didn't quite come together. part of it was there.
then i set it aside.
in 2014 that everything started to get busier. anthony moved closer to his deathbed, and neil and i got very distracted with the task of dealing with a house move, and a death, and a birth all at the same time. then we had a baby to take care of.
poem-gate receded into the background. perhaps the wound would close by itself.
………….
then, about four months ago, a friend of mine named regie gibson sent me an email. i know reggie through two totally divergent channels. he's a friend of my step-father john's, they attend the same unitarian church in my hometown of lexington, massachusetts; i also know him from having run into him at various conferences, because he's an nationally beloved poet and poem-defender.
he does work for an organization called MassPoetry, and if you're from boston and you've ever ridden on the T/subway and seen a poem up on the wall instead of an advertisement, that's the work of MassPoetry. they believe in the catalyzing power of poetry, and they do other awesome things like raise money to send actual living-working poets into schools to open kids' brains up to the idea that poetry and self-expression is actually cool.
regie wrote to invite neil and i to be speakers at a benefit event that MassPoetry was holding at the huntington theater in boston called "an evening of inspired leaders"; the night was hosted by WBUR's meghna chakrabarti, and we would be reading poems, aloud, aside a dozen or so distinguished boston luminaries (a few: elaine zecher, the senior rabbi of temple israel of boston, peter slavin, the president of mass general hospital and david leonard, the leader of the boston public library). it was slightly intimidating. and again, a real honor.
the huntington is only a few blocks from the finish line where the bombing took place. it was just a few weeks before the marathon. i knew that if i was ever going to cross my own personal finish line and write this poem, this would be the crowd to receive it.
so i said yes.
neil and i traveled to boston a few days before the event, and i worked on the poem in the living room of my childhood home in lexington, where my parents still live, while ash played in the next room with his grandparents.
i wrote the final draft of the poem in peet's coffee, a few hundred yards from the landmarks that loomed large in my childhood: the lexington battle green, the "birthplace of american liberty", "where the shot that was heard 'round the world" was fired.
where i was a tour guide as a teenager, clad (yes, i'm serious) in a tri-corner hat, telling international tourists about our flagpole, our memorial, our belfry, the story of paul revere, and about the words that were purportedly uttered by captain john parker as a bunch of frightened and under-slept farmers – the lexington minutemen – took up their various arms against the approaching british troops one very cold, historic morning on april 19th in 1775.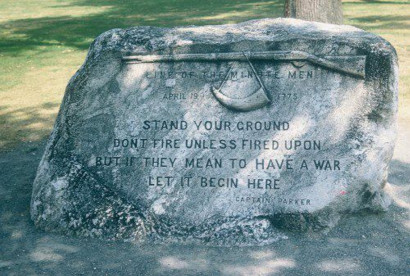 "stand your ground…."
he was supposed to have said to the scared, assembled volunteer fighters, as the british marched towards them in the breaking dawn….with their fancy-ass outfits, full marching band, and superior weaponry.
"…do not fire unless fired upon. but if they mean to have a war…let it begin here".
words that i heard year after year, uttered by someone playing captain parker (sometimes, he was even played by my OWN ORTHODONTIST), during the annual re-enactment of the battle that kicked off the revolutionary war against the brits. i went every year. i loved it. i always loved the one soldier who tried to defect, scared shitless, running off the battle green and behind a bunch of houses.
my town, man.
we lost the battle in lexington. the british left behind twelve dead and many wounded, and marched on to concord to seize a pile of hidden ammunition.
the battle became a war…and here we are.
here we are.
when i took the stage at the huntington theater a few weeks ago, i came armed with two poems. this one below, and an alternate poem by wisława szymborska….just in case i lost my nerve and wanted to run.
i haven't been that scared in a long time, and i am scared even now, typing this. i don't really want another poem-gate, you guys.
neil and i were the last readers of the evening.
by the time i'd listened to all the other luminaries read poems by maya angelou, and langston hughes, and watched the room light up with empathy and hope, and that electric charge that airlift of the soul that comes from hearing poems read aloud (you can look over the list of poems read here to see what i mean.)…
i chose to read it.
the guest who read directly before me was yvonne spicer, the new mayor of framingham, the the first african-american woman to be popularly elected mayor in massachusetts. over the course of the night i'd been moved by her reactions to the rest of the readers and poems, her on-the-sleeve emotions, her obvious joy in hearing big truths spilling out, the same joy i was feeling. the nods of agreement, the standing ovations for truth and for progress. we became a small team. i squeezed her arm for luck before she walked to the podium. she did the same for me.
i was so nervous.
i cleared my throat, looked out at the 800 people assembled in the theater, i delivered my deep gratitude to the other readers and their powerful words, i talked about the marathon, about poem-gate.
i talked about last spring, and how i spent a few days in a maximum security prison just south of boston at a restorative justice retreat, watching survivors of violent crimes (rape survivors, mothers of sons killed in gang violence) and incarcerated men connecting with, sharing with, and forgiving one another; how it was everything. how it solidified my belief that radical compassion and empathy are not only possible in this crazy world; they're necessary.
necessary to move out of the dark in which we are finding ourselves constantly lost.
they were bostonians. they knew their captain john parker.
then i read the poem.
it's hard to know, as an artist, when something works and when it doesn't. but i knew, at the end of the night, that i'd done something right when more than one person came up to me and asked when i'd be publishing this poem publicly; they wanted it, they had someone in mind with whom they wanted to share it. that is the highest praise you can give a poem. that is when you know.
so…here it is.
thank you for reading.
if you feel moved, share.
i love you.
…………..
i put up a spoken-word recording of the poem on soundcloud.
you may want to listen instead of read, or do both.
it is about 6 minutes long: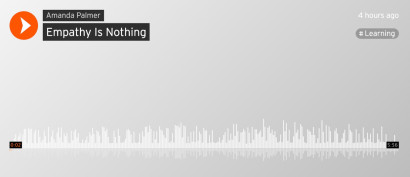 https://soundcloud.com/amandapalmer/empathy-is-nothing/s-ht2Fy
(download-tier patrons, you will be getting a PDF and a MP3 of the poem in your inboxes in a second).
……………………….
EMPATHY IS NOTHING
empathy is nothing
but the heart's imagination.
the strange creative act
of surgeon stepping into patient.
the uncomfortable trying out
of shoes that won't slip on
or a burqa
or fatigues
or a backpack
with a bomb.
but the heart's imagination
has its limits, i am told.
we're all one,
with rare exceptions,
we have standards to uphold.
we are strong.
we are unflappable.
we won't be taken down.
we won't be made to feel afraid
by folks from out of town.
but what if they are we and us,
and what if us is them?
what if we can't separate so easily…
what then?
there are limits to compassion.
you don't humanize a monster.
but it isn't going to change,
my friends,
until we can feel farther.
until we can gauge suffering on both sides of the slaughter.
until you walk a mile in the heels of every daughter
the assaulted
and the rapist
and the worst
we have to offer.
and thus our hearts are put to task.
the patient dons the surgeon's mask.
ready set
and on your marks
a climate of fear
a race through the dark
a climate of change
the gun bangs
and we…
stop.
there is a crack in everything, remember?
the finish line is lost from sight.
and some are running to the left
and some are running to the right
they are running for survival
they are running for their life.
and the heart's imagination
is exhausted by the task.
and every hill is heartbreaking
as everyone runs past
the lawless
and the legless
and the bastards with the bombs
and I can see my child
and my mother
falling down.
and some are running to the left
and some are running to the right
on platforms of austerity
and keeping borders tight.
and I think that jesus said it
but then again, i'm not so certain
love your enemies
is open to a new interpretation.
love the ones that you can manage
is a more prudent expectation.
and the teenage boy who's bleeding in the bottom of the boat…
we must admit,
to there
the heart's imagination will not go.
there's a limit to forgiveness.
there's a limit to compassion.
and to love.
to co-existing.
and to peace
and understanding.
it's the most dangerous of recent acts,
to ban where hearts can go.
it is a different kind of war,
a kind of terrorism
of the soul.
what I want to say, i cannot say.
and some are running to the left
and some are running to the right
but are we running towards the dark…
or are we running towards the light?
what I want to say, i cannot say.
what I want to say is treason.
what I want to say is that
we've won the race
against all reason.
what I want to say is that
we've won the battle
against feeling.
stand your ground
do not fire unless fired upon
but if they mean to have a war
let it begin here.
we are strong.
we are unflappable.
we won't be taken down.
and we won't be made to feel afraid
by these folks from out of town.
and some are running to the left
and some are running to the right
and some are raising up a wall.
some get shot off that wall by night.
what I want to say is harder.
what I want to say goes farther.
what I want to say is that
we will stay crippled in the darkness
if we cannot feel compassion for the heart that is the darkest.
for the hearts that turn to darkness
all have crucial tales to tell.
and we would sooner cut our ears off than to sit
and listen well.
empathy is nothing
but the heart's imagination.
you can choose to love your enemies,
or you can choose to hate them.
you can choose to love your enemies.
stand your ground.
stand your ground.
stand your ground.
let it begin.
here.
© Amanda Palmer April 17, 2019
…………..
a few thanks are in order.
neil helped me to edit both drafts of this poem (before the public reading and here, before publishing it online). he suggested massive cut and also encouraged me to change my original title, which i did. i was originally going to call it "poem for poem for dzhokhar". which is a bolder statement, perhaps, but maybe overstated the point.
here he is, with his tea in his nice chair today, being clinical with my italics.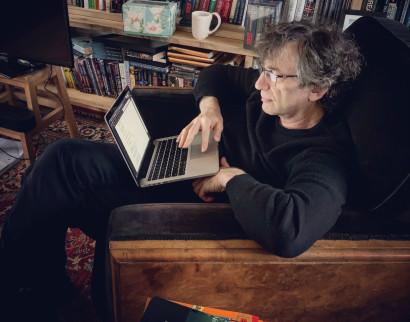 synchronistically, i did an interview recording today (for my new podcast, which is still being slowly built) with a standford psychologist named jamil zaki. i read him the poem and we took it all apart and put it back together….it was a good one. his new book, "the war for kindness: building empathy in a fractured world" , is literally a guide-book for everything discusses in this blog and poem. the book is out june 4th, and i'd highly, highly recommend it. it digs deep into the science and research behind kindness and radical empathy, and it is in turns fascinating and galvanizing. his words resonated through me all day today, as i wrote this blog. thank you, jamil.
…………
but mostly: my patrons….you all. i struggled about whether i should make this poem an official piece of content/media on my patreon, meaning that i didn't know whether i should charge my patrons for it as i'd charge for a song.
i'd certainly put as much time and effort into the poem as many other songs, podcasts and projects. i felt strange about releasing words with no musical accompaniment. funny that the opposite isn't true…i'd happily release instrumental music. maybe there's just something frightening about charing for poetry….ever.
so instead of wondering alone, i did what i always do in those cases, and i asked all the patrons what i should do. over 200 people weighed in, and the overwhelming consensus – with a couple outliers – was to put it out, charge for it, and to follow my instincts and give a portion of the proceeds to charity. interestingly, the biggest disagreement in the comments was about the charity aspect. some people thought that giving some of the money to charity would dilute the offering. i gotta say, i disagree, especially given the charity i chose. see below.
and: i can say with near-certainty that i wouldn't be releasing this poem without the fire of my patreon beneath me. you make me brave. you make me make art i wouldn't otherwise have made. it's real. it's astounding. it's working.
thank you for being here, for believing in me, for holding the space for me….thank you.
lastly: i would like to thank regie gibson and masspoetry for kick-inspiring me to write and publish this poem. if regie hadn't invited me to this event and set a ticking clock, i don't think i would have taken on the challenge. but an audience at a strange event has always been  a powerful motivator for me.
so….thank you, regie. MassPoetry raised a total of $70k the other night at the charity event, and i'm going to donate another $5,000 of these patreon proceeds. i hope it helps.
we need more poetry in these strange, strange times.
happy national poetry month, everybody.
stand your ground.
x
AFP
p.s. boston…coincidence or not, i'll see you on friday night at the orpheum theatre. and new york, i'll see you on saturday at the beacon theatre. the rest of the tour dates for north america and the UK and europe are here.
——THE NEVER-ENDING AS ALWAYS———
1. if you're a patron, please click through to comment on this post. at the very least, if you've read it, indicate that by using the heart symbol.
2. see All the Things i've made so far on patreon: http://amandapalmer.net/patreon-things
3. join the official AFP-patron facebook group: https://www.facebook.com/groups/afpland
4. new to my music and TOTALLY OVERWHELMED? TAKE A WALK THROUGH AMANDALANDA….we made a basic list of my greatest hits n stuff on this lovely page: http://amandalanda.amandapalmer.net/
5. general AFP/patreon-related questions? ask away, someone will answer: patronhelp@amandapalmer.net