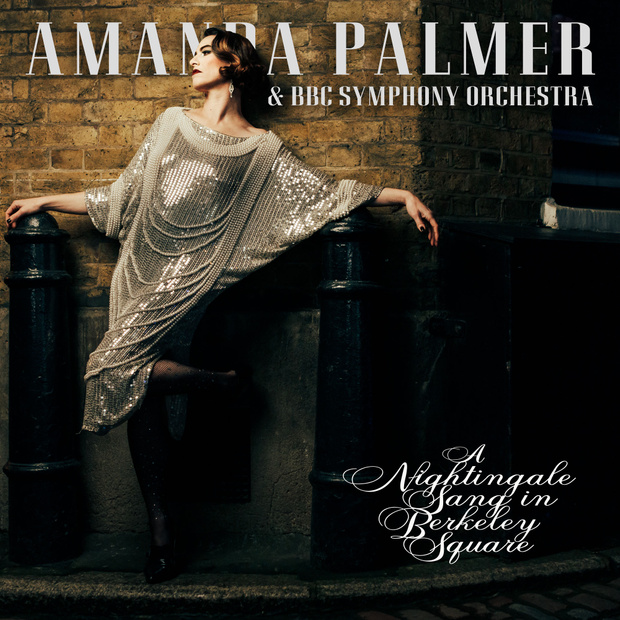 "a nightingale sang in berkeley square" with the BBC Symphony Orchestra {official Thing}
(public post)
my Dear Ones…
"the whole damn world seemed upside-down
….
i know 'cause i was there"
time to get your feels on….this is a strange walk down recent memory lanes, this release is. let's do it.
here we go, new music, for the first time in a LONG WHILE. and this is very special release, unlike anything i think i've ever recorded: it's my rendition of the classic jazz standard "a nightingale sang in berkeley square"….backed by one of the finest symphonies on the planet: the BBC symphony orchestra.
i'm singin' in my lowest, smokiest and emo-est voice, and he symphony playing an arrangement made just for the occasion by my beloved collaborator, jherek bischoff. he cooked up this beautiful arrangement and this track was recorded this past november (the 12th, to be exact) at the barbican, in london, during a night that neil fronted & curated called "PLAYING IN THE DARK", when we were still in london during my european/UK tour of "there will be no intermission….in the Before Times.
it's out today, worldwide and free on bandcamp.
as usual, i can keep my content free because everything is paid for and supported by the patreon, so thank you, patrons. i love and appreciate you all very deeply.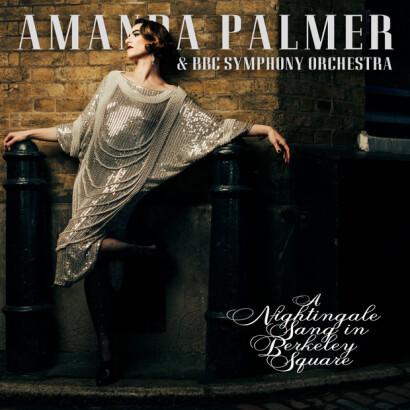 $3 patrons will be getting a download code in a moment.
everyone else, you can listen/stream here free on bandcamp:
https://amandapalmer.bandcamp.com/track/a-nightingale-sang-in-berkeley-square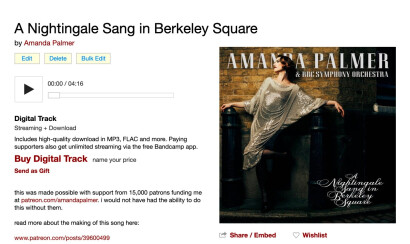 the beautiful album design is by andrew nelson, and the photo portrait was taken by the incredible london photographer charlie clift….on the DAY of the gig, RIGHT BEFORE I TOOK STAGE…..down the street from the barbican.
i mean why get dressed up TWICE. the gorgeous hair & make-up was done backstage at the barbican by james carver-grenside….a lovely bloke who i met via max melton when he did all of our hair & make-up on the "french brexit song" video (which, by the way, has hit over  800k views on youtube. who knew?)
here's a review of the whole night:
https://www.musicomh.com/classical/reviews-classical/playing-in-the-dark-barbican-hall-london
the evening also had special guest performers singer simon butteriss and david tenant as guests. the program was recorded and aired on BBC radio as part of their christmas program.
the song was chosen for its relevance to "good omens", the TV show that neil spent the better part of 2015-2019 writing and showrunning.
there's a line in the song about angels dining at the ritz. if you know the show, you get the joke. this is michael sheen (the angel aziraphale) and david tenant (the fallen angel crowley)…at the ritz. get it?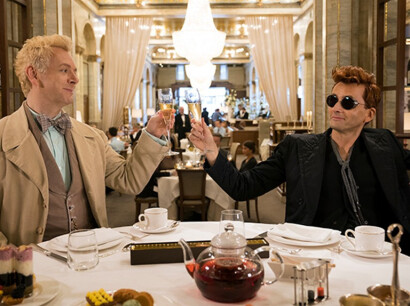 ………….
jherek and i worked on the arrangement together, and i wanted it to have that sweeping classic 30s sound, without being too silly.
here are some of the versions that we were listening to when we worked on it:
frank sinatra: https://www.youtube.com/watch?v=2hTsUwmXavk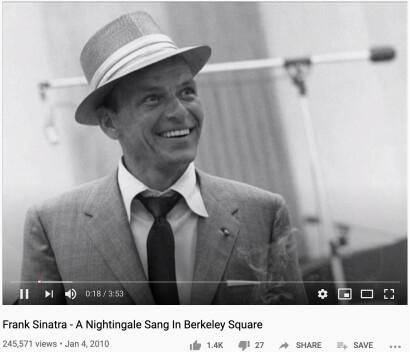 nat king cole: https://www.youtube.com/watch?v=kyofs0mreCc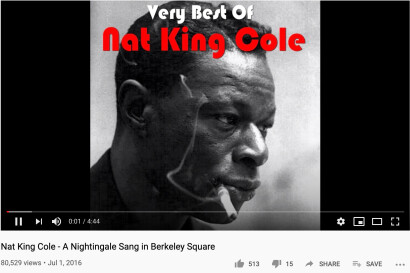 vera lynn: https://www.youtube.com/watch?v=xTeiYN_Vq6E
…there was a version that tori amos did as well, for the credits of good omens: https://www.youtube.com/watch?v=ttarBjfumtc
…………
more goodness.
here are some photos from the event taken by photographer mark allan.
conductor mihhail gerts, who was wonderful to work with: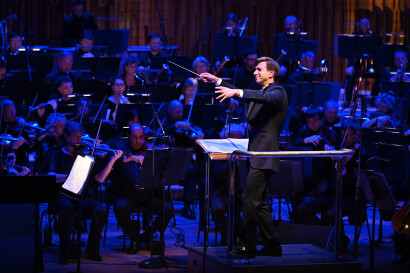 neil, reading: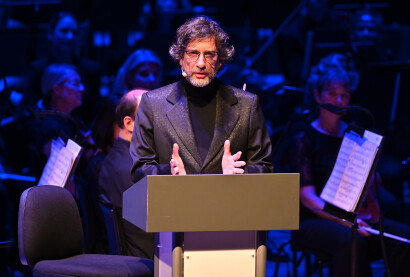 simon butteriss (singing gilbert & sullivan)….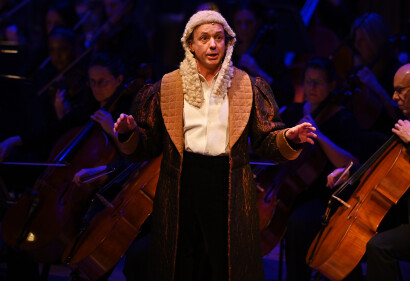 me, in a DIFFERENT FROCK, reading "the mushroom hunters" (if you wanna hear that one, go here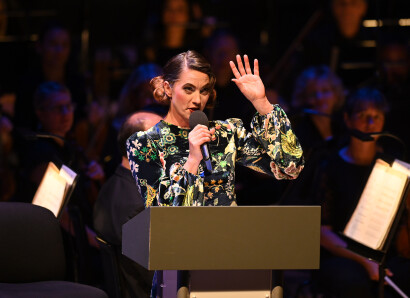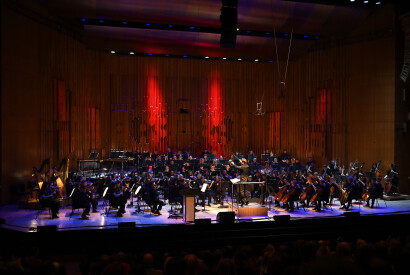 david tenant, reading from "good omens":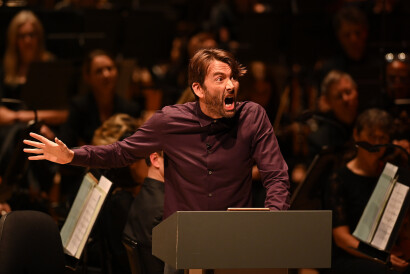 from "a nightingale sang in berkeley square"…..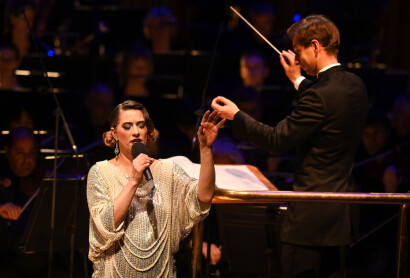 curtain call…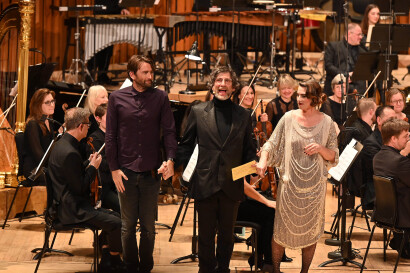 here's some shots of the rehearsal with the orchestra, a few days before the gig….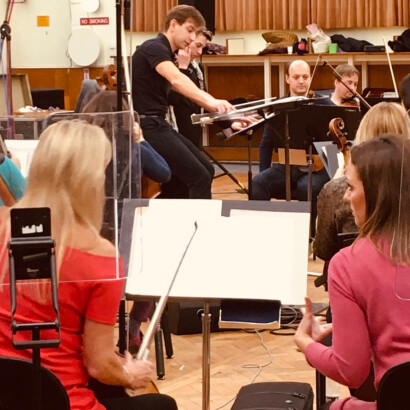 and for fun, jherek's lovely notation on the "mushroom hunters" score. i loved this….
"slide up and down, like you are on drugs!" god i love jherek.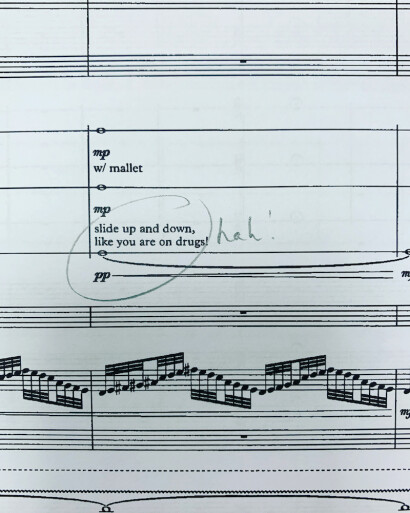 and….some words from jherek bischoff himself, who arranged the piece for the orchestra:
Ahoy, Amandaland!
Well shoot… This really made me feel some feelings over here in LA. Last year was absolutely bananas. I was traveling for half the year and, I kid you not, wrote and premiered:
My first opera
My first symphony
My first ballet
Music for the theater adaptation of Neil Gaiman's Ocean at the End of the Lane
And countless side projects as an arranger and musician for a whole bunch of amazing people/bands and orchestras.
To say the year was bananas is a serious understatement.
In the midst of all of that, I got an email one evening from Amanda and Neil asking if I could do an arrangement of Nightingale and also write new music for The Mushroom Hunters for a concert they were doing with the BBC Symphony Orchestra.
These kinds of requests are like bolts of lightning for my soul. I never IN A MILLION YEARS thought I would find myself in such incredible company. The BBC ORCHESTRA with NEIL GAIMAN and AMANDA PALMER!?!? I mean, it really is just a magical world sometimes. It makes this present moment feel a little more… well… depressing! After such an incredible year last year, nearly every project I had planned got postponed for who knows how long. It is such a bummer.  For now, I will just live vicariously through these recordings and try to stay as positive as I can!
I wrote these arrangements while in London working on Ocean at the End of the Lane. I was staying at a friend's house, and the heater was broken, so for a few nights, after very long days in rehearsal at the National Theater, I would bring my dinner and a couple of beers into my bedroom and work on these into the morning. Remember how I said last year was bananas??? Well, even though I was in London for a couple of months, I missed the darn show! Just a few days before the show, I had to fly to Seattle to see the premiere of my ballet and then flew back to London a couple of days later. I can't believe I couldn't be there! I am so happy that the performance was so beautifully captured, and everyone can hear it now. I am so lucky to be a part of Amanda's crew!
Love to you and your loved ones, hoping you're all healthy and happy.
Jherek
…..
we love you, jherek.
……
here are some more portraits & snaps below by charlie clift, from the photoshoot we did right before the gig. though you'd like to see them. this was outside a pub down the street…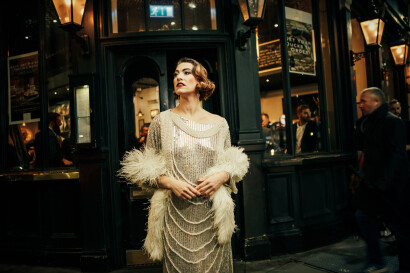 here's max and james…HELP!!!! we are blowing away!!!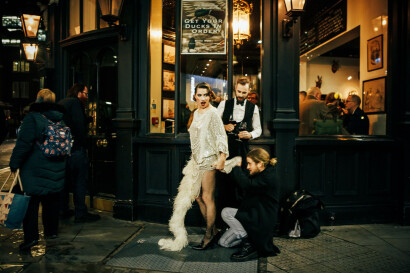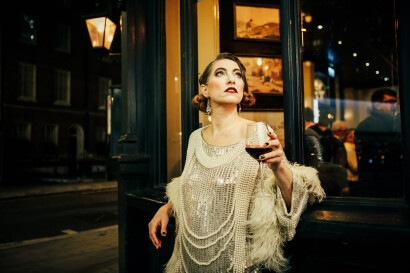 WINE.
i mean you gotta.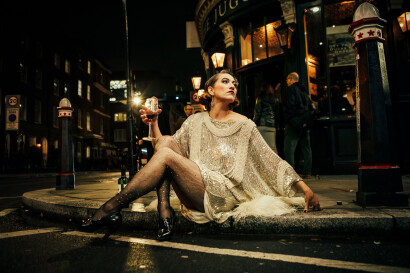 at this point in the evening.
we got yelled at by the cops and told to move.
it was SO cold.
this was further down the street from the barbican, in the courtyard of some restaurant….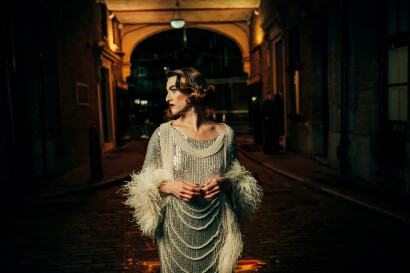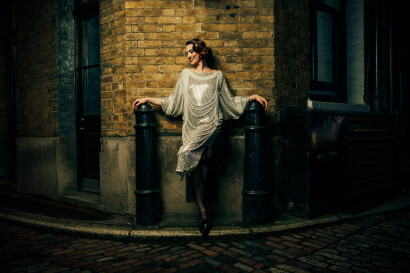 and then we decided to polish off the shoot on a traffic island. because, why not…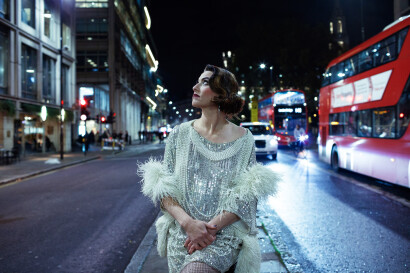 and here are some more lovely shots of the night…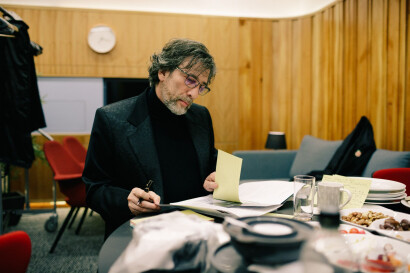 getting mic'd up….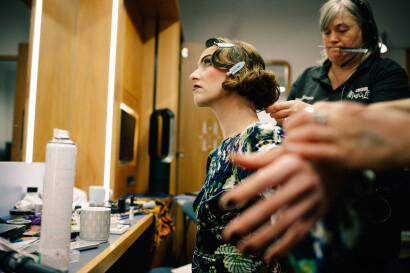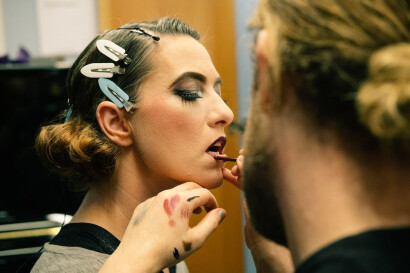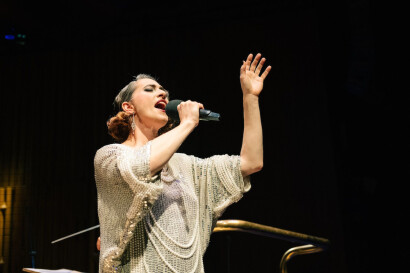 artists only….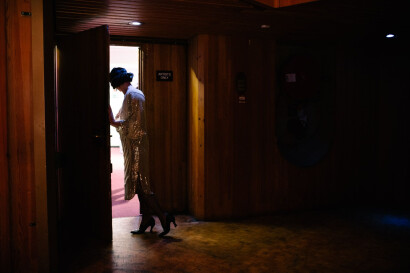 THE LYRICS:
That certain night, the night we met
There was magic abroad in the air
There were angels dining at the Ritz
And a nightingale sang in Berkeley Square
I may be right, I may be wrong
But I'm perfectly willing to swear
That when you turn'd and smiled at me
A nightingale sang in Berkeley Square
The moon that lingered over London town
Poor puzzled moon, he wore a frown
How could he know we two were so in love
The whole damn world seemed upside down
The streets of town were paved with stars
It was such a romantic affair
And as we kissed and said goodnight
A nightingale sang in Berkeley Square
I know, 'cause I was there…
That night in Berkeley Square
…..
CREDITS:
Vocals: Amanda Palmer
Arrangement: Jherek Bischoff
The BBC Symphony Orchestra
Conductor: Mihhail Gerts
BBC Radio 3 Recording Engineer: Robert Winter
BBC Radio 3 Recording Producer: Ann McKay
FOH Engineer: Griff Hewis
Barbican Lighting: Matt Barnes
Tom Philpott: Planning Manager, BBC Symphony Orchestra
Produced in association with BBC Radio 3 and the BBC Symphony Orchestra
A Nightingale Sang at Berkley Square by Manning Sherwin, arranged by Jherek Bischoff and was recorded by the BBC on 12 November, 2019 at the Barbican Hall and first broadcast on BBC Radio 3 on 23rd December 2019.
Recording mastered by Jherek Bischoff
(p) 2019 BBC.  The copyright in the recording is owned by the BBC. The BBC word mark and logo are trademarks of the British Broadcasting Corporation and used under licence.  BBC Logo © BBC 2007  Licensed exclusively by Eight Foot Records, 2019
……..
oh one thing….the gorgeous silvery vintage 60s dress, btw, was found in a little vintage clothing store a few days before in a place called alfie's….near where neil and i were living at the time in london, on lisson grove….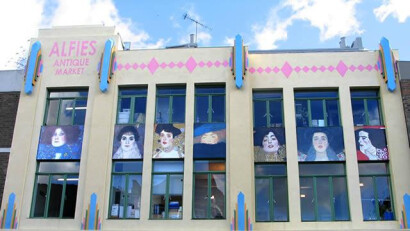 i wonder when it'll open again.
anyone know?
…….
one last one.
here's me and neil, backstage.
so close and yet so far.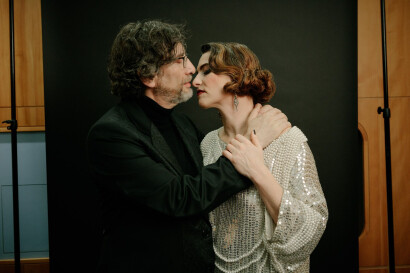 such love.
i know, cause i was there.
xx
a
——THE NEVER-ENDING AS ALWAYS———
IF YOU'RE IN THE USA…..DON'T FORGET TO REGISTER TO VOTE IN THE NOVEMBER 2020 ELECTION. you can register to vote, find your local voter registration deadlines, update your voter registration, check that your registration is still on the books, find your polling place and other important election information HERE at http://headcount.org
and
1. if you're a patron, please click through to comment on this post. at the very least, if you've read it, indicate that by using the heart symbol.
2. see All the Things i've made so far on patreon: http://amandapalmer.net/patreon-things
3. JOIN THE SHADOWBOX COMMUNITY FORUM, find your people, and discuss everything: https://forum.theshadowbox.net/
4. new to my music and TOTALLY OVERWHELMED? TAKE A WALK THROUGH AMANDALANDA….we made a basic list of my greatest hits n stuff (at least up until a few years ago, this desperately needs updating) on this lovely page: http://amandalanda.amandapalmer.net/
5. general AFP/patreon-related questions? ask away, someone will answer: patronhelp@amandapalmer.net