NEW YEARS EVE @ SYMPHONY HALL w THE BOSTON POPS
hola comrades!
while i slog through several hundred comments from the last blog and prepare round two of a very interesting conversation (wait for it),
you should know (if you don't already, it's because you're NOT ON THE MAILING LIST GODAMMIT)
i'm playing  NEW YEARS EVE with the world-class BOSTON POPS ORCHESTRA at SYMPHONY HALL IN BOSTON, conducted by Keith Lockhart.
here's me & keith last year, jamming out. it was quite the part-ay: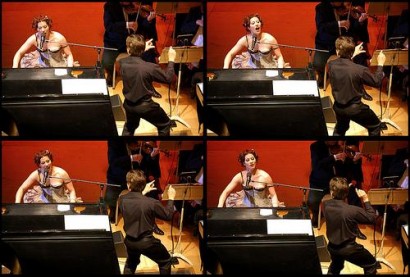 we had a blast together in june '08 that we've decided to do it again, with a whole new slew of songs.
i've also been given permission and encouragement to fill up every other little ballroom in the symphony complex with a different performer…
so it's going to be an extensively rocking party with many, many special guests (and more weird surprises to be announced later.)
to whet your appetite….
here's a clip of me last year doing a saucy saucy version of "don't tell mama" from "cabaret" with some hot back-up dancers choreographed by steven mitchell wright:
and here's a lovely photo of brian (who came as a surprise), the symphony, and myself playing the dresden dolls' song "sing"….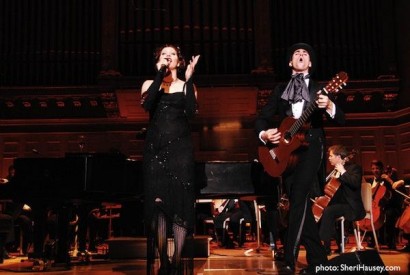 ….which was bad ass.
the price of the ticket also includes DINNER of some sort, not sure what the hall is plotting, but it sounds yummy.
tickets are on sale NOW and will probably sell out REALLY quickly (i played TWO shows there in june '08 and both were sold out…this time we're only doing one, so grab them while you can, mofos).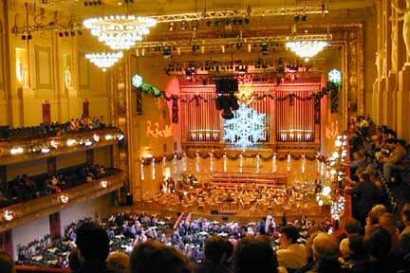 HOUSE OF BLUES PEOPLE!!
we haven't forgotten you! if you are in the group of 200 who had their House of Blues tickets refunded, make sure you've mailed your receipt to HOBboston@amandapalmer.net
we are holding that list of names at the pops and you guys are GUARANTEED seats at this show (even if the show sells out) in the best spot of your chosen price section as long as you grab the tickets before november 1st.
we're also working on some cool "VIP" ridiculousness for you but we can't talk about it yet. trust us though, it shall be something special.
we sent an e-mail from HOBboston@amandapalmer.net explaining all this so if you didn't get it please check your spam filters or forward your receipt ASAFP.
after nov 1st, if the show is sold out and there are people from this group who haven't claimed their tickets, we'll release them to the general public and that'll be the end of that.
let's ring this one in in style, motherfuckers!!!
XXXX
(jetlagged little) AFP