THE GRAND THEFT ORCHESTRA HAS LEFT THE BUILDING.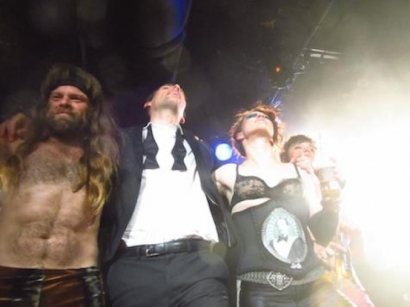 THE GRAND THEFT ORCHESTRA HAS LEFT THE BUILDING.
2 years.
6+ tours around the states, canada, europe, australia, and new zealand.
2 drummers.
4 synthesizers.
1 kickstarter.
hundreds of volunteer horn and string musicians.
at least 3 kerfuffles.
thousands of hugs.
1 album.
3 chest infections.
3 rounds of antibiotics.
1 band mascot (a stuffed white tiger named "maxi" bought at a gas station in texas, and left, in shreds, in phoenix)
2 klaus nomi corsets.
5 pairs of shiny pants.
thousands of haters.
thousands of lovers.
miles of floss.
2 lost metal water bottles.
5 tour buses.
hundreds of thousands of frequent flyer miles.
28 house parties.
infinite cubic liters of whiskey, wine, and espresso; infinite cubic feet of donated vegan food to the backstage area.
1 broken tooth.
1 ear infection.
2 broken guitars.
thousands of phone calls and texts and emails from the road, dozens of hospital visits.
5 deaths, 4 births, 2 near-deaths.
96 tears.
1 divorce.
1 engagement.
and a partridge in a motherfucking pear tree.
thanks to michael mcquilken, thor harris, chad raines, jherek bischoff, our producer john congleton, my whole home-team office crew in the states (especially eric, sean, hayley, superkate, and the famehouse folks), all our magnificent opening bands, all the volunteer members of the grand theft orchestra, thanks to all who came to our shows large and small, our booking agents for making the shows exists, our publicists and distributors, the people who worked in all the venues to create rock realities, thanks to those who housed us, drove us, lit us, amplified us, tour managed us, filmed and photographed us, sang with us, cranced with us, rubbed us, crowdsurfed us, twittered with us, took us to local museums and squats and bars, thanks to those who held us tightly in the night when we needed to mourn and cry…
…GOOD NIGHT & THANK YOU.
OLLY OLLY OXEN FREE.
………..
photo by @Nin_FM from the second-to-last show in Budapest.
and do me a favor today. go listen to the record with joy and abandon….and give it a share back into the universe. it's the end, but it's also the beginning. theatre will be evil forever:
and on my site: amandapalmer.net/products/theatre-is-evil-digital/