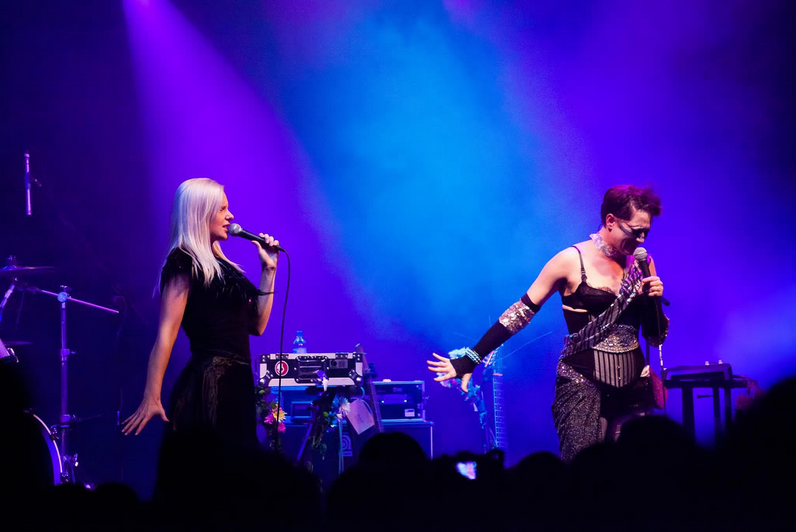 missive from edinburgh, warrior style
hola my dears.
i'd planned to do a blog a day this month, with my excessive amounts of time-off energy.
i did not do that.
i also had planned on doing a lot of ninja gigs while in edinburgh.
i did not do that.
i also planned on running around the city all month, seeing a million different shows at the fringe.
i did not do that.
i planned a lot of things i did not do.
i had a harrowing month. really awful, actually. worst in years.
so for the time being, (especially all my friends in edinburgh) just accept my apology for pulling such a disappearing act after announcing so vehemently that i'd be running around. i wasn't. i didn't. the end. for now i'm just spending my energy surfacing and trying to keep my shit together for these upcoming shows. if you see me, just hug.
in non-real-life-real-life news:
the evelyn evelyn run was SUPER-successful….every show was sold out and we got a endless parade of four-star reviews.
here's a photo of the twins, backstage, with the new graphic novel, which comes out in october. it looks BEAUTIFUL.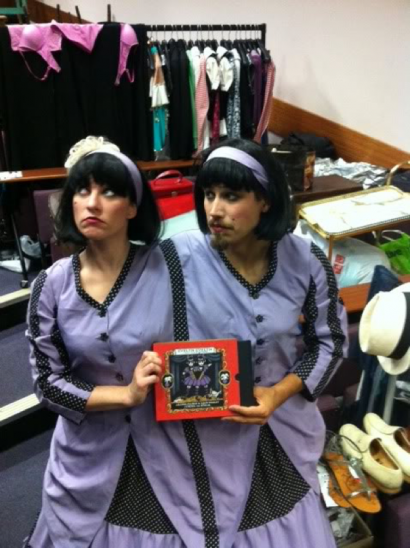 ….then the band (aka chad and michael) came to town and we spent three solid days, for about 10 hours a day, practicing in a little rehearsal room in edinburgh at a join called banana row.
we worked on new arrangements of dolls' songs, songs from "who killed amanda palmer," and put together a bunch of new cover songs for this UK/european tour only, for shits and giggles.
we crammed – 6 horn players, a bagpiper (my cousin hugh mackinnon, who made his stage debut in edinburgh), and a guest violinist, una palliser – into the room, and we cranked and cranked on the new material. then, a few nights ago, we hit stage. i was exhausted and (this is generous) completely out of it, but all told, ima professional, and i think we managed to bring the rock.
the horndog brass band of edinburgh brought the house down, una shredded her violin to pieces, and we asked the crowd to shut down their cameras for the new songs.
we made it through. i actually got so winded during our le tigre cover that i lost my place and we had to start the entire song over.
time to get back to jogging.
the next morning, we loaded up a van and holly gaiman's car and headed to glasgow, where we played a much smaller, sweatier venue.
the whole musical rag-tag crew, minus bagpipes, reconvened there for show #2.
here's some footage of me, michael, and chad talking to the press backstage before the show. you can tell that the coffees have not yet been consumed:

***The interview video that was featured here has been swallowed by the internet. Thank you for reading and sorry about the missing puzzle piece!***
the glasgow show was INCREDIBLE….the band finally tightened up and the music fell into place.
at both shows we twitter-sourced glittery and shiny costumes. from edinburgh: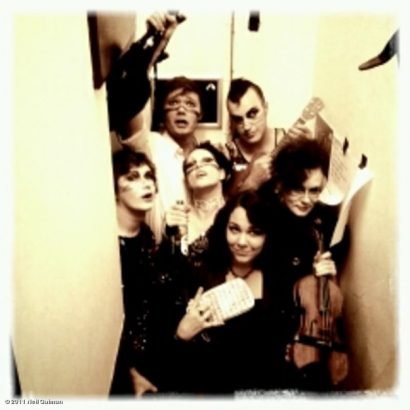 via @neilhimself's twitter
and this is me doing my bagpiping cousin hugh's make-up, backstage. this may qualify as my favorite tour photo ever: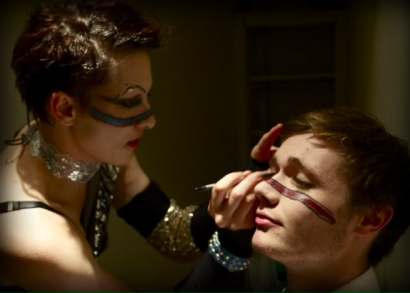 photo taken by Ashleigh Haddad
chad on guitar, michael on bass, me on badassery: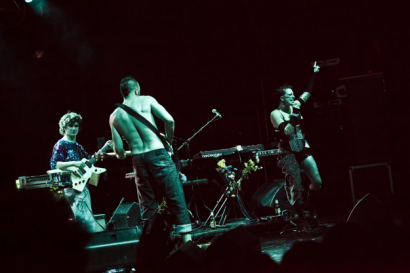 photo by chrisdonia (via flickr)
superkate leading us in AEROBICS!!!!!!!!!!!!!!!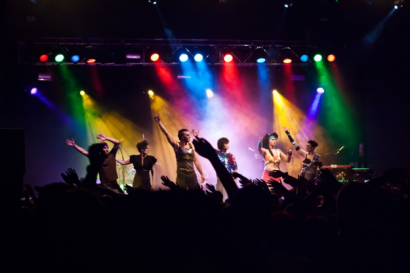 photo by chrisdonia (via flickr)
una sleighing on violin: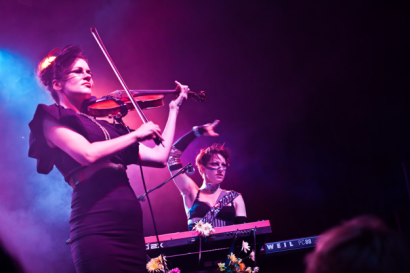 photo by chrisdonia (via flickr)
me&chad: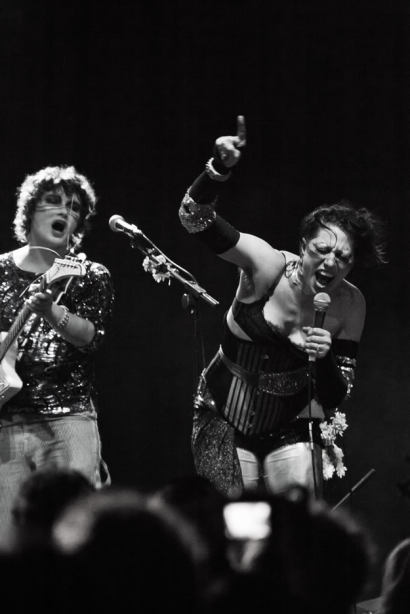 photo by chrisdonia (via flickr)
me & georgia from bitter ruin singing "delilah":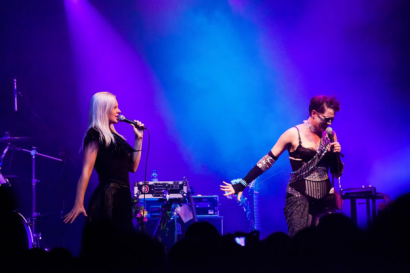 photo by chrisdonia (via flickr)
michael & the horndog brass band: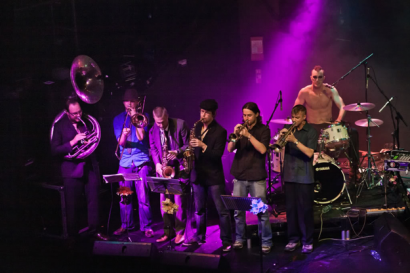 photo by chrisdonia (via flickr)
una, ash, hugh (sans bagbipes):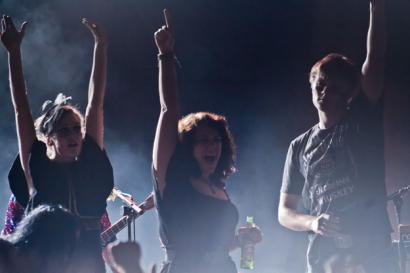 photo by chrisdonia (via flickr)
my moxy, joining me onstage for a surprise performance of 8in8's "the problem with saints" in edinburgh: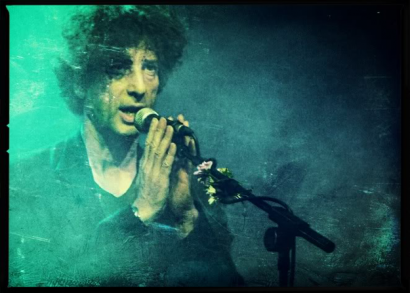 photo by elmyra (via flickr) / digital manipulation by sean francis
the whole lot of us, during "leeds united":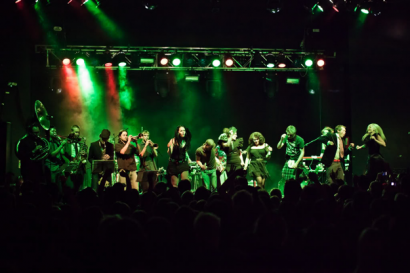 photo by chrisdonia (via flickr)
LOVE
xxxxxx
AFP