a snowy night in camdentown
wow
apparently they never get snow like this here.
people are shouting in the streets of camden.
before i forget, i'm PLAYING COACHELLA this april.
yes yes yes! some of the other people on the bill are FUCKING ROBERT SMITH (i die, and i'll finally tell him we were supposed to get married a WHILE ago), LEONARD COHEN (i die, no words for that), MORRISSEY (i kind of die, but in a sarcastic kind of way), MY BLOODY VALENTINE (die die die die die, don't forget earplugs), CONOR OBERST (i wither, note to self: don't drink so much this time and keep clothes on), HENRY ROLLINS (hug reprise please?), AMY WINEHOUSE (she can have my drinks, maybe she'll attack conor in my stead), ANTONY & THE JOHNSONS (always sublime, the new record is great, by the way) and the YEAH YEAH YEAHS (karen o and AFP celebrity death match, go!)….and many many amazing others…beirut, the killers, drive-by truckers, throbbing gristle (!!!!!), public enemy….it's going to be INSANE. we should do something fucked up. i'll think about it. naked parade? naked blindfolded parade? should i finally do a set blindfolded? eh…
we can do better than that. hit me with ideas. it's the DESERT. there are no police. we can get jiggy.
info here: http://www.coachella.com/event/lineup
i landed and went almost straight to the bbc today and we discussed how nobody will play "oasis" and how british censorship is looking awfully american lately.
i played live versions of "leeds" and "creep" (i know, i know, but they requested it).
but they played "oasis" before the interview started. they've gone rogue! yay the bbc. who knew.
the interview is archived here: www.bbc.co.uk/programmes/b00hc3w6
then i schelpped myself over to a mystery house to practice piano and was welcomed warmly by two amazing folks, andrew o'neill and steph, who let me, a total stranger, pound mercilessly on their keyboard.
and steph cooked vegan curry and fed me some. damn i love the kindness of strangers.
and now i have an MC for my london show because andrew is an amazing stand-up comic (i had to check his shit out on myspace before going over to make he wasn't totally psycho before pounding his piano, of course. if possible, i WILL STALK YOU)….so if you hit the london show early (and you should, because the opener is also amazing) you'll see him in all his awesomeness. check him here: myspace.com/destroythedoctor
i practiced til i was a little loopy and until it was getting too late to be noisy.
then i walked back to the tube in the snow. all the british people were falling down.
especially the hip ones in their pointy shoes.
i, with my practical new england CLOGS, did not gloat.
i'm staying at the clutes house.
it's right in the middle of camden town, where all the freaky/tourist people walk around and buy overpriced punk clothes.
you can't beat the fucking location. it is approxataely 40 feet from my gig at the electric ballroom on wednesday.
as seen through the camera, through my fingers, through the blinds, and through the snow: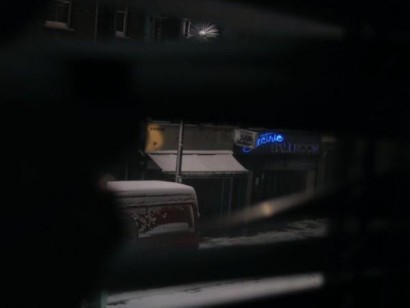 jason and i stayed here this past fall when we did the koko show. it's the most wonderful and warm place in the world, and judith and john have food and wine and thousands and thousands and thousands of books.
the snow was coming down down down in thick chunks all through dinner.
this is what the clutes house looks like tonight.
john, judy and liz looking at the show with wine and awe: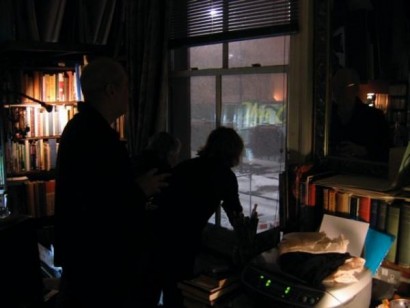 when i got in from the airport today, judith had the tortellini boiling.
and i sat down at the table in the warm surrounded by all the books and judith poured wine and i ate and drank and we talked about life and love and it is moments like those, arriving from an airport and having someone waiting on the other end with wine and tortellini, that makes life lifelike.
the house of clute is a paradise house because it is a house made of books.
the ceilings all slant. if the books were gone, the house would fall down.
here are some of the books (partial clute on right):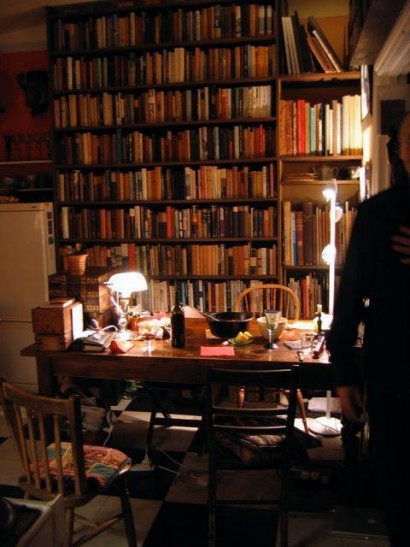 and here are more of the books: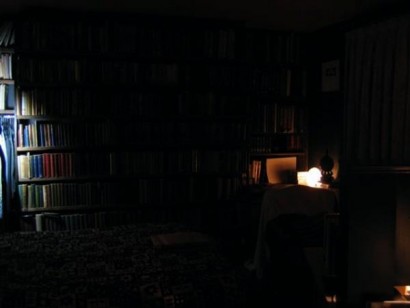 and some more books: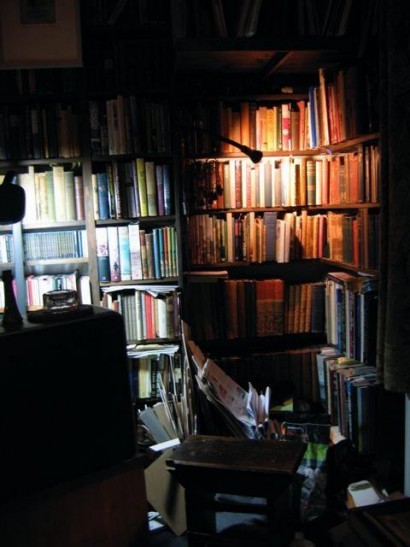 and here are some more books: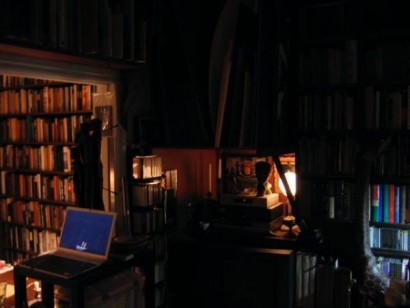 and here are some more beautiful books: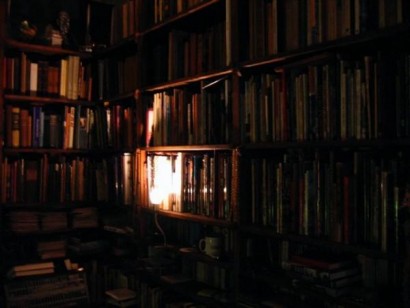 and judith surrounded by books and a mirror in the kitchen: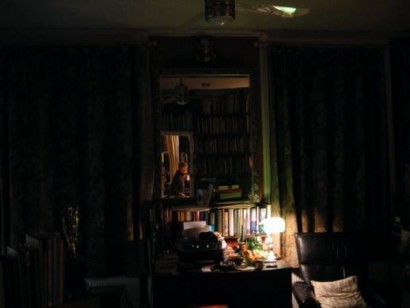 and i didn't even hit the majority of the books because i don't know how many pictures of books is appropriate to put in a blog.
i really love judith and john. they welcomed me in like family. neil was the one who sent me, last summer.
i was bored and antsy and in the soulless k west hotel in london and he said:
"hm. go to the clutes. they will give you wine." and he was right.
john is an author. he is in the SF world, a vast vortexland that i barely understand.
he is very smart and talking to him is better than reading a book, because he talks back.
http://www.johnclute.co.uk/
the stairs upstairs…….

judith makes paintings. you can see them at http://www.judithclute.co.uk
they are wonderful, real, surreal, close, far, home: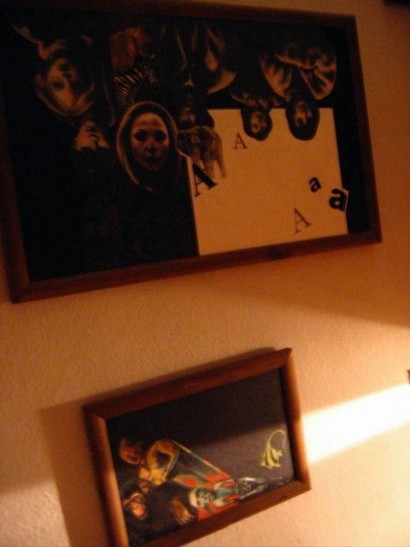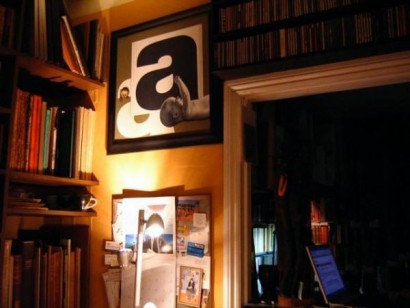 one of my favorites….(lifted from her site, i've thought about using this for album artwork):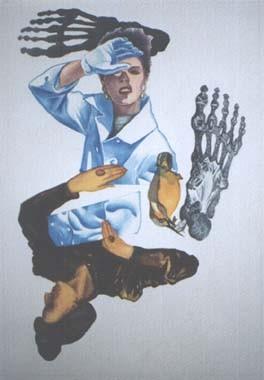 little afp wanders outside to the little garden on the roof….
(beth, look left, merry christmas)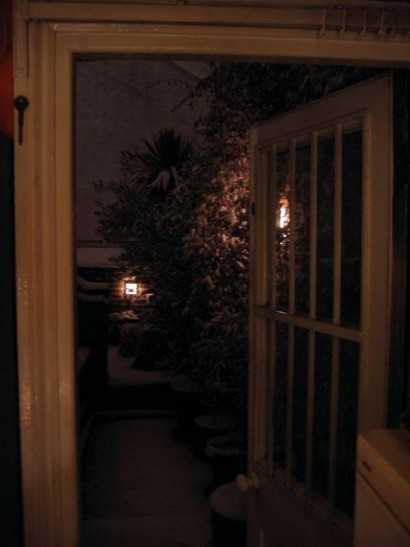 i heard yelling.
this was funny.
the british didn't know how to make snowballs.
they were trying, but didn't realize you have to PACK that shit.
while i was taking the roof pictures, i could hear one of them trying to explain the snow-ball-making process to the other while one of the british chicks kept screaming
"hasn't ANYBODY got an EFFING LIGHT? i need an effing LIGHT. god DAMMIT, does ANYBODY have an EFFING LIGHT???!!!?!?"
ah, the british girls.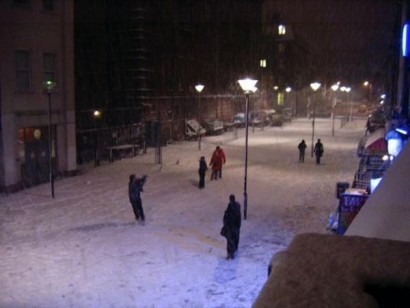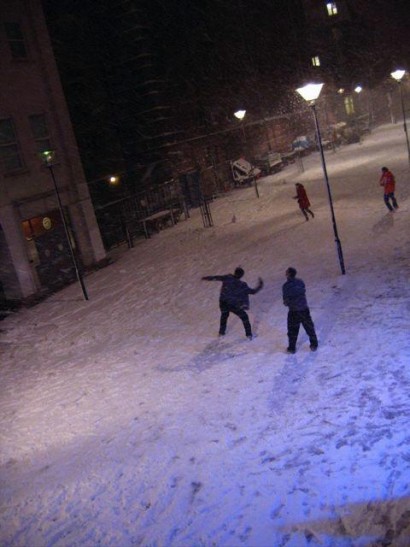 i hope he got her.
i am so jetlagged dude
flash self-portrait in clute rooftop garden
snow snow snow snow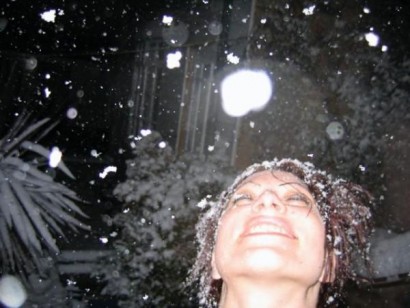 sometimes i don't love london
tonight i love london
x
AFP