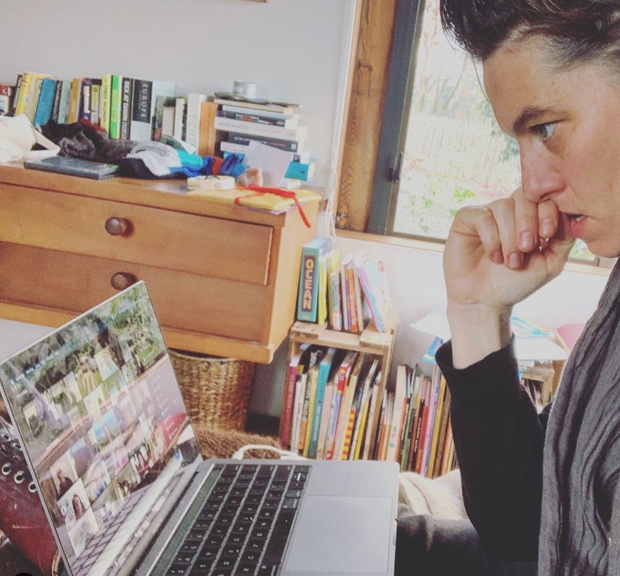 a love note, a vote note, & recap of the Free Black University instagram takeover
(public post)
hallo loves.
greetings from hastings, aotearoa, where i'm losing my mind slightly less. i'm even going to be playing a show this weekend….that's right, i am not kidding: i am going to busk at the napier farmer's market from 9am-1pm. this is what my life has become. i am taking my ukulele to the farmer's market and taking whatever i make and buying some kale. this really is the life for me, here in new zealand. i'm not telling social media. i'm just telling you. see you there.
meanwhile…
i hope you're all okay wherever you are and things are easing up and not too difficult. a lot of my friends are having really hard times at the moment….a kind of very-long-term exhaustion and confusion seems to be kicking in for a lot of people. i know at least three couples breaking up or getting divorced. some are having babies, too. is it maybe just always like this and right now everything feels greatly magnified? probably.
i have spent so much of my time in a personal free-fall for the last month that i feel i hardly know you anymore.
i miss posting here all the time and having time to read comments. i miss feeling connected on the internet. part of it is the time change and part of it is just the exhaustion of single-parenting in a new community, plus a house move, plus all of the usual….but i miss everybody.
i'm still here. i love you and i hope everythings okay.
i know everything is not okay.
feel free to just check in in the comments with how your'e doing.
and whatever is happening….
i am sending you my love, my support, my heart.
i am holding your pain, your exhausted pain.
i'm here. i'm exhausted, too,
but i'm here….
in a pile
of love.
let's throw our tired arms around one another in an exhausted embrace.
shall we?
we shall.
…………..
i did a zoom call this morning with over 90 people from the live music industry, led by headcount.org.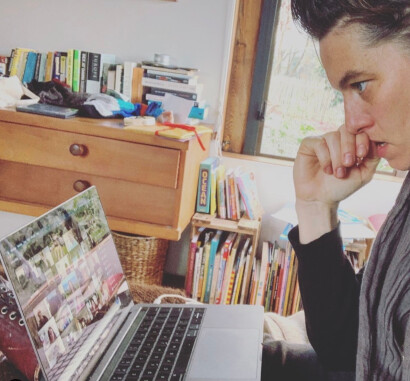 it was a lot of musicians, managers, agents, and promotor people talking about how we can GET THE VOTE OUT:
get ready to be real bothered by a ton of artists nagging you to register to vote.
i don't need to tell you how critical it is.
and a lot of people are going to need to vote by mail this season.
it may get confusing. but it doesn't need to be, and we all have to pull together to make sure EVERY SINGLE PERSON YOU KNOW IS REGISTERED TO VOTE, AND THEN ACTUALLY VOTES.
start here. headcount is such a great organization…i've worked with them for almost two decades on tour – they are the experts in MAKING SURE NORMAL PEOPLE JUST KNOW SHIT. if you're young and you're sort of intimidated about the voting process: DON'T BE. just go to headcount.org and start poking around.
promise me:
promise me you will vote.
promise.
promise.
……………….
and just a short note/recap, as promised, about the instagram live…a little recap of what happened the other day when melz owusu from Free Black University took over my IG feed and we did a long chat together.
melz is hard at work with black lives matter uk and just wanted to pass along the message that they are deeply appreciative of your support and for joining us on the live.
let me echo that. it was really nice to see so many of you there…..and i DO think we should probably do more of these using crowdcast, as instagram being owned by facebook makes me squitchy, and i'd like to get more and more things happening off FB and IG.
i'm currently working on securing a few more guests and am trying to do a takeover like this once a week or so. it's hard with the many time changes, but i'm on it. if you have any ideas, throw them my way.
and….i am still working on a post about my own thoughts – old and new – about my personal accountability when it comes to race, choices, privilege. this is really good and hard stuff to be thinking about now. and it is good to be moving slowly, making small but deliberate choices in what feels like the right direction. that's all we can do at the moment.
…………………….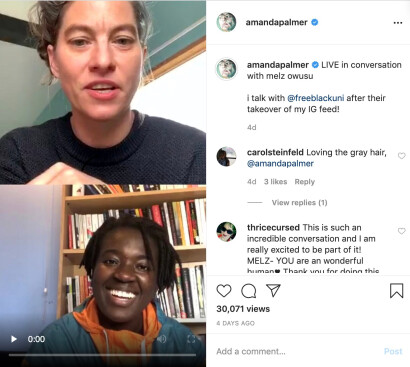 here is the patreon post where i announced the takeover: https://www.patreon.com/posts/38118110 …. if you haven't read that yet, please check it out… it has some background info on melz as well as a link to their TEDx talk.
the best news is that melz's gofundme for Free Black University raised about $10k during the takeover. if you donated, i just want to personally thank you for stepping up. THANK YOU. money is real.
by the way, shout out….
how did this even happen? it's worth pointing out that the free black uni gofundme fundraiser was shared HERE, by hannah on a patreon post last week….where i encouraged patrons to use the comments to share stuff they were they were supporting:
https://www.patreon.com/posts/black-lives-37857676
just goes to show that a spark can light a fire.
THANK YOU, HANNAH.
so, NOW, if you missed the takeover because of time/timezones, etc:
you can watch an archive of the stories melz shared in my IG story feed, collected here in a highlight:
https://www.instagram.com/stories/highlights/17904182278468569/
and you can watch the archive of our instagram live stream here….it's had over 30k views, hoorah.
this is available to view on web and in app:
https://www.instagram.com/p/CBT8avdFh3-/
the fund is now at £41,000, let's keep it going…..donate here:
https://www.gofundme.com/f/the-free-black-university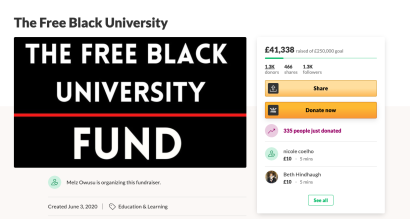 ………
more……reading list!!!
here are two books that melz recommended as a good place to start when considering issues of race:
How to Be Less Stupid About Race by Crystal M. Fleming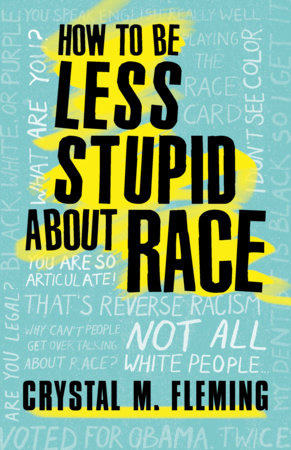 White Fragility: Why It's So Hard for White People to Talk About Racism by Robin Diangelo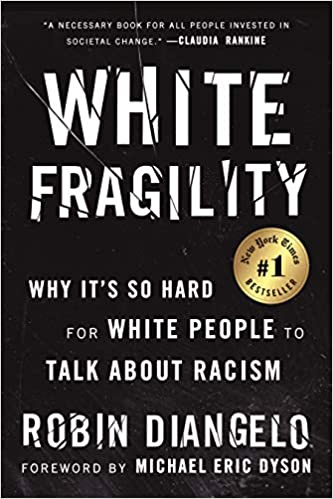 and one for the more advanced movement builder:
Unapologetic: A Black, Queer and Feminist Mandate for Radical Movements by Charlene A. Currthers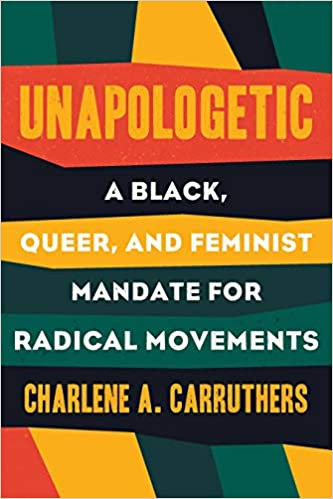 more more more….
here are some books melz recommended in the IG story feed:
Freedom is a Constant Struggle by Angela Y. Davis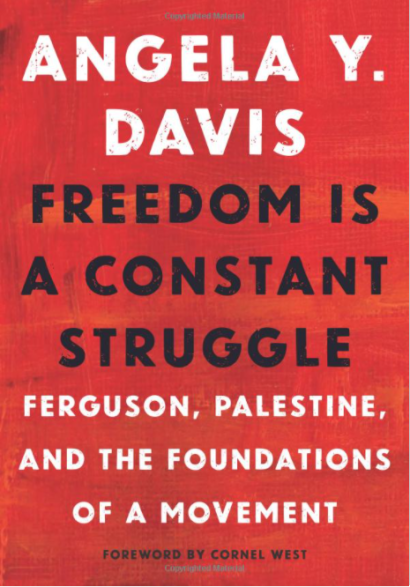 Assata: An Autobiography by Assata Shakur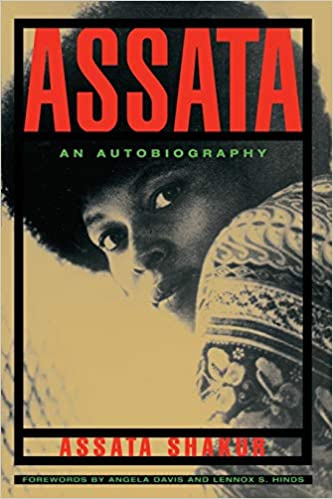 melz and i discussed both being really inspired by this book by octavia butler.
if you're into feminism, climate crisis, SF, and a great story….THIS IS THE ONE…..
i read this one in college during a course on the end of the world. no shit.
Parable of the Sower by Octavia E. Butler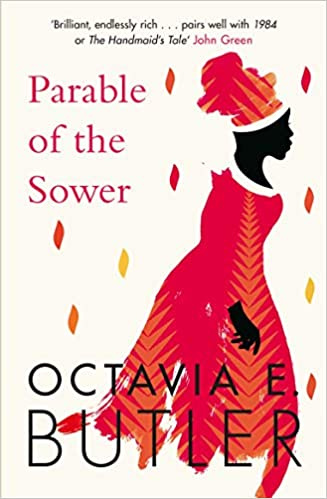 i'm not posting amazon links to poke you into using your local independent book shops…..there are some great lists online of independent black-owned bookstores, and if you can, i encourage you to order from one if them. here's a place to get started:
https://lithub.com/you-can-order-today-from-these-black-owned-independent-bookstores/
………
thats it fer now loves
more soon.
i love you.
xx
AFP
——THE NEVER-ENDING AS ALWAYS———
1. if you're a patron, please click through to comment on this post. at the very least, if you've read it, indicate that by using the heart symbol.
2. see All the Things i've made so far on patreon: http://amandapalmer.net/patreon-things
3. JOIN THE COMMUNITY FORUM, find your people, and discuss everything: https://forum.theshadowbox.net/
4. new to my music and TOTALLY OVERWHELMED? TAKE A WALK THROUGH AMANDALANDA….we made a basic list of my greatest hits n stuff (at least up until a few years ago, this desperately needs updating) on this lovely page: http://amandalanda.amandapalmer.net/
5. general AFP/patreon-related questions? ask away, someone will answer: patronhelp@amandapalmer.net