FREE AT LAST, FREE AT LAST (Dear Roadrunner Records…)
dear The World,
i am very happy to announce today that i have finally been released from my contract with roadrunner records.
as many of you know, i've been fighting very, very hard to get off the label for the better part of two years.
for the past seven years, anything i have written and recorded (solo or with my band, The Dresden Dolls) has technically been owned and under the ultimate control of the label, but no longer.
after endless legal bullshit, it's over, i've been DROPPED, RELEASED, LET GO, whatever you wanna call it. in other words: i am FREE AT LAST!!!!!! RAAHH!!
as many of you know, i've been a very vocal advocate of artists being fearless in asking their audience and supporters for direct financial help.
i come from a background of grassroots theater and street performance, and i think that artists should feel no shame while passing the hat around once they've entertained a crowd of people.
it's been a huge and obvious irony that i have been legally unable to ask for money for my music, since it's been verboten by my contract with roadrunner.
now that i'm unshackled, i plan on doing a lot of really awesome and creative things with my songs and how people can pay for them – or, better yet, donate – now that i have control over my stuff.
a lot of people have asked me if i have any regrets about signing with a major label. the answer: no.
below you will find a goodbye letter i have written to roadrunner.
for right now & in celebration of this great event, i am very pleased to be able to – for the first time since the year 2003 – offer you this track from my house to yours….legally and free of charge.
if you should feel inclined to "donate" more than the bare minimum (ZERO/FREE), you can do that too.
even if you only donate a symbolic dollar, i'll see every single cent of it (after paypal transaction fees, of course).
i wrote this song a few months ago, and didn't know it would be used for this purpose, but it's pretty perfect.
nobody had heard it up until a few days ago except for neil gaiman (my man) and tom dickins (my dear australian friend)…i played it for them in my house right after i wrote it.
they liked it, so i'm gonna give it to you…BECAUSE I CAN. (can you visualize me doing my happy crack dance as i write this??)
last friday, i booked an afternoon in my friend owen's cambridge recording studio and recorded it with the help of my friends jason webley (who's in town for our upcoming EVELYN EVELYN tour) on guitar and my friend sam kulik (who had unwittingly texted that morning to see if we wanted lunch. we asked him to come over and play trombone. he did! sam rocks.)
this whole exercise may not seem like a big deal to you (artists put up music for free all the time), but for years i have not legally been allowed to put a song on a website and say: I JUST DID THIS, GO DOWNLOAD IT. it's been illegal. i am so happy i can finally make music and just GIVE IT AWAY.
SO GO TAKE IT, PLEASE.
the recording (and lyrics and photos from the session are) is DOWNLOADABLE HERE: http://www.amandapalmer.net/thetruth/
the song is called
"DO YOU SWEAR TO TELL THE TRUTH THE WHOLE TRUTH AND NOTHING BUT THE TRUTH SO HELP YOUR BLACK ASS".
before any of you get up in arms about the title (peoples gettin' mighty sensitive lately) please know:
the title is a reference to a lyric in a song called "fuck tha police" by a band called Niggaz With Attitude. look it up.
here's us recording it (photo by owen):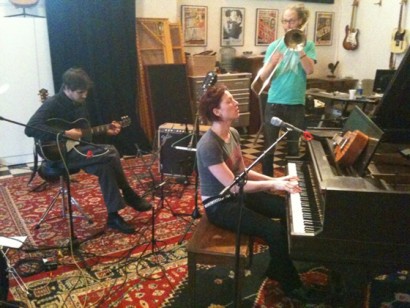 so, my comrades…thank you for being here with me.
thank you for continuing to support me over the years, thank you for coming to my shows, thank you for commenting on my blogs, for listening to my music, for following our endless circus, for helping my team and for living and exploring this wonderfully fucked-up dream of a life right along side me.
i am so insanely excited for whatever's coming next.
PUNK CABARET IS FREEDOM.
yours (quite literally),
AFP
p.s. i'm gonna webcast tonight (tuesday) after rehearsal at around midnight (eastern/NYC time) to toast my team with MOAR WINE, toast you all and to talk about what this all means. come on over for a drink: http://www.partyontheinternet.com/
…………….
Dear Roadrunner Records,
i would like to take this chance, as we part ways, to thank you for all you've done for me and for my band, The Dresden Dolls.
when we signed with you in 2004, i was a wreck of a human being because I was working too hard to juggle business-ing and musician-ing.
i wasn't sleeping much and i was on the phone and at the post office and on the computer all day every day. it sucked.
technically it was good because it meant people liked my music, but it was also very bad, because it meant my life was consumed by wheeling and dealing.
i tried running my own label and it was so, so hard, and finding time and energy to run a label AND a touring rock band proved impossible.
no other label in america would sign us, but you did. all the cool, hip, indie labels didn't think enough people would like us. they passed.
you saw our potential. for a while you worked very hard for us. you spent money on us, and you helped people find and hear our music.
when we first toured in europe and australia, you made sure that the radio stations and the magazines in those countries got our record.
now there are millions of people around the globe who know my band and my name. i am so, so grateful for that help.
i don't know how far i would have gotten on my own steam in that same amount of time.
you stopped helping us when our second record came out in 2006.
that made us really sad.
since then we've needed to part ways, but i will never regret signing with you…and i will never take for granted what you did to help my life.
there are a few people i'd like to thank specifically:
i'd like to thank bob johnsen, who no longer works with you, and jeff chenault & charles dooher from the art department, who also left a few years ago.
i'd like to thank elias chios, who was always really nice to us. justin d'angelo and harlan frey have also been good to us over the years.
i'd like to thank the guys in france, like nora and sabine, who have always been kind, and hank and dirk and the guys in germany for their freundlichkeit. hell, thank ALL the folks in the UK & europe for spreading the love.
i'd like to thank bob stevenson and the handful of wonderful people at roadrunner australia, who always seemed to understand us and really want to help us. i'll miss you.
i'd also like to thank dave rath, even though you had the awful job of having to deliver the worst news (by the way, i still have my belly & we're doing great! see photograph below.)
really truly and most of all, i'd like to thank the wonderful mr. dave bason, the guy who signed us (and who was fired from roadrunner a few years ago.)
thank you, dave. you changed our lives.
all you label folk: i know so many of you as people, and i have talked to many of you over beers and wines in bars and cafes acro
ss the world over the years.
i know that the record business is not easy and that things are getting harder and harder by the day, and i know your jobs are not easy.
i hope that as the industry teeters you can all find safe harbor, jobs that you really love, and connections with art and people that feed you.
here's a nice photo that i took in your german office in 2007: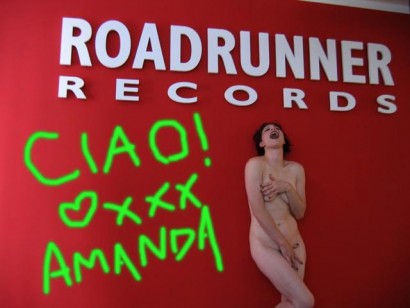 respect,
xxx
AFP
………………………
http://www.twitter.com/amandapalmer
http://www.amandapalmer.net
my new record: http://www.evelynevelyn.com (get it HERE, RIGHT NOW at bandcamp, and yes, jason & i will see all of the money from evelyn evelyn sales)
my upcoming US&european tour dates (they're selling out fast, go go go: http://www.amandapalmer.net/afp/upcoming-shows/