FREE BISCUITS FOR ALL!!! + get sick of me all week on the BBC and french radio (streaming worldwide!)
hola comrades!
OI OI OI!
just landed in the UK. as i pointed out on twitter, i was saddened by the lack of NHS representatives waiting for me at the airport with free biscuits, a variety of vaccination shots spread out like a cheese and caviar selection, and a stretcher should i feel like taking a nap.
i'm staying in camden and took judith clute to yoga today at a great studio above the camden stalls called ALCHEMY. she loved it….nothing to beat jet lag like a warm wood room and falling asleep in corpse pose. we did, sadly, have to pay for yoga. wtf, NHS?
back in seriousness, the #InsurancePoll thing has blown up…it's been written up in the washington post, NPR's blog, the kaiser health network, and even more significantly: people have been sharing their stories on the last blog and further on the internetz….there's a particularly painful open letter written by Stephanie Stradley (@StephStradley) about her sister deb, who suffered the ultimate punishment for going down the insurance rabbithole. read it here, and be prepared to be very upset.
……………………………………
and in amazing news, our volunteer statistician aubrey (w00t!) has been OVERWHELMED by the amount of data and a couple of bigger guns have come into to crunch the over 15,000 tweets related to the poll. it's a LOT of INFO – and it's of course, all totally unofficial – but i am really curious to see what it says. and what the fuck is "official" anyway? anyone can lie in the gallup poll as easily as they can lie on twitter. right? right. will keep updating.
……………………………………
in what-the-fuck-we're up to news…the UK/EUROPEAN tour starts THIS TUESDAY in london at koko and everything's pretty much sold out (hooray!). zuruch and antwerp still have a few spots.
before we start touring, PRESS!
i'm playing/being on the BBC THREE TIMES IN THE NEXT COUPLE OF DAYS!
i'm going to get nice and fat on those free biscuits they have at the coffee stations!!!
alllll this stuff can be listened to pretty much wherever you live in the world, but you'll need to remember to check what time it's airing in your neck of the woods. use the handy dandy world clock at http://bit.ly/AFPtimelord and let it do the work for you.
• Thursday, Oct 18 @ 10am (local time)
Woman's Hour (LIVE) on RADIO 4
WORLD you can listen HERE
• Thursday, Oct 18 @ 6pm (local time): BBC6 LAMACQ'S ROUNDTABLE with steve lamacq!!!
i love steve, he's my john peel. he's always incredibly funny. i've done this one before, and i kind of get sad every time i have to do it because i am forced to pass judgment on the current hip singles and i always kind of don't like everything but have to be relatively nice about it.
WORLD: you can listen HERE
• Saturday, Oct 20 @ 9pm (local time) Tom Robinson (LIVE), also on BB6!
you UK folks know who tom, he's the one who brought you "glad to be gay", and played it with us last summer at HEAVEN.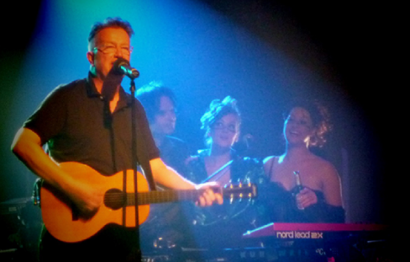 (photo via flissp on flickr)
he's awesome and i can't wait to see him again and actually be on his show!!! radio radio!
WORLD: again, you can listen HERE
• THEN, Tuesday Oct 23, we're going to play live in the offices of the NME.
we'll do our weird acoustic set and they're insisting we play a "current pop cover"…..
right now it's a AFP-land-fight between MIA, gotye, FUN, and taylor swift (though i just kind of threw the taylor swift possibly out the window). eesh.
if you have any brilliant ideas, hit me on twitter or post below…it needs to be CURRENT. i.e. OF THE NOW. i.e. NOT from 1987.
i'm sure it'll be filmed and available online, we'll link when it's up. if you missed out on getting tickets to my London show, there might still be a chance you can come to this…send an email to nmesessions@gmail.com with your name and "AMANDA PALMER" as the subject line. good luck. GO, GO GO!
and lastly, if you're in FRANCE (or online, which clearly you are), i'm taking a quick trip over there on FRIDAY (yes, THIS FRIDAY) and i'll be doing stuff for you, too…there's a TV show we'll post about when we have the air-time, but in RADIOLAND:
• Friday, Oct 19 @ 10am–noon
you'll be able to listen live HERE
if you're in the area and can attend, they have a TEENY audience you can try and be in but it's almost full. apply HERE!!!
• and then from 7pm-8:30pm i'm doing a live acoustic session with Au Secours, C'est Du Live…i'll play a few songs, and you can tune in from anywhere right HERE.
(please note: if you're not listening online, radio frequencies aren't the same all over the country, but they ARE in paris…France Inter: 87.8 | OUI FM: 102.3)
again, all this stuff's gonna be streaming so please tune in if you can…figger out the time zones at http://bit.ly/AFPtimelord
onwards we roll, yo.
x
x
a