meeting tori amos, sxsw, R.I.P. stan the unicorn
I'm alone happy sitting in a restaurant in new orleans, trying to feel human again. I managed to delete over 250 emails today. I got a massage. I talked on the phone. I took a break for an hour and got beignets at cafe au lait at cafe du monde and met a band called frances. I worked behind my mac for 9 hours. I came here. I ordered a malbec. I am wearing my coat with a belt and trying to feel like an adult.
The only reason I am capitalizing is because I'm not. The blackberry is. I hate it, and I'm almost tempted to self-correct and decapitalize everything.
this now reveals the edited nature of my blogs. it is the next morning and i am on my mac. you can now tell what was written in the restaurant last night versus my hotel this morning depending on the capitalization.
sxsw was a blast in the official and literal sense, I did more work in two days than is humanly expectable for a person with severe jetlag.
for those of you who don't know the ins and outs of sxsw, it's basically a huge 5-day music conference in austin attended by thousands and thousands of music types.
the industry all go and drink and treat it like spring break. THOUSANDS of bands play all over town. main street gets shut down. managers, agents, publicists, producers, label people, bookers, the whole gang of them wander around networking like a bunch of ants on crack. the musicians try to be as awesome as possible so somebody notices them.
there are also official talks and panels. i talked on a panel called "do a 360 deal with yourself" that was basically about why we don't need labels if we are not britney-sized musicians.
left sxsw and did a show in houston and then new orleans.
have been twittering like mad (and talking about it, too…check the way bottom for videos). its not too late:
twitter.com/amandapalmer
it's becoming ridiculous.
I have never cried so much on tour. i am tired and feel like too many things are broken, and i am going to figure out what when i get home. i don't know where to start when i'm out on the road.
i've been having a lot of learning-feelings about my job and my life.
the first time i went to sxsw was with the band in 2004.
we were so nervous, everything seemed SO IMPORTANT. maybe everything was. nobody knew us, we had a little buzz and a little fan base. all the scary industry people were standing in judgment.
i remember being so anxious. so was brian. we had to nail everything. we obsessed about our setlist and what we should play during that essential 45 minutes.
the next time we went was in 2006, after yes virginia came out. we cared less. we still talked about what to play during our set with great earnestness, and we knew that the industry-types were now hip to the fact that band was Real and we had less to prove.
this time around, i didn't think about what to play until i was backstage and even then i ended up taking requests from the audience. i just, quite seriously, did not give a shit about this show.
not in the bad way. in the good way. i knew fundamentally that as i long as did myself, presented my whole package, in all it's fucked-up jetlagged, broken-voiced mess, that i would be just fine.
i don't want to get ahead anymore. i want to get behind. i want to play to the converted. if there are any industry types out in the audience who are there to check me out, and they don't like what they see, it doesn't mater anymore.
i have found what i need. i have found you. everything, everyone else is irrelevant.
i had to go through all of that caring to get here. i wouldn't have made it here if i hadn't.
but now i get to stand in front of a room of industry people and think:
if you want what i have to offer, great.
if you don't, great. there are people who want it.
i don't need to make you love me anymore.
i cannot tell you how wonderful that felt.
SXSW photoland, all by beth (and some by me):
i decided to busk while warming up outside the paste magazine party.
i made no money: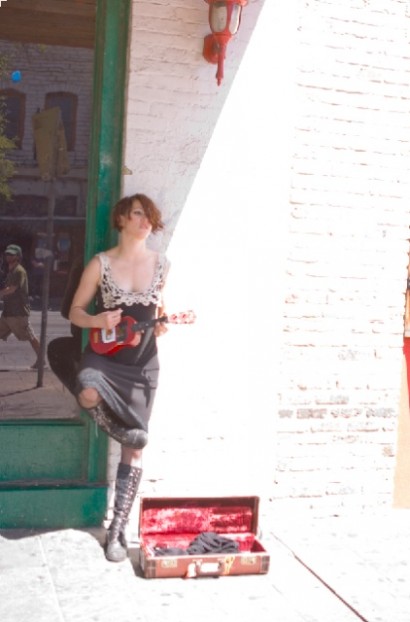 modeling for alternative apparel: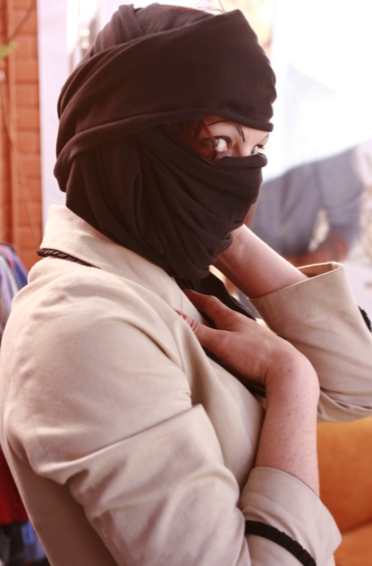 paste magazine party:

after the paste party: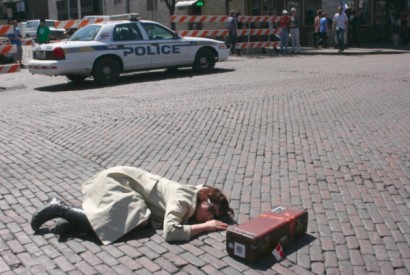 I had a twitter pillowfight (twillowfight?). about 25 people came to 6th street with with pillows:
the vermillion lies gals were on hand and smokin'.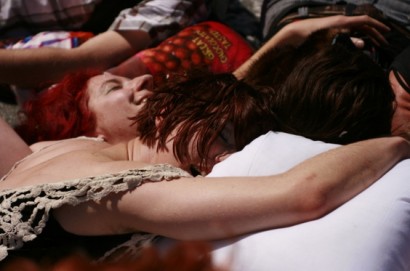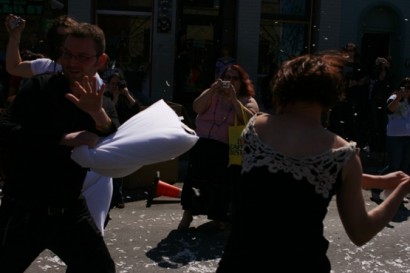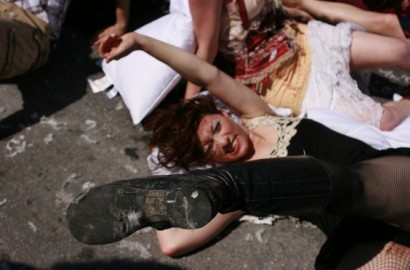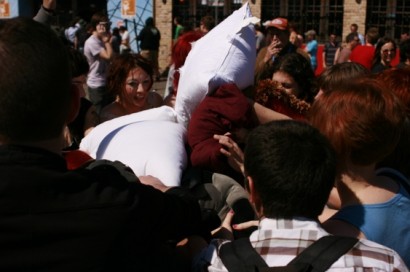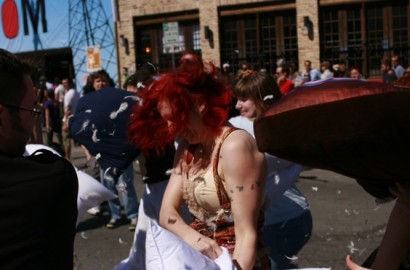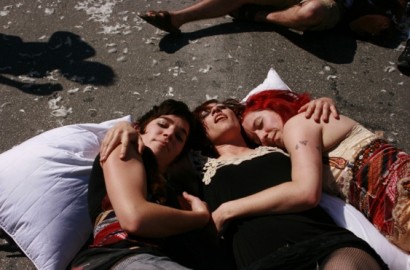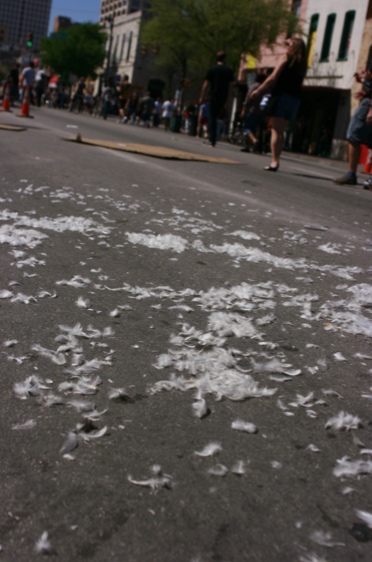 with cho and the girls from girls in a coma.
margaret cho is so fucking incredibly awesome. I love spending time with her, I've never met someone so bluntly open and full of love and honesty. And she's funny as fuck. But she's so real. We share a publicist now (ken, who's amazing) and he set up all of our interviews to take place together. It felt good, like I had an ally.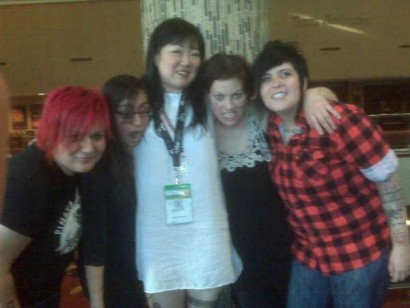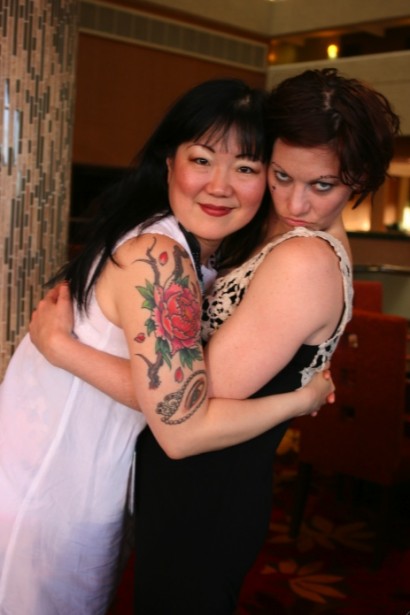 me & cho.
did impromptu weirdness with john wesley harding, who is awesome.
quincy jones had the panel before us and the dude went HALF AN HOUR over his alloted time slot.
so we all waited around. we decided to entertain the people waiting in line by doing THIS:
the panel: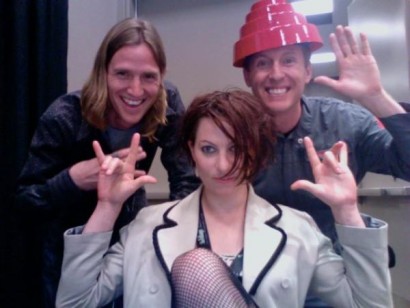 with ian from topspin and josh freese (now from DEVO)!!!!
and yes, i met tori amos.
neil hooked us up, since he's good friends with her, and we had a slap-dash breakfast summit (life imitating art, dude).
she was very present, and beautiful, she had these bright bright eyes and we talked about business stuff, mostly.
she loves neil, too, so we had a nice common ground.
i was weirdly nervous. i was waiting for her in the restaurant upstairs with some friends and there was a big grand piano in the corner.
i said: "when tori amos comes, they're going to lock us both in that piano, and ONLY ONE OF US IS GOING TO COME OUT ALIVE."
she was so kind…she's been through the whole thing with labels and getting dropped and switching around and her advice is sage.
i kept saying: i wish i could simply plug my harddrive into her brain and download the business file for future reference.
there are so many things to know, to do, to not do, to avoid, to create. maybe someday we will have a longer breakfast.
i have this piano string theory.
when two piano strings are ALMOST in tune with each other, but not EXACTLY, they beat against each other in your minds' perception and sound like noise.
sometimes i think that me and tori are like that. i'd love to get to know her better. she seems so fucking smart.
i look at her, i look at ani, i look at all of the women who are older than me and several steps in front of me in their lives and careers and i see fragments and images of myself,
possible blueprints for following and ripping up. i need them. i'm glad she wanted to meet me.
and I played a show in a presbytarian church.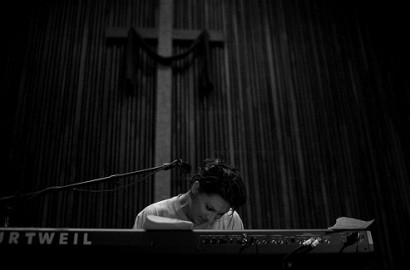 (photo by lexmachine)
photo by stevie BM: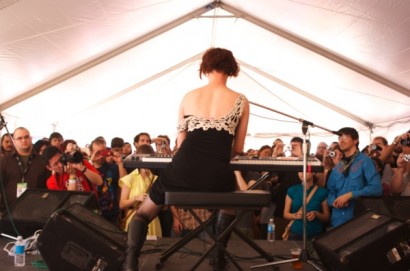 somebody wonderful named april brought a unicorn to the pillowfight…..someone twittered that their 4-year old called them "corn horsies" and it stuck, so he was dubbed stan the corn horsie. Here are some photos I twittered of our ongoing adventures:
true love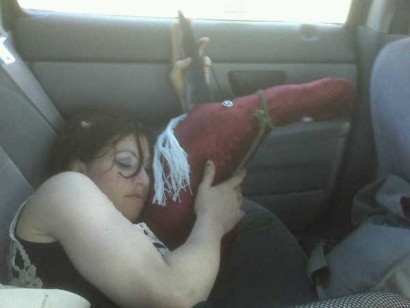 godfather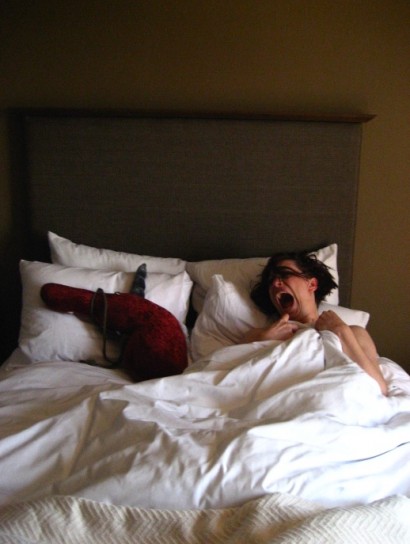 stan with his official SXSW badge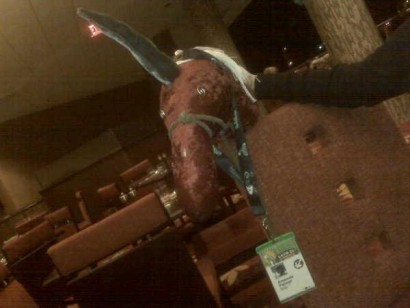 sleeping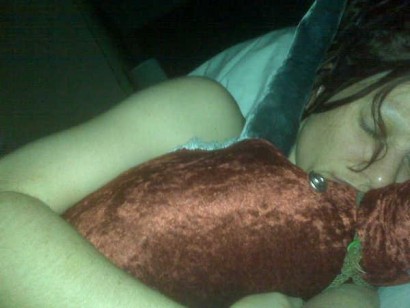 ready to face day #2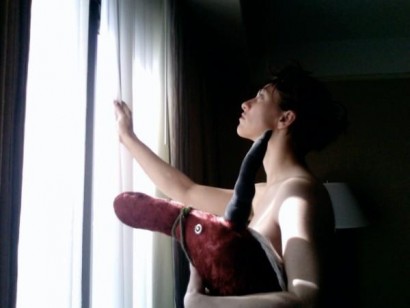 ready for the church show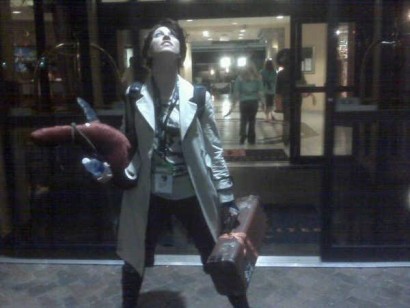 in the bar after the showcase:
unicorn sad/flaccid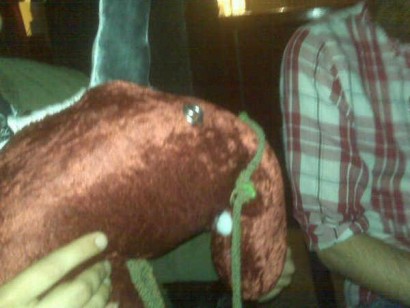 unicorn happy/erect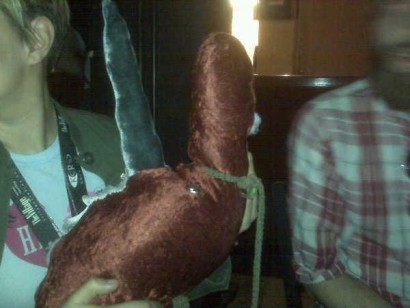 Sadly, stan fell off the back of a pedicab (a bicycle rickshaw) on a bridge the night of my last appearance. Someone picked him up and ran after the pedicab, but our driver wouldn't stop. So we like to think stan went down in a blaze of glory, lived fast, died young, all that.
love and love and love
AFP
p.s. check out these clips. it's me backstage in tasmania doing an impromptu, wine-tasting interview with the aussies about twitterage. very awesome. if you make it to the end of part two, there's a clip of map of tasmania.