The Grand Theft Tour Kickoff & Berlin's Public Art Viewing Info
Today marks the start of Amanda Palmer & The Grand Theft Orchestra's 2012 summer promo tour for the forthcoming album, "Theatre Is Evil." The band will weave their way through six cities – Berlin, London, New York, San Francisco, Los Angeles, and Boston – performing multiple sold-out events in each. In addition to "customary" rock shows, each locale will host intimate art show openings and acoustic performances, open exclusively to VIP Kickstarter backers.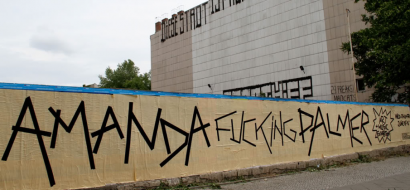 If you weren't lucky enough to score a ticket to one of the art-events, don't fret; The gallery showings – comprised of original pieces commissioned by Amanda and inspired by the new record – will also have a limited window for public viewing. If you're in Berlin for example, Platoon – The Factory will be hosting such viewings – FREE OF CHARGE – from Wednesday June 13th through Friday June 15th, between the hours of 12 noon and 8PM. Platoon – The Factory is located at Schönhauser Allee 9, 10119 Berlin. Click HERE to visit RSVP on Facebook.