EVELYN EVELYN PRE-ORDER PRE-ORDER!
HOLA COMRADES!!!
this is a blog-version of the email that went out a few days ago to launch the Evelyn Evelyn pre-order!
once again, if your'e not ON the email list – sign up here. it's my mainline to you…and the only way to get first crack at concert tickets, etc.
i'm working on a blog regarding all the craziness that's been happening in oz. i feel like i live a whole fucking lifetime every 3 days and i only get around to blogging every 6 days and i can't handle the overload of images and thoughts. mostly, i'm turning to  twitter as a constant brain-dump.
eenyway…..this is IT! our little record is ALMOST OUT!!!!
and this time, we own the rights to sell it ourselves, which is a cause for great celebration.
there is a plethora of options for you!
before you read on, please take a moment to press "play" and enjoy some music by evelyn evelyn, as you read on:
COMRADES! (and curious bystanders!):
we are proud to announce the OFFICIAL LAUNCH of THE LONG-AWAITED DEBUT ALBUM BY CONJOINED TWIN SISTERS, EVELYN & EVELYN (as well as their BRAND NEW HOT OFF THE PRESSES WEBSITE)!!!! for the past three years, jason and i have been working – on and off – on this collection of stories and songs by and about the "evelyn" twins. CO-PRODUCED BY/FEATURING JASON WEBLEY AND I, THE ALBUM IS FULL OF SAD, HAPPY, AND CLEVER SONGS OF ALL SORTS, and it's READY FOR YOU TO HEAR!!! it's set to come out march 30th in the US (april 5th many other places around the world), and below you'll find pre-order options galore. these pre-orders are set to end april 6th at midnight EST. we've tried to make things as fun and interesting as possible, all the while ensuring that there's something for everybody. Please be sure to take your time choosing the right package for you, and hit us up with any questions you may have…then you can go HERE right away and place your order.

you guys often ask me WHAT is the best way to purchase music: THIS is the best way to do it – this will ship directly from us and will not go through some faceless third-party distribution company (therefore leaving the greatest amount of profit for the artist). people have voiced concerns because of the problems we had with the WKAP pre-order, and we all totally understand and want to quell those fears: we are working with a totally different system this time around (including my long-time merch peeps at JSR and miss beth of all trades), and it's pretty watertight. IF you have any questions about this ordering process, feel free to mention it here and someone from team chaos will get back to you ASAP.
and if you just HATE mail-order completely or don't have a credit card/checkbook/paypal, the album WILL be released in STORES in the states and canada on march 30th, and april 5th in most of europe, and oz. it'll also be available WORLDWIDE on the EE bandcamp (soon), and your favorite digital retailers on the 30th/5th. we'll try to send you guys another mailer telling you exactly where you can trundle off to a bricks-and-mortar establishment and pick up a copy of this fine album, but for now this is THE way to go (especially with the fancy extras).

to thank you for supporting us: we will randomly choose one lucky pre-orderer for a free upgrade to the "Benefactor Bundle" (valued at $1,111)! eleven others will be chosen to receive copies of the original sold-out Evelyn Evelyn 7" vinyl single, (released in 2007 in a limited edition of 1,111 – these have been known to sell on eBay for more than $100.) we're also giving away a single copy of the 7" and some other fun stuff to one lucky person who RSVPs to the album release event, HERE on facebook. all winners will be chosen by April 6th at midnight EST, and announced within 48 hours on the shadowbox.
oh, and PS…ALL pre-orders will get a digital download code for the album from our friends at bandcamp (sometime BEFORE March 30th.) additionally, packages will ship around the 23rd, and should be in your hands well before the record hits stores (though foreign orders may take longer to arrive.)
xoxo
a
---
DEBUT CD – $11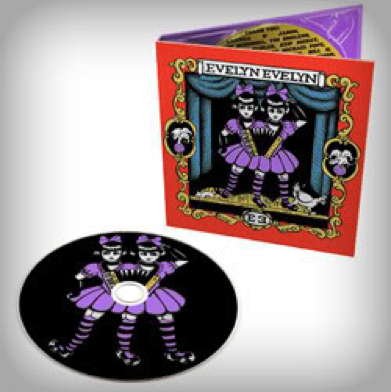 The 12-song debut CD by Evelyn Evelyn, produced by Amanda Palmer and Jason Webley. Three years in the making, this disc features the talents of dozens of musicians, including a number of exciting guest performers. It comes packaged in a colorful digipak with original artwork by Cynthia von Buhler.


DELUXE DOUBLE VINYL – $22
Collectible 10" deluxe double-vinyl set in a sturdy gatefold sleeve. The records are pressed onto beautiful brightly colored blue and yellow wax, and imported from the Czech Republic. Includes lyric insert AND a copy of the album on CD.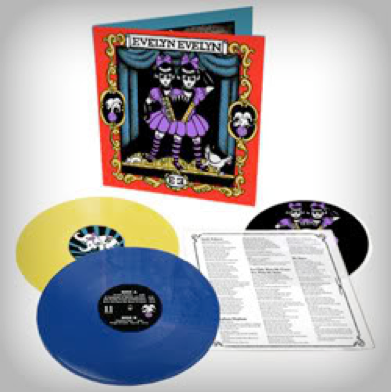 BUNDLE 1 – $25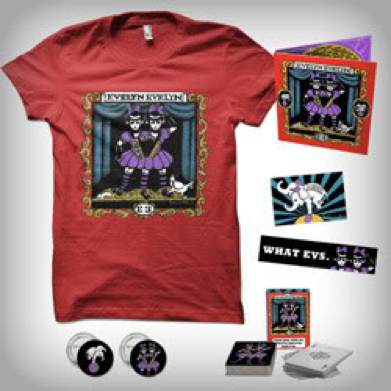 • "Evelyn Evelyn" 12-song debut CD
• Red pre-order only Evelyn Evelyn t-shirt
• Deck of custom Evelyn Evelyn playing cards
• Two 1" EE/Elephant Elephant buttons
• Two EE stickers (2×9" & 2×3")


BUNDLE 2 – $66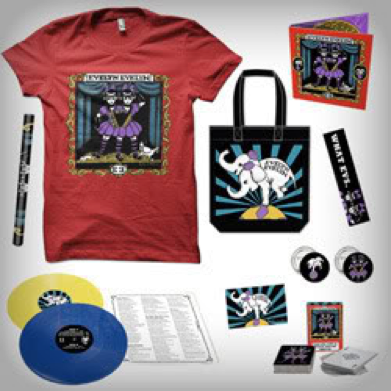 • "Evelyn Evelyn" CD (SIGNED BY EE)
• Frameable 12"x12" fine art poster
• An "Elephant Elephant" tote bag
• Colored double 10" "Evelyn Evelyn" vinyl
• Deck of custom Evelyn Evelyn playing cards
• Red pre-order only Evelyn Evelyn t-shirt
• Two 1" EE/Elephant Elephant buttons
• Two EE stickers (2×9" & 2×3")


BUNDLE 3 – $263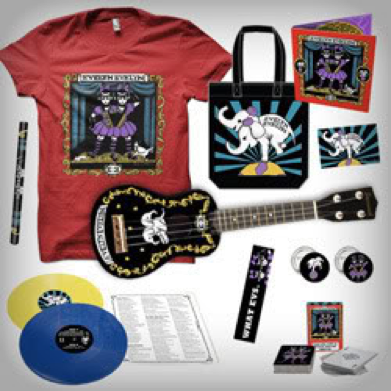 • Everything from Bundles 1 & 2!
• Custom "Elephant Elephant" ukulele (These ukes are quality, playable instruments; Made by Mahalo and hand painted by Blake Brasher using artwork by Cynthia von Buhler)
• A personalized birthday song just for you, sung by Evelyn Evelyn


BUNDLE 4 – $1,111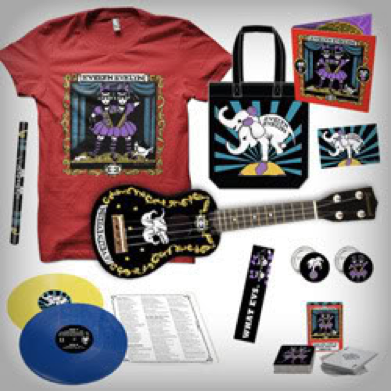 Our "Benefactor Bundle" – Everything from Bundles 1-3, PLUS:
• 4 tickets and a meet & greet with Jason & Amanda at any show on the EE tour
• Watercolor painting by Evelyn Evelyn of "a conjoined twin animal of your choice"
• A small handbound book about that animal, containing an original story by Evelyn Evelyn
• "Who Killed Amanda Palmer" DVD, signed by AFP
• "The Cost of Living" CD, signed by Jason
• Out of print vintage Evelyn Evelyn t-shirt


But wait, you want……..more options?
DINNER WITH EVELYN EVELYN – $11,111: Dinner with the Evelyn twins and their chaperone for yourself and one guest in New York, London, or Los Angeles (within the tour schedule). Dinner and transportation not included. Sushi is preferred.
AROUND THE WORLD WITH EVELYN EVELYN – $11,111,111: An Eleven-week around-the-world trip with Evelyn Evelyn- including a camel trek through the Sahara, hiking in the Himalayas, an expedition to Antarctica, and a trip to the Hendrick's Exotic Animal Farm Bed and Breakfast in Nickerson, Kansas. ALSO: Enjoy canoeing at Jason Webley's floating shack in Washington state, and a silent meditation retreat with Amanda in Western Massachusetts. Lifetime supply of Twix candy bars included!
OVER THE MOON FOR EVELYN EVELYN – $11,111,111,111: One trip to the moon (and back) for you, one guest, Evelyn Evelyn, and their chaperone.
---
Again, pre-orders are LIVE – you can get any of these fine bundles HERE, NOW! Please do not fret about being the first person to order or anything like that if you're at work…unlike the WKAP pre-order, we aren't planning on limiting any of the packages. You've got from now through April 6th at midnight EST to get your orders in (winners for all prizes will be chosen by this time, and announced on The Shadowbox within 48 hours). That said, you WILL want to order ASAP to make sure that we can ship your items a week prior to release date and get you that early download code.
Thank you all for taking the time to read this, and also for your support. Hope you dig the record as much as I have, and that you make it out to a show or two while the sisters are touring (tour dates below).
USA:
April 12 – OBERON in Cambridge, Massachusetts 



April 13 – OBERON in Cambridge, Massachusetts 


EUROPE:
April 17 – Oran Mor in Glasgow, Scotland 



April 19 – The Academy in Dublin, Ireland 



April 22 – Koko in Camden (London), UK 



April 23 – Bush Hall in London, UK 



April 24 – Bush Hall in London, UK 



April 25 – Bush Hall in London, UK 



April 27 – L'Europeen in Paris, France 



April 28 – Melkweg in Amsterdam, Holland 



April 29 – Kampnagel in Hamburg, Germany 



May 1 – Babylon in Berlin, Germany 



May 3 – Gloria in Cologne, Germany 



May 4 – Arenbergschouwburg in Antwerp, Belgium 


For additional information on all of these shows (including times, ages, and more) click HERE. Please be sure to keep checking back there, too: More North America dates will be posted, soon!
Oh, and one last thing…….please RSVP to the album-release HERE on Facebook, and pass this message on to as many friends of yours as possible? You can also link to it on a friendly little webpage, HERE.
Love,
AFP, Jason Webley, Team Chaos
and of course Evelyn Evelyn